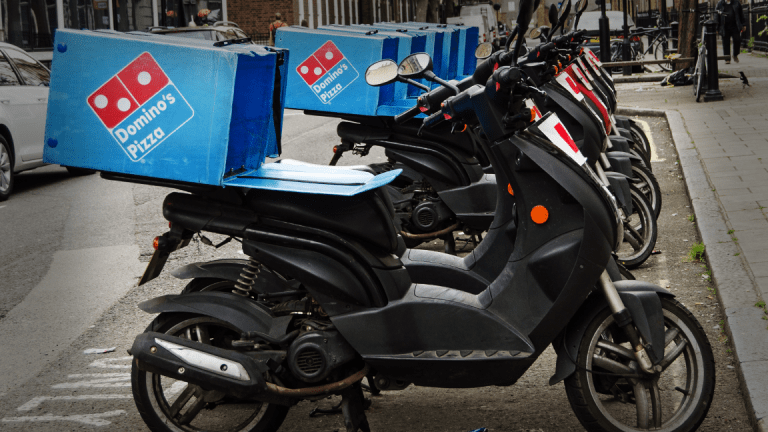 Domino's Keeps Delivery In-House, Reportedly Avoids Use of Third-Party Apps
Domino's CEO says the profit lost to commissions and risk to customer goodwill make the delivery apps not worthwhile.
Domino's Pizza (DPZ) is riding against the strategic traffic, using its own resources to deliver the goods to customers and avoiding use of the food-delivery apps.
CEO Ritch Allison told The Wall Street Journal that the Ann Arbor, Mich., chain prefers to keep delivery in-house because of the profit it loses to the third-party services' commissions plus the risk to the company's reputation that arises when customers complain.
Just last Tuesday, the No. 1 worldwide pizza chain based on sales said that to speed its delivery it would expand the use of electric bikes to deliver its food in Baltimore, Houston, Miami and Salt Lake City.
In addition to seeing higher sales at stores testing the use of e-bikes, Domino's said it would be able to reach more potential employees, among people who don't have cars or driver's licenses.
At the end of the second quarter, Domino's operated 16,300 stores in 85 countries.
Another company that is resisting the delivery apps is Jimmy John's Gourmet Sandwiches of Champaign, Illinois, with 2,800 stores, the Journal reported.
Restaurants have been pushing back against the delivery apps, demanding fees lower than the 25% or 30% norm. 
At the same time, Papa John's (PZZA) and Yum Brands' (YUM) Pizza Hut have said that using the third-party delivery services like Grubhub, DoorDash and PostMates has given them access to newer markets and brought in more sales at peak times, the paper reported.
Shake Shack (SHAK) early this month said it would use Grubhub undefined for nationwide delivery.
The food-delivery services were mixed on Monday. Grubhub was up 1.6% at $60.90, and Uber (UBER) , which operates Uber Eats, fell 1.8% to $34.61. Domino's slipped 1.3% to $232.02. 
DoorDash and Postmates are closely held. Bloomberg reported in February that Postmates had filed confidentially with the Securities and Exchange Commission to go public. Sources recently told TechCrunch that Postmates would unveil its initial public offering documents in September, on track for an IPO this year.