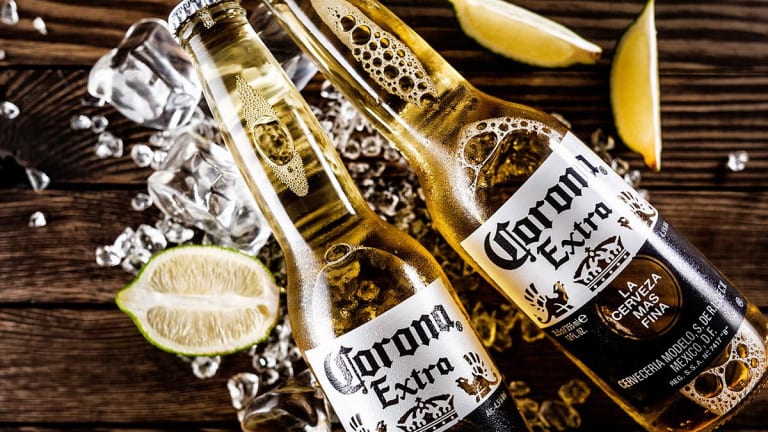 Constellation Brands Falls on Morgan Stanley Downgrade
Morgan Stanley knocks its rating on the nation's No. 3 beer maker down to equal-weight from overweight.
Constellation Brands  (STZ) -- the maker and marketer of Corona and other beers and drinks - fell around 4% on Friday following a downgrade by Morgan Stanley.
The nation's No. 3 beer company's Class A shares were trading at around $198.05 after being dropped to equal-weight from overweight. The price target was also cut by $10 to $220.
Morgan Stanley cited mainly the 36% increase in Constellation Brands' stock price from its low on Jan. 9. But another factor was a forecast decline in beer demand for the summer and what the analysts saw as a lack of "outsized innovation" this year, compared with last year, by the company.
"Net, we believe the market is now more appropriately discounting STZ's long-term corporate revenue growth prospects," wrote analysts Dara Mohsenian, Filippo Falorni, Scott Rotondi and Sydney A. Adams. 
The analysts also said that in the near term they see limited potential for beer margin upside in fiscal 2020, and that for the fiscal first quarter they see modest risk to their their 8% first-quarter "beer depletion forecast."
"We have long recommended this name, and the stock is up 1,721% over the last decade, by far the best performer in our coverage. Thus, a move to Equal-weight is a big change for us, but we no longer see potential for beer upside ... and/or compelling valuation, which have been the key drivers of our historical thesis," the team wrote.
Based in New York, Constellation produces and markets beers, wines and spirits and has operations in the U.S., Mexico, New Zealand, Italy and Canada. Its brands include Modelo, Pacifico, Robert Mondavi and The Prisoner Wine Company brand families, Kim Crawford, Ruffino, and SVEDKA Vodka.