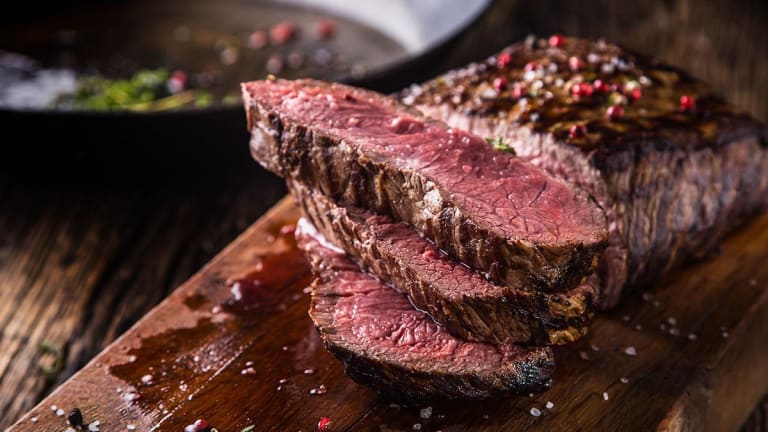 Top 3 Food-Delivery Options for Father's Day Gift Ideas
Tired of giving stereotypical Father's Day gifts? Mail-order food deliveries can offer a unique change of pace.
Tired of giving stereotypical Father's Day gifts? Mail-order food deliveries can offer a unique change of pace.
Father's Day is rapidly approaching - June 17, for those who haven't been marking the calendar. And let's be honest, you probably should have gotten or at least thought of a gift idea by now.
It's sometimes difficult, though, to shop for the guy who has it all. At least it can be if he usually buys everything he talks about that you had already stored away as potential gift ideas in your head.
For those looking for gifts off the beaten path, mail-order food deliveries offer an alternative to the stereotypical Father's Day gifts that can give your dad an experience he won't soon forget.
Flying your dad's favorite food in from across the country might not necessarily make you his favorite child, but at the very least, you might get to share in the Father's Day celebrations and snag yourself some of the goodies you got him, if you're lucky.
Steak
Nothing embodies the spirit of a Father's Day meal more than a juicy, thick-cut steak. Grilling is the unofficial sport of dads everywhere so what better way to honor their national pastime than to order some of their favorite meat.
Omaha Steaks is one option that could fulfill that order. In business for more than a century, the company has really pushed its gift options for Father's Day evident by its many sales its offering this year. Omaha Steaks has a wide assortment to choose from, and you can customize your dad's dream order if the company's pre-selected packages are not your speed.
The Kansas City Steak Company also offers Father's Day deals that are sure to make any meat-lover's mouth water. The company's selections seem to revolve around the idea that all one needs for a good steak dinner is meat and then more meat. Many of its gift choices come with eight to twelve steaks of two to three different cuts. It also has some barbecue options for another change of pace.
Many steakhouses offer Father's Day deals or at least sell their goods to take home, so if there is a specific restaurant you seem to catch your dad gravitating toward every time you all go out to eat, check and see if they'll ship out a couple of rib-eyes or T-bones for the special occasion.
Jerky
It's perfect for fueling up during a long road trip, snacking at the office or fending off Bigfoot in a showdown in the woods. Jerky is an ever-popular option for dads on Father's Day, and if you want to add some, there are a few places that can help you out.
With so many brands to choose from, Jerky Dynasty is a one stop shop for all your jerky needs. The self-described "online distributor for exotic jerky, gourmet jerky, bacon jerky and generally jerky-related items" knows its market, and Father's Day 2018 is that market. The company has many deals and brands to choose from like Buffalo Bob's Jerky or Black Label Beef Jerky.
You can even sign your dad up to join the exotic jerky club to receive a monthly stash of goodies that many times are exclusive to members.
Popcorn
Is your dad a movie fanatic? Does he love to binge-watch Game of Thrones or spend his Saturdays glued to the TV watching sports all day? Maybe he just enjoys salty treats that can't be eaten without a large soda sitting next to it. No matter your dad's interest, specialty popcorn offers a change of pace from the other meat-based gifts on the list.
While flavored popcorn is not new by any stretch of the imagination, gourmet popcorn has transformed the staple movie snack into a special commodity as big retailers, local shops and online vendors all have hopped on the growing trend.
The Popcorn Factory has been popping batches of gourmet popcorn for almost 40 years and has plenty of traditional flavors - along with some more funky flavors like buffalo ranch or caramel apple - to choose from.
The company offers over 80 Father's Day gift options on their site with prices ranging anywhere from $5 to $65, but most of their packages average around $30 to $45.
Broader Markets
Did none of the above options sound like something your dad would really enjoy? Fear not, there are still plenty of online marketplaces and local restaurants that can provide some more diverse options that will fit your dad's taste.
For those who didn't know, you can buy food off Amazon; add that to the ever-expanding list of services the Seattle-based retail giant offers. In fact, there is a whole section dedicated to Father's Day gift baskets and boxes that are eligible for Amazon Prime's two-day shipping, which is perfect for those on a tight deadline. From coffee packets to cheese spreads, Amazon has a variety of choices that are sure to satisfy your dad's preferences.
Not all dads are fans of the gift basket, though, so for those who want a unique selection they might not get anywhere else, FoodyDirect could be the place to start. The startup pairs local and regional restaurants with consumers all over the country and ships the food directly to their doorstep. The FoodyDirect team even curated a list of the top barbecue, seafood and dessert shops in the country just in time for Father's Day.