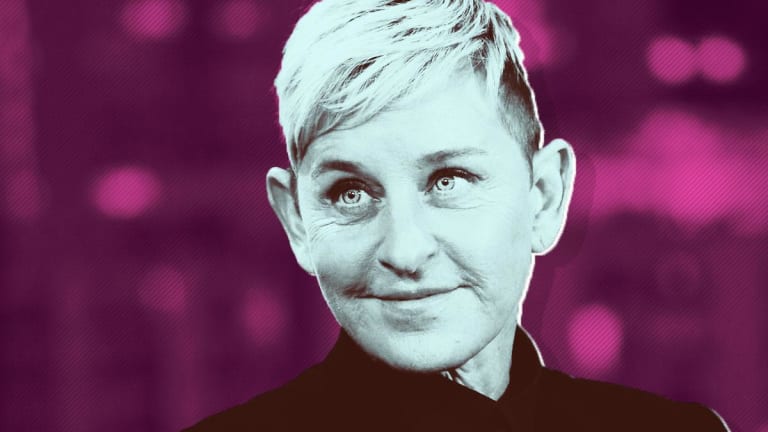 What Is Ellen DeGeneres' Net Worth?
You might know Ellen DeGeneres from her talk show and stand up comedy, but do you know how much she's worth? Find out DeGeneres' net worth.
Through all of her career ups and downs and in the face of discrimination for her sexuality, Ellen DeGeneres has remained dedicated to her career as a television personality and comedian. This is likely one of the reasons why DeGeneres has risen to fame and acquired such a substantial net worth.
Find out how much DeGeneres is worth, her rocky launch to stardom, and how she spends her money today.
Ellen DeGeneres' Net Worth
Ellen DeGeneres' net worth is $450 million, according to Celebrity Net Worth.
DeGeneres earns a $75 million salary as of 2019 due to her career as a television personality and actress. However, she also earns additional money through her endorsements, as well as her side venture in buying and selling luxury real estate.
Ellen DeGeneres' Career
Ellen DeGeneres was born in Metairie, La. She stayed in the area for the first portion of her career, before she got her start as a premier television star.
DeGeneres began her career performing stand-up comedy, a skill set she still uses today. She first performed in small comedy clubs and coffee houses throughout Louisiana. Her first big break took place at Clyde's Comedy Club in New Orleans, where she emceed in 1981. She then took her routines on the road and began touring nationally.
DeGeneres made her way onto moves and television in the early 1990's. Her first big role was in the 1993 file "Coneheads," where she played a minor role as Coach. Around this same period, she also starred in a handful of films called "Ellen's Energy Adventure," where she starred alongside celebrities like Bill Nye, Alex Trebek, and Jamie Lee Curtis. The films were used as a complement to the Universe of Energy attraction at Disney (DIS) World's Epcot amusement park, which is still operating today.
DeGeneres broke into television in the 1989 sitcom "Open House," where she played a boy-crazy secretary who works at a real estate office. After impressing producers with her performance on another show, DeGeneres received a starring role on "These Friends of Mine." This sitcom transitioned to the name "Ellen" after audience studies revealed confusion between the show's title and the hit sitcom "Friends."
"Ellen," which followed bookstore owner Ellen Morgan and her relationships with friends, quickly rose to success. DeGeneres was praised for her comedic performance on the show, with some critics even calling her "the female Seinfeld."
However, this rise was soon to be met with a hard fall. In 1997, DeGeneres appeared on "The Oprah Winfrey Show" and publicly came out as a lesbian. Ellen Morgan, her character on "Ellen," soon followed. In "The Puppy Episode," Ellen Morgan reveals her sexual orientation to her therapist. This sparked a media frenzy and controversy. ABC began placing a parental advisory warning on each episode of "Ellen."
In subsequent years, the show's ratings began to decline. The show was criticized for its focus on the main character's sexual orientation and LGBT issues, which made many audiences feel alienated. "Ellen" was canceled in May of 1998.
Despite this devastating blow, DeGeneres was not discouraged. She returned to the stand-up comedy circuit, determined to continue her career. She briefly returned to television sitcoms in 2001 with "The Ellen Show," which was canceled by CBS after only one season. Again, DeGeneres refused to be discouraged and continued appearing in stand-up shows and television when possible. That same year she hosted the Emmys, facing the challenging task of keeping the show tastefully light in the wake of the 9/11 terrorist attacks.
Her tenacity paid off. She launched "The Ellen DeGeneres Show," a daytime talk show, on NBC in 2003. The show primarily focused on interviews with celebrities, all featuring the unique humorous undertones that DeGeneres is known for. The show was a resounding success, receiving 11 Emmys in its first season. DeGeneres dedicated herself to "The Ellen DeGeneres Show," even hosting from her hospital bed after tearing a ligament in her back in 2007.
DeGeneres' talk show success helped her rise to fame and opened up new doors. In 2009, DeGeneres appeared as a judge on "American Idol." She has hosted a number of award shows throughout her career, including 2005 Primetime Emmy Awards, the 79th Academy Awards, and the 86th Academy Awards.
In addition to her role as a television personality and endorsements, DeGeneres also acquires additional income from her lifestyle brand ED. The brand, which launched in the summer of 2015, sells many different products, including clothing, accessories, pet products, and home goods.
In 2017, "The Ellen DeGeneres Show" generated a spinoff game show called "The Game of Games," which DeGeneres hosts.
In 2018, DeGeneres returned to her roots as a stand-up comedian, releasing a new stand up special on Netflix (NFLX) called "Relatable."
Ellen DeGeneres' Endorsements
DeGeneres has had a number of endorsements over the years. These endorsements have not only raised her profile and kept her in the spotlight but have also contributed to her overall net worth.
One of the most high-profile endorsements that DeGeneres has is with Covergirl Cosmetics. Known for her fresh-faced look, the TV personality is the perfect fit for endorsing this well-known beauty company. She first appeared as the face of the brand in 2009 and continues to work with them today.
In the past, DeGeneres has endorsed many other companies in a variety of different markets, including:
What Homes Has Ellen DeGeneres Bought?
Though DeGeneres is best known for her work in the entertainment industry, she frequently buys and sells luxury real estate -- walking away from most of her deals with millions in profits.
While many members of the media call her and her wife Portia de Rossi house flippers, DeGeneres rejects the label. Even so, DeGeneres has an impressive history of buying and selling luxury homes in the Los Angeles area, including in Malibu, Laurel Canyon, Beverly Hills, and Santa Barbara. Her deals frequently involve other actors, entertainers, and entertainment industry tycoons.
While no one knows the exact number of properties she has bought, renovated, and then sold, here are a few of her most notable purchases to date:
Ryan Seacrest's Abode
DeGeneres purchased a home in Coldwater Canyon in 2007 for $29 million. While she owned the home, she purchased surrounding parcels of land to expand the property to a sprawling three acres. She used this land to construct luxury additions like a tennis court, pool, gym and more. In 2011, DeGeneres listed the property for $60 million. After receiving no interest, she lowered the listing price to $49 million. Ryan Seacrest eventually purchased the house for $37 million.
The Brad Pitt Beach House
In 2011, DeGeneres snatched up a beautiful mid-century modern home perched on an ocean bluff overlooking the Pacific. The home seller, Brad Pitt, had spent months renovating before placing it on the market. Considering DeGeneres' passion for enhancing homes herself, it is not surprising she only kept the property for 10 months before selling. She purchased the home for $12 million in December 2012 and sold it for $13 million in 2012.
The 'Twice As Nice' Home
This 4,000-square-foot home renovated by famous design firm Marmol Radziner was so appealing to the couple that DeGeneres purchased and sold it twice. They originally purchased the property in 2005 for $6.5 million, only to sell it for $10 million two years later. In 2014, DeGeneres re-purchased the Hollywood Hills residence for $8.75 million and sold it again only a year later for $9.9 million. The second time, the property was purchased by Calvin Klein co-founder Barry Schwartz.
Beverly West Condos
While DeGeneres has seen a lot of wins in her real estate portfolio, she has suffered a few loses as well. In 2014, DeGeneres scooped up two condos for $13 million. They were the only two perched on the 12th floor of the Beverly West building along Wilshire. She renovated both units aggressively, installing oak floors, stone finishes, high-end appliances, and many other custom features meant to appeal to luxury real estate buyers. However, when she listed the condos for $15.5 million in 2017, she didn't get any bites. After selling both condos, she took a $1.15 million loss -- not including the expenses incurred from the renovations.
The Contemporary Malibu Beach House
Most recently, DeGeneres and her wife have listed an almost-7,000 square foot oceanfront estate in Carpinteria, Calif. The contemporary home is currently listed at $24 million, a 29% increase over what the couple paid for the property nearly two years ago. The pair purchased the house for $18.6 million from a bank. The home had been seized during foreclosure. It originally belonged to renowned developer Robert F. Maguire III.