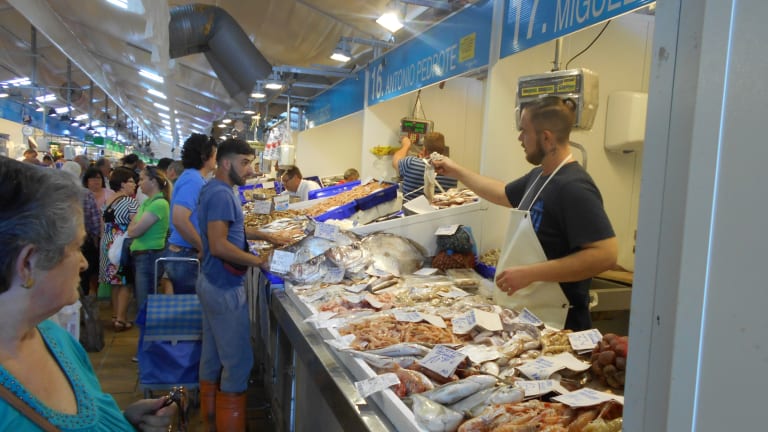 Eat Your Way Across Spain
Spain's culinary expertise has much to offer the world.
TheDeal's David Marcus offers a sampling of the vastness that is Spain's contribution to world cuisine.
The fishmongers in the Mercado Central de Abastos in Jerez, Spain, carve and chop their wares as they cajole potential buyers and chat up ones who are about to buy. Customers carrying bags of meat, cheese and vegetables bought elsewhere in the Mercado search for their dinner among an entrancing array of seafood. Huge, dark chunks of tuna. Octopus and squid. Shrimp, langoustines, clams. Anchovies, sardines, sea bream, roe, stall after stall of them, each one's offerings a little different. The diversity makes dining in Jerez and the nearby cities of Andalucia in southern Spain endlessly fascinating.
Some fish don't make it out of the market but instead go to the restaurant in the market, like this one in the center of Seville. The offerings are written on the chalkboard: fried sardines, cod, squid and gizzards; grilled sardines; baby snails, a spring specialty served steamed; and fresh tomatoes with some canned tuna that tastes much, much better than the American version. (The Spanish take their canned fish seriously.) The piece de resistance is arroz con iberico, rice with cured ham, a huge pot of which this older customer is stirring. Occasionally one of the women behind the bar takes a break from frying seafood to pour some red wine out of a box and into the rice, which is not ready until about 2:30 in the afternoon -- lunchtime, here. It's worth the wait.
The tapas bar has become a worldwide phenomenon, often a chic and expensive one, but its roots are humble. Tabanco El Pasaje, which is about a five-minute walk from the Mercado in Jerez, offers El Maestro Sierra fino sherry for one euro a glass and sardines, anchovies, various kinds of sausage and other simple foods for a few euros each. The locals can bring their own bottles and buy El Maestro Sierra sherries to take home. At night, Tabanco El Pasaje features flamenco dancing.
Amble down one of Jerez's narrow old streets for another five minutes and you hit Taberna El Guitarron, which offers an expansive list of food and drink, including the anchoas con alachofas, or anchovies with artichoke, and a tostado with cured bonito. For the Spaniard, it's a snack; for the American who doesn't want to wait until 11:00 p.m. to have dinner, it's a meal.
The tapas bar is also a social club, not least for the owner. Here, Juan Carlos Gutierrez, on the left, holds court at Bespoke, the tapas bar right down the street from his sherry bodega in El Puerto de Santa Maria, about 10 miles south of Jerez. The previous month, Gutierrez offered much the same menu when King Juan Carlos I of Spain visited the bodega.
El Rinconcillo in Seville boasts that it's the oldest tapas bar in Spain, and the place has menus in about five languages, which is usually reason for a diner to be skeptical. Don't be. Instead, order unfamiliar forms of seafood, like the clams in green sauce pictured above, and watch the waiters add items to your tab by scrawling numbers in chalk on the wooden bar, a common tradition in the region. For those weary of seafood, the tortillas -- thick omelets, essentially -- are terrific.
Jerez is the center of sherry production, which also occurs in the surrounding cities, but La Taberna de Guerrita in Sanlúcar de Barrameda is one of few stores in the area to offer a diversity of styles and producers. The wine store is attached to a tavern that offers tapas as well as local specialties, including cured tuna and stewed chickpeas and squid, pictured above.
Rice preparations like the one at the restaurant in the Seville market are one of the glories of Spanish cuisine, and arroz negro, a rice flavored with squid ink, is one of the classics. This is the version offered at La Carbona, one of the best restaurants in Jerez, which specializes in pairing its food with sherry -- here, an oloroso that has the richness to stand up to the dish.
El Faro de Cadiz is a formal restaurant a few blocks from the Atlantic Ocean in Cadiz that features several rice dishes, including a soupy rice with fish and shellfish that I consumed after downing a place of fried sea anemones -- ortiguillas -- to start. Both were excellent, but I was jealous of a nearby four-top that opted for a large whole grilled fish that handily fed all four people.
Andalucia has been largely unaffected by the trend toward avant-garde cuisine that has swept Spain over the past generation, but Angel Leon has married that approach with the region's exceptional food and wine at Aponiente, which has two Michelin stars and, this year, moved into a new space in a refurbished 17th century tide mill in El Puerto de Santa Maria. One of the highlights of Leon's restaurant is the platter of charcuterie made entirely of seafood that diners are offered early in a meal at Aponiente. The preparations are clever and delicious, but also recall Leon's ambition to use as much of every animal that comes into his kitchen as he can, a goal he discusses at length in the book "The Third Plate: Field Notes on the Future of Food," by Dan Barber, the chef at Blue Hill at Stone Barns.