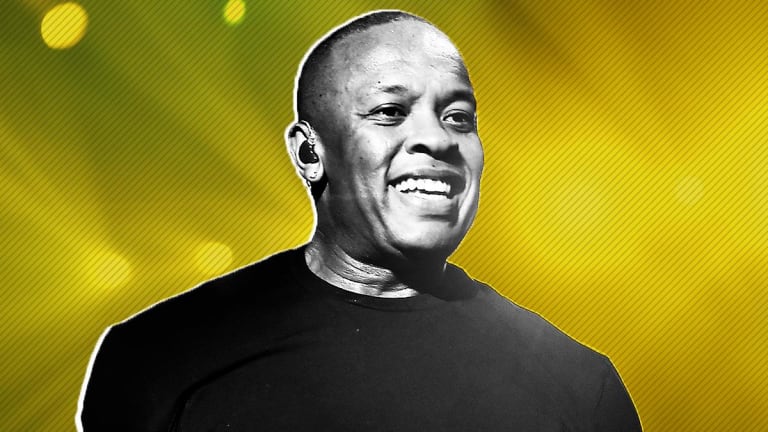 What Is Dr. Dre's Net Worth?
Dr. Dre, who brought N.W.A. to the hip-hop and rap world, isn't as rich as Jay-Z. But he's close. So how much is Dr. Dre worth?
Like many of the bigger names in rap as well as rhythm and blues and rock 'n roll, Dr. Dre was born into poverty but managed to become wealthy from his art. 
Now known as a producer, and more recently, entrepreneur, Dr. Dre built his name as a rapper in the 1980s, when he produced his friends in N.W.A. before going solo and becoming a business entrepreneur. 
N.W.A. was a hip-hop group from Compton, Calif., a south Los Angeles County suburb, south of downtown Los Angeles, which included current movie star Ice Cube and Dr. Dre, as well as Easy-E, MC Ren and DJ Yella, and formerly Arabian Prince. In 1988, the group put out its "Straight Outta Compton" rap anthem chronicling the violent life on the streets and anger at police. 
Compton continues to be listed as among the 10 most dangerous cities in the country, and is where the 'Bloods' street gang originated as rivals to the 'Crips,' which were formed in 1969 in South Central Los Angeles. 
What Is Dr. Dre's Net Worth?
Dr. Dre's 2019 net worth is estimated at about $850 million - moving him just below Beyonce's husband, Jay-Z, as the second-richest rapper in the world, according to Forbes Magazine. 
Early Life
Dr. Dre was born Andre Romelle Young in 1965, in Compton, Calif. His parents married in 1964, but separated in 1968 and divorced in 1972. His mother remarried, had two more sons, Jerome and Tyree, and a daughter, Shameka. Both of Dr. Dre's half-brothers are deceased. 
Dr. Dre first attended Vanguard Junior High School in Compton, but moved soon to Roosevelt Junior High School, considered to be in a safer district, because of the increase in gang violence in the suburb. 
Dr. Dre's Career
Dr. Dre's career actually began when he was working at a local club, Eve After Dark, as a disc jockey, having watched many other hip-hop artists perform there. Dre met DJ Yella at the club. 
The club had a small recording studio in a back room, which Dre and N.W.A. used to record some early demonstrations of their rap. 
N.W.A. formed in 1986, and the group's debut album,"Straight Outta Compton," became widely successful with its release in 1988.
Dr. Dre had numerous disputes with the N.W.A. by the 1990s, releasing his first solo single song in 1992 under the label of Death Row Records, founded Suge Knight.
Dr. Dre's solo album was called "The Chronic." 
Dr. Dre left Death Row Records in 1996, and founded Aftermath Entertainment. He released the album "Dr. Dre Presents the Aftermath" the same year. 
Since his early days with N.W.A., Dr. Dre has won awards for his work, including in 1994, when he received a Grammy for Best Rap Solo Performance for his song, "Let Me Ride," an MTV Music Video Award for Best Rap Video in 1995 for his "Keep Their Heads Ringin," and another one in 2000 for "Forgot About Dre," another Grammy for Best Rap Performance by a Duo or Group for "Forgot About Dre" in 2001, and in 2014, he won the BET Hip Hop Award for Best Hustler of the Year. 
A year later, the movie "Straight Outta Compton" was released by New Line Cinemas, chronicling the rise and fall of N.W.A. and its members. 
In addition to his own career, and his work with his original friends from N.W.A., Dr. Dre has worked with a number of other artists, including Snoop Dogg, who he introduced on his "The Chronic album," as well as Warren G, The Dogg Pound, Eminem, 50 Cent and Kendrick Lamar, among others. 
Endorsements
Dr. Dre and Interscope Records co-founder Jimmy Iovine, now with Apple Music, formed Beats Electronics LLC, also known as Beats by Dre, in 2006. According to an article in Wired, Dr. Dre had been told by his lawyer he should get into making or at least endorsing a brand of sneakers, to which Iovine allegedly responded: "F--- sneakers...let's make speakers!" 
In 2008, the company put out its first product: Beats by Dr. Dre Studio headphones, and relied on endorsements by pop and hip-hop performers, and product placement in movies and videos; in 2010, mobile phone manufacturer HTC acquired 50.1% of Beats for $309 million. Beats had originally partnered with Monster Cable for manufacture of its product. That agreement ended in 2012, and Dre and Iovine decided to oversee the entire operation of the company. 
Also in 2012, Beats unveiled two products developed internally: Beats Executive headphones, and Beats Pill, wireless speakers, and HTC sold back half of its stake to Beats, cutting its ownership to 25.1%. A year later, it sold the rest of its stake back. 
Then came 2014, when Beats launched Beats Music, a music streaming service that was subscription based. In 2014 as well, Dr. Dre's headphone company Beats Electronics sold to Apple Inc. (AAPL) - Get Apple Inc. (AAPL) Report for $3 billion. 
And a year later, in 2015, Beats Music was discontinued and replaced by Apple Music. 
While Beats have been widely popular, in part because of Dr. Dre, they are not that well regarded by headphone reviewers lately. 
Dr.Dre's Home
Dr. Dre bought his $40 million mansion in the Brentwood neighborhood enclave of Los Angeles, the same year Apple bought Beats. 
The house was originally built for New England Patriots quarterback Tom Brady and his supermodel wife Gisele Bunchen. 
The 18,298 square-foot home is located on 4 acres, and he is putting a 10,000 square-foot recording studio underneath it. 
Dr. Dre also is said to have purchased another home in the Calabasas suburb of Los Angeles for $3.5 million.