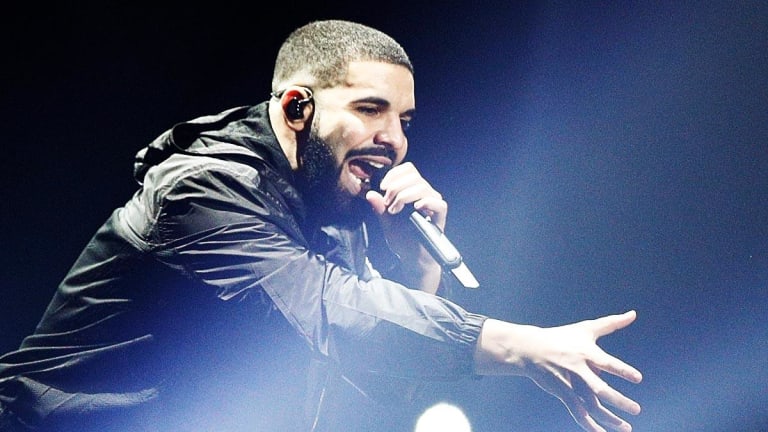 What Is Drake's Net Worth?
As Drake's newest EP is released in the wake of a Raptors championship, what is the famous Canadian rapper's net worth? And how does the king of melancholy songs spend his spoils?
Ever since the Canadian rapper dropped his first album in 2010, Drake has consistently ranked as one of the highest-earning, top-of-the-charts moguls in the business. And while the Toronto native's salary may come up shy of Messi or Bill Gates' levels, Drake's undeniable popularity has him on a roll to continue topping earnings charts for years to come. 

What Is Drake's Net Worth?
According to Forbes, Drake is worth quite a fortune. The top-selling Canadian singer, songwriter and rapper has an estimated net worth of $150 million. That gives him the fourth slot for wealthiest rapper in the world.
Drake's earnings rival that of the fellow rappers LL Cool J and Eminem, both are also around the $100 million marks.
Drake's Salary
Drake reportedly makes about $47 million per year, allegedly raking in nearly $1 million per concert.
Over the course of the past several years, Drake has made the Forbes Hip-Hop Cash Kings list every year since 2010. In 2015, Drake out-earned the rapping royal Dr. Dre, coming in at an estimated earnings of $39.5 million that year, Forbes reported. The list considers "pretax income from touring, record sales, streaming, publishing, merchandise sales, endorsements and other business ventures."
In a recent Forbes list documenting the wealthiest hip-hop artists, Drake came in at number 5. Atop the list was Jay-Z, recently crowned the first hip-hop billionaire.
Drake seems well on track to top the list once more with his upcoming album release. The rapper's continued success has earned him the moniker 'the 6 god,' referencing his hometown of Toronto.
"That's pretty much my objective every year," Drake claimed of making the Forbes' list. "Other than making good music."
Endorsements
The rapper boasts endorsement deals with some of the biggest brands on the block, including Nike (NKE) , Apple (AAPL)   and Sprite.
Drake also has had deals with Kodak (KODK) and Virgin America (VA) (an Airbus A320, dubbed 'Air Drake,' to be exact).
Drake's Early Career
Surprising to some, the famous rapper actually got his start on television, starring as a child actor on the teen show "Degrassi: The Next Generation." Drake played the character Jimmy Brooks for seven years, but in 2006 began to pursue a career in the music industry.
Drake's first mixtape, "Room for Improvement," dropped in 2006 to a respectable reception, selling about 6,000 copies. Shortly after, Drake's character on Degrassi was eliminated by the producers. But, in 2008, famous rapper Lil Wayne was sent some of Drake's music by Jas Prince. Wayne later contacted Drake to tour with him on his Carter III tour and sign to his label Young Money Entertainment in 2009, which Drake did.
Drake also dabbled in backup work, as Nelly Furtado revealed to Nylon in 2017. Furtado claimed that Drake was a backup singer to her opening act Socrates on her Loose tour.
Despite his somewhat humble beginnings in the music scene, Drake quickly began to catch fire, releasing his third mixtape in 2009 "So Far Gone," which featured the song "Best I Ever Had." The song hit No. 2 on the Billboard's Hot 100 List that year, and won the 2010 Juno Award for Rap Recording of the Year. Another song on the mixtape, "Successful" featuring Trey Songz and Wayne, made it big on Rolling Stone's "25 Best Songs of 2009" list.
In 2010, Drake reportedly made $26 million, placing him as the highest-earning newcomer on Forbes' Hip-Hop Cash Kings list.
In 2012, Drake established his own Toronto-based label October's Very Own (or OVO) with his manager Oliver El-Khatib and producer Noah "40" Shebib.
Drake's Take Care and Other Albums
The Canadian rapper released his first full album "Thank Me Later" in 2010, which debuted at No. 1 in the United States and Canada, going certified platinum shortly after. In the next year, Drake dropped his second album "Take Care" in 2011, which instantly became a mega-hit. The album debuted at No. 1 in the United States and Canada, earning him a Grammy for best rap album in 2013 and international acclaim. Greg Kot reviewed the album for the Chicago Tribune, encapsulating Drake's unique, "sad boy" persona.
"Drake, the melancholy hustler with a conscience, is back drunk-dialing former girlfriends and mourning the ones who got away," Kot wrote.
The Canadian rapper sold 631,000 copies of his second album in its first week on the charts, famously attracting the compliments of music industry heavy-hitters like Jay-Z.
Hitting the shelves in 2013 was Drake's third album "Nothing Was the Same," which bragged singles like "Started From the Bottom " - a Drake classic if ever there was one.
Dropping "If You're Reading This It's Too Late" in February of 2015, Drake's album quickly went platinum. In 2016, Forbes reported that Drake had the best music sales of any hip-hop act that year. And, perhaps one of the artist's most successful albums, "Views" dropped in 2016, selling more than 1 million copies in the first week of release.
"Views" debuted at No. 1, and set the record for streams of any album in 2016, hitting 245.1 million streams, according to Billboard. Shortly after in 2017, "More Life" dropped as a so-called "playlist" by the rapper. The album premiered on Drake's OVO Sound Radio on Apple Music.
Not to be outdone, Drake's singles have performed notably well. "God's Plan" in early 2018 debuted at No. 1 in both the United States and the United Kingdom. This would turn out to be a mere prelude to even bigger success; "God's Plan" was the leadup to a huge 2018 for Drake as he would release the double-album "Scorpion," which would debut at #1 on the Billboard 200 and provide Drake with two No. 1 singles, "Nice For What" and "In My Feelings."
In 2019, Drake released a 2-song EP, "The Best in the World Pack," as a celebration for the Toronto Raptors' recent NBA Championship. The single from the EP, "Money in the Grave," premiered at No. 7.
Thus far, Drake has released 5 full-length studio albums, 3 EPs, dozens of singles, and multiple mixtapes.
Controversy
As is to be expected with any international superstar, Drake has had his fair share of controversy and feuds.
Most notably, Drake has had on-going feuds with fellow rappers, one of his most notorious being with rapper Pusha-T.
The two rappers began feuding as early as the 2010s, but most recently have received news coverage over their insults this past Memorial Day in 2018.
According to Time, the two rappers have traded insults as well as diss-tracks about complaints like rapper loyalties, Drake's alleged ghostwriter, and even Drake revitalizing Pusha-T's career. Apparently, Drake even recently billed Pusha-T a $100,000 invoice for "resuscitating his career," according to TMZ.
Their skirmish climaxed when an old image of Drake wearing blackface was brought to light by Pusha-T. The Canadian performer took to Instagram to clarify the picture in light of the media circus, claiming that the photo was from "working on a project that was about young black actors struggling to get roles."
Drake has been a "global ambassador" for his hometown Toronto Raptors since 2013, and generated some controversy during their 2019 championship run. A visible presence at Raptors home games during the playoffs, Drake frequently put himself in the spotlight, attempting to antagonize other players, and was at one point seen rubbing Raptors coach Nick Nurse's shoulders.
Awards
It should come as no surprise that the ultra-successful Canadian rapper has a few awards to his name. Among many, Drake boasts 4 Grammys (Best Rap Album in 2013, Best Rap Song in 2017 and 2019, and Best Rap/Sung Performance in 2017), several BET Awards in 2013, numerous Billboard awards, and more.
How Does Drake Spend His Money?
The Toronto-native is said to have made more than $250 million since his career took off in 2010, according to Forbes. While the rapper may be known for his lavish parties and real estate, Drake famously donated his entire production budget, some $1 million, to families in his 2017 music video "God's Plan." In the video, the rapper spent the money on scholarships, groceries, families, and even fire stations, according to Refinery29. The added on disclaimer in the opening of the video reads, "The budget for this video was $996,631.90. We gave it all away. Don't tell the label..."
Still, when Drake is not doing a good deed for local families, the singer reportedly spends his money on Bugatti's and Rolex's. Not bad.
Drake's Home
When the performer is not on stage or traveling the world, Drake sits pretty on an $8 million mansion in Hidden Hills, Calif.
The home is near those of Justin Bieber, Kanye West and others who reside in or near the Los Angeles area.
Drake's mansion sports an "insane" pool, according to Business Insider, as well as a formidable library, wine cellar, gym and tennis court - to mention a few.
Drake's New Album
The long-anticipated "Scorpion" album was released on June 29, 2018. The rapper playfully teased the release of his album on Instagram, where he sported a black jacket with the words "Scorpion, June Twenty Eighteen, by Drake" on the back.
While anticipation and tensions are rising for Drake's new installment, the singer's promotional scheme seems to already be bigger than his "Views" campaign, Forbes reported.