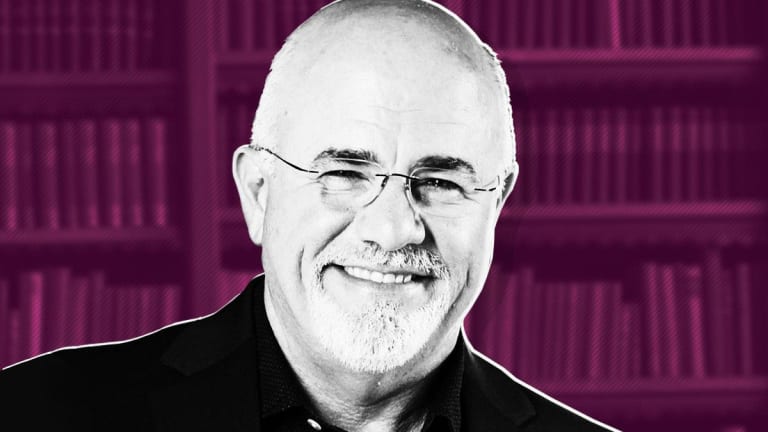 What Is Dave Ramsey's Net Worth?
Radio show personality and personal finance expert Dave Ramsey actually went bankrupt once. You won't believe what he's worth now.
You may know or have heard of him from his radio show, or his investment and financial planning books. But did you know that David Ramsey went bankrupt in his late 20s, and managed to build his wealth back up through evangelizing on sound money management using the Bible as his reference?
What Is Dave Ramsey's Net Worth?
David Ramsey's net worth in 2019 according to estimates is $200 million.
Early Life
David Lawrence Ramsey III was born Sept. 3, 1960 and raised in Antioch, Tenn. He frequently refers to an early lesson in self-sufficiency when, as 12-year-old, he asked his father for money to buy an Icee at the local Quick Sack, and his father told him to "get a job" and earn it, as "that's where money comes from."
His father asked him what he thought he could do to earn money, and Ramsey said he thought maybe, since he had friends doing it for money, he could cut lawns.
So his father took him down to the local print shop in old town Nashville, and printed up 50 business cards, that said "Dave's Lawns." And his father instructed him to knock on the closest 50 doors in the neighborhood, and tell them he would like to have "the opportunity to provide them with all their lawn care needs."
He credits that start with teaching him customer service, and keeping his word. Ramsey said at 12 years old, he had 27 lawns to cut.
And that's how he started making money.
How Did Ramsey Make His Fortune?
Ramsey said in a documentary he had "all sorts" of small business ventures, after the lawn care experience, including selling leather bracelets, while in high school. He'd stamp peoples' names on them and sell them in the hallways.
When he graduated from high school at 18 years old, Ramsey sat for and passed his real estate license exam. His parents owned a real estate company, so he was selling real estate while he was in college and took his license with him to the University of Tennessee at Knoxville, where he worked for a real estate agent for 40-60 hours a week while going through college.
Ramsey graduated from the University of Tennessee at Knoxville with a  degree in finance and real estate, "basically, broke," he said in the documentary, "but not deeply in debt," because he'd been working.
After selling some real estate for a builder, he started buying and selling real estate in his very early 20s, just a couple of years after graduating and getting married. It helped that his family had some connections with bankers that would help finance his projects.
"They started loaning me money, and I...got rich," he explains.
Ramsey Investments Inc. built a real estate portfolio worth more than $4 million by 1986, with $3.3 million in debt, giving him a personal net worth at the time of about $1 million. At 25 or 26 years old, Ramsey was making $250,000 a year.
Ramsey said, considering the neighborhood where he grew up, he was considered successful and started doing things he and his wife had dreamed of when younger. He bought a Jaguar, which he had wanted since high school, and his first child, a daughter, was born.
Ramsey credits things going so well that he went to church, and "it was weird," about the time he says he "discovered" God, everything he thought was solid in his life started to fall apart.
On Sept. 22, 1988, the plug was pulled on Ramsey Investments, by the banks from which he'd borrowed millions.
The banks with which he had relationships and loans were sold. As he was buying property and "flipping" it for a profit, one bank where he had $1.2 million in 90-day notes was sold to another bank, and bankers in another state, another city, saw a "kid" of 26 years old owing the bank so much money. The bankers decided to limit the relationship, so they called in his notes and demanded payment within 90 days.
A second lender, to whom he owed about $800,000, called in his notes about 60 days later.
It wasn't possible to sell enough real estate in less than six months to come up with $2 million.
Ramsey signed bankruptcy papers on that date.
And right after that, he says in his biographical documentary, he and his wife found out what the Bible had to say about money.
He credits reading the Bible, and comparing its financial advice to what he had learned in school, and started preparing an emergency fund, and devising a budget, and other financial basics he'd never applied before.
The key, Ramsey says, is hope. When people lose hope that they can get out of financial difficulties, they are in trouble. And when they come looking for help, it's because they have a glimmer of hope left that things can and will get better.
He had written his first book at the advice of a pastor, who knew he'd helped some in his church with financial advice, who said he needed to write his story to give people hope. He wrote "Financial Peace" in the mid-1990s, took it to a local printer and printed up 1,000 copies.
After being a guest on a local radio show, and having some success counseling people about financial troubles, a friend of his invited him on a one-hour radio show and listeners kept calling in. Then the friend quit the radio station. Another friend involved with mutual funds called him and convinced him to join together to host the radio show that now was missing a host. They called their radio program "The Money Game." And Dave Ramsey's radio show was born June 25, 1992.
His books were ready that same night.
In 2019, the "Dave Ramsey Show" can be heard on more than 500 radio stations in the U.S. and Canada.
Since "Financial Peace," Ramsey has written three other New York Times best-sellers, and he won the Marconi Award for "Network/Syndicated Personality of the Year" in 2009. And he founded The Lampo Group, which has more than 350 team members and runs his business debt-free. And he reportedly owns a real estate portfolio worth about $150 million by itself.
Much of his advice can be summed up by his oft-stated maxim: "We buy things we don't need with money we don't have to impress people we don't like."
Controversies
Ramsey has often been criticized for his advice and methods.
One of the more controversial bits of advice he gives is known as the "debt snowball" method, which involves paying off the smallest debt first, rather than the largest. The reverse of this, advocated by most financial advisers, is the debt stacking method, which involves paying off the highest debt amounts first, and moving to the lower ones next. In the debt snowball method, the higher amounts of debt are financed by paying the minimum payment while paying off the lower debt amounts; in the debt stacking method, the minimum payments are usually smaller, as they are used to carry lower debt.
Another characteristic of the debt snowball method is that debt is ranked by amount, rather than amount of interest.
Research by the Kellogg School of Management has found the debt snowball method relatively effective, except for the danger of ignoring interest rates, as paying off any amount motivates debtors to pay off other debt.
Another Ramsey controversy involves his stated belief that investors can attain 12% annual returns, which he uses in his financial analyses. According to Brian Stoffel in a 2018 article in The Motley Fool, relying on that 12% estimated return could leave people severely underinvested for retirement. He also recommends retirees plan to draw 8% of their retirement savings per year -- twice what most advisers recommend -- and to remain heavily invested in equities (stocks), the most volatile and risk-prone investments.
How Does Dave Ramsey Invest His Money?
Ramsey is anti-debt. He suggests saving and using cash for everything, and disposing of credit cards.
He purchased a 13,000 square foot lavish mansion in 2010 with no mortgage. He paid cash; the house and land are worth an estimated $4.9 million.
Ramsey's investments are relatively unknown, except for his advice on investing: He recommends investing 15% of income for retirement, after all debt is paid off (except for mortgage) and a solid emergency fund is built. He also recommends investing that 15% in four types of mutual funds: Growth and Income, Growth, Aggressive Growth, and International.