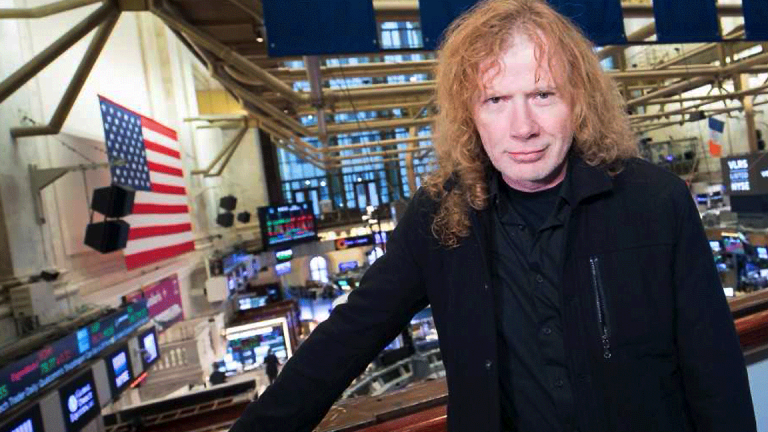 Megadeth's Dave Mustaine Turns Lyrics Into Wine
Heavy metal legend names his rose and powerful reds after some of his greatest hits
Dave Mustaine made his name as the founder of heavy metal band Megadeth, but when it comes to wine, he prefers a more approachable style.
"I want something that isn't going to have that vinegary, alcohol taste, but something where you're going to be able to feel the warmth of the wine and taste all of the different fruits that are in it," he says.
That sensibility drives the wines that the musician issues under his Mustaine Vineyards label. He put his first wine, Symphony Interrupted, three years ago when he was appearing with the San Diego Symphony. The wine sold out in two days, and Mustaine now puts out four wines in conjunction with the South Coast Winery of Temaluca, Calif., each of which is named after a Megadeth song. His favorite is the Blood of Heroes Syrah, a robust red like the Kingmaker, a blend of Sangiovese and Cabernet Sauvignon, and the Hook in Mouth, a blend of Cabernet, Syrah, Zinfandel and Petit Verdot.
Mustaine Vineyards' most successful wine is the She-Wolf Tempranillo Rose, which won the Platinum Award for Best in Show at the 2017 San Diego International Wine Competition, a Double Gold Award for Best of Class Region at the 2017 California State Fair Wine Competition and an award for Best of Class at the 2017 Pacific Rim International Wine Competition.
Mustaine doesn't immerse himself in the details of winemaking, but he does select the blends. "We want to do things that are stuff that I like," he says. "If I don't like the way something tastes, I won't put my name on it."
But his wine venture has not changed his musical preferences. Even when listening to classical music, he says, "I really love the dark, challenging stuff -- the kind of stuff where the wolves come in and the witch is getting ready to give you the apple, not the kind of stuff where the dwarfs are dancing around."
Watch More with TheStreet:
Kiss King Gene Simmons Unleashes His Next Major Stock Market Prediction
Have You Watched the 5 Most Viewed Music Videos on YouTube?
Jason Derulo -- Singer, Songwriter, Dancer, 'Fly' Dresser and ... Football Fan
Video: How Two of the Wine World's Biggest Families Partnered to Make Liquid Gold
Sign up to get all of TheStreet's best video in one place, your in-box.