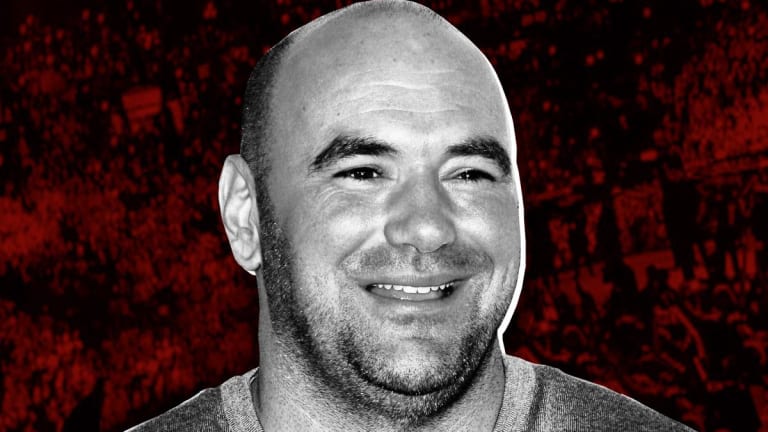 What Is Dana White's Net Worth?
Dana White, president and public face of the Ultimate Fighting Championship, is worth a ton of money. It's money he earned the hard way.
Dana White is synonymous with the Ultimate Fighting Championship. He's made a lucrative career as president of the UFC, with an estimated net worth of $500 million in 2019 along with a reported yearly salary of $20 million.
In fact, the burgeoning popularity of cage match fighting may never have materialized without the managerial and administrative capabilities of White.
Why is Dana White considered one of the main drivers of the UFC and the Mixed Martial Arts (MMA) cage match fighting world today?
It's an intriguing story, one that melds the entrepreneurial spirit of the 49-year-old White with an idea whose time had come -- bruising bouts of fighting between some of the toughest athletes on earth, which has translated into a multi-billion industry.
Early Life
Dana White was born July 28, 1969 in Manchester, Conn. to June and Dana White.
White grew up in Ware, Mass., but found himself in the crosshairs of one of the most notorious gangsters in history, James "Whitey" Bulger. Bulger and his Winter Hill gang terrorized South Boston for several decades between the early 1960s and the late 1990s.
White has said that he owed $2,500 to Bulger and his crew, and one day after being threatened if he didn't pay up, White bought a one-way plane ticket to Las Vegas.
Career Upswing
White quickly acclimated himself to the Vegas lifestyle and before long, he found himself in the fight game, working his way up not as a fighter but as a manager. White ultimately wound up managing two up-and-coming fighters, Tito Ortiz and Chuck Liddell who would both ultimately become giants in the MMA industry.
By 2001, White had earned the title of president of the Ultimate Fighting Championship, which was purchased by Lorenzo Fertitta and his brother Frank for $2 million, under the name Zuffa LLC. White had known Lorenzo Fertitta, the son of a casino executive, for years in the Vegas boxing world, where White had competed as an amateur fighter and a workout trainer who liked to combine boxing and aerobics for client training.
Giving up his fighter management responsibilities, White found himself presiding over a barebones operation, which had been basically stripped down to just the UFC name, logo and some fighting infrastructure, including an aging and tattered octagon where fighters were expected to square off in bouts.
Three years into the ownership arrangement, Zuffa found itself $30 million in debt - but White and the Fertittas locked on to a game-changing new idea. They struck a deal with Spike TV to air "Ultimate Fighter" bouts on a regular basis in 2005, paying Spike $10 million to do so.
Ultimate Fighter took off on Spike, as viewership skyrocketed. Spike TV was so enamored with the viewing numbers that it offered Zuffa millions of dollars for the rights to televise more UFC bouts, and the concept of Ultimate Fighter morphed into Ultimate Fighting Championship, with the Fertitta's and Dana White hitting the jackpot as a result.
White and his partners have successfully hung on as demand for mixed martial arts fighting rose among mostly young, male fans who had tired of the traditional boxing industry. By 2015, the sport's popularity had translated into a $600 million behemoth and was sold a year later for $4 billion.
Owning 9% of the operation, White could have taken his cut and walked away, but he stayed on as UFC president, signing a seven-year contract to be the president and public face of the UFC, which simultaneously inked a new deal with ESPN.
As the UFC grew in popularity, Dana White became the public face of the sport, appearing at press conferences, bout announcements and the actual fights themselves. He was brash and unapologetic in setting the gritty, but high-entertainment vibe that UFC fans clamored for.
By 2012, White also made history by signing Ronda Rousey to a UFC fighting contract, making her the first-ever professional woman fighter to compete in the male-dominated UFC. White was slow to the draw on signing Rousey (for years, White had resisted the idea of women cage match fighters) but her engaging personality and high-tension bouts in the ring were a ratings bonanza, and White cashed in on Rousey's popularity with viewers.
White also raised the UFC's brand profile, striking a deal with Reebok to act as the exclusive sponsor of UFC clothing. The move caused some consternation among the UFC's stable of fighters, some of whom had to give up their own sponsors.
White weathered the storm and hit pay dirt again in 2017, when Zuffa sold UFC to William Morris Endeavor-International Management Group for a reported $4 billion. White not only kept his minority ownership, he also continued on as president of the UFC, with the organization's seven-year deal with ESPN following the next year.
How Does Dana White Spend His Money?
Despite his brash public persona, White and his long-time wife Anne have kept a low profile since their marriage in 1996.
The couple purchased a home in the posh Pine Island Court section of Las Vegas for $1.95 million in 2006, and later bought out three neighboring properties for $6.2 million to expand the size of the family home.
Dana White is an avid collector of cars and commercial valuables. White made news in 2018 when he spent $60,000 on various (and valuable) Katana swords on the popular reality television show, "Pawn Stars."
As for hobbies, White says he really doesn't have any. Instead, he focuses on his two passions -- his family and the UFC.
"If I'm not spending time with my family, then there is nothing I would want to do," White says. "No games, no hobbies, no special interests. This company, those fighters, this job, they're my hobby. This is my life. It's my everything."
It's never too late - or too early - to plan and invest for the retirement you deserve. Get more information and a free trial subscription toTheStreet's Retirement Dailyto learn more about saving for and living in retirement. Got questions about money, retirement and/or investments? EmailRobert.Powell@TheStreet.com.