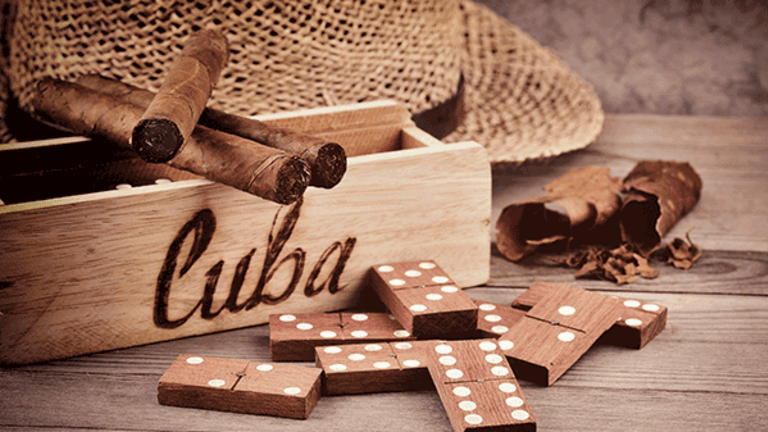 Cuban Cigars Are Now Legal, Here's Your Insider's Guide
It may have gone unnoticed amid all of the hubbub of the election that President Obama has officially lifted restrictions on Cuban rum and cigars.
Editors' pick: Originally published Nov. 14.
Perhaps we all need a distraction from the tension and debate surrounding the presidential election, a little something that's purely pleasure-oriented and frivolous compared to the weighty issues of late.
Well, here it is.
It may have gone unnoticed in the heated, final weeks of the political campaigning that the U.S. government officially lifted restrictions on Cuban rum and cigars.
That's right: the long forbidden and much coveted Cuban cigar, a thing of fascination for countless cigar lovers, and prized by cigar connoisseurs the world over, can now be brought back to the U.S. without penalty.
According to the updated regulations released by the Treasury Department in late October, U.S. citizens traveling to Cuba are no longer restricted to bringing back just $100 worth of tobacco and alcohol. That $100 limit has been entirely removed and Cuban rum and cigars are now subject to the same duties as alcohol and tobacco from other countries.

Translation: stuff your suitcase, carryon bag, handbag, you name it, because you can now bring home an unlimited amount of cigars and rum as souvenirs.
You can thank President Obama for this little post-election, pre-holiday, gift. The development is part of the process of normalizing relations between the U.S. and Cuba that Obama began in December 2014.
Given the easing of regulations, it seemed only fitting to speak with a few people who have expertise in Cuban cigars, to obtain some insight regarding their personal favorites, as well as their recommendations regarding where on the island to buy them (just in case you're now hastily booking a Havana-bound flight and you're not a Cigar Aficionado trained expert yet.)
First up, Eddie Lubbers, who's not only CEO of the Cuba Travel Network, but also lived in Cuba for 13 years and enjoyed his fare share of local cigars during that time.
There's a number of ways for one to become immersed in Cuba's cigar culture, notes Lubbers, and he personally recommends beginning with a visit to the cigar lounge at Conde De Villa Nueva, a boutique hotel in Old Havana.
Tucked inside the restored 18th century mansion, the cigar store and lounge, known as La Casa del Habano, is one of the best and most respected in Old Havana.
It sells a full range of cigars, including custom made offerings. It also has an onsite torcedor (a person that rolls cigars) and rents out private humidors where regular clients can store their own personal reserve.
Sounds like a pretty cushy way to kick off your Cuban cigar experience right?
Now for which cigar brands to try once you're comfortably seated at La Casa del Habano.
Lubbers suggests Cohiba (not to be confused by the Cohiba brand produced in the Dominican Republic for the for U.S.-based General Cigar Company).

"During the 1960s, after the revolutionary government took over Cuba and took control of the cigar industry, they developed the Cohiba brand," explains Lubbers. "And it's now a major brand and they have various new cigars."
Now get your pen and paper out because here come the names to remember.
Among Lubbers personal favorites is the Cohiba Behike BHK 54, a cigar that was crowned cigar of the year in 2010 by Cigar Aficionado magazine. It is also one of the most expensive local options, according to the magazine.
Made from leaves grown in the tobacco-rich western Cuban province of Pinar del Rio, the Cohiba Behike BHK 54 is described as bold and earthy with some notes of coffee bean.
"Cuban cigars are made of on average about five different tobacco leaves," explains Lubbers. "The Behike is the only one made of six tobacco leaves. That additional leave is the top leaf of the tobacco plant, which is thicker and it receives the most sunlight, which gives it a particular taste."
The Cohiba Behike BHK 54 is not available in some of the region's other notable cigar producing countries such as Dominican Republic, Honduras, or Nicaragua, notes Lubbers, making the experience or purchase of this cigar even more uniquely satisfying.
One additional tip from Lubbers - if you happen to find yourself near a tobacco field in, say, the Vuelta Abajo region while visiting Cuba, absolutely buy cigars there as well. For the uninitiated, the region is thought by many to be the finest cigar tobacco-growing land in the world.  
"That's the place to make a comparison and get a cigar right off the street," he says. "And you can get them dirt cheap."
Cuba Travel Network offers tours to the island that include visits to the cigar lounge at Conde De Villa Nueva, among various other stops.
Here's another name to keep in mind, should you be headed to Cuba for a cigar extravaganza: Bolivar Belicoso Fino.
It's the cigar that got Roy Byrd hooked.
Once a member of the Harlem Globetrotters, Byrd has since shifted his focus to cigars as owner of the San Francisco based Byrd's Nest Cigars.
"I smoked those for seven years straight," says Byrd of the Belicoso Fino, who came by them through winning basketball games in his neighborhood against a local cigar collector.
The Bolivar Belicoso Fino is described by Cigar Aficionado as a perennial favorite among those with a penchant for strong Cuban smokes. (And as an interesting side note, it's named after Simon Bolivar, who's famous for leading the effort to liberate much of South America from Spain.) The cigar named in Bolivar's honor is described as an earthy smoke, heavy in minerals, raw cocoa and coffee bean.
Also on Byrd's list of favorites is the Montecristo No. 2, which he describes as creamy, medium bodied and very smooth. And in no small feat, this particular cigar was named the best cigar of the year by Cigar Aficionado in 2013.
"It will definitely turn your head," says Byrd. "When you smoke it you're like 'wow, that was impressive."
And finally, Byrd also suggests the Hoyo de Monterrey Epicure No. 2, for a smooth yet earthy cigar.
For those tempted by all of this cigar talk, now interested in having a local cigar party, Byrd's Nest Cigars offers a traveling cigar bar, which involves Byrd coming and setting up a variety of curated offerings for public and private events. He'll also talk about what makes a great cigar, select a cigar specifically for you and show you how to best enjoy it.
The parties, however, do not yet involve Cuban cigars because it remains illegal to sell them in this country. Kind of a let down, yes, but all is not lost.
Think of such a party as merely the educational foundation preparing you for the grand event in Cuba, an experience that readies you for a knowledgeable comparison.
"Phenomenal cigars come out of Cuba," says Byrd. "It's the birthplace of the whole cigar industry and we respect that. There's just something about the Cuban soil and it's the long history."