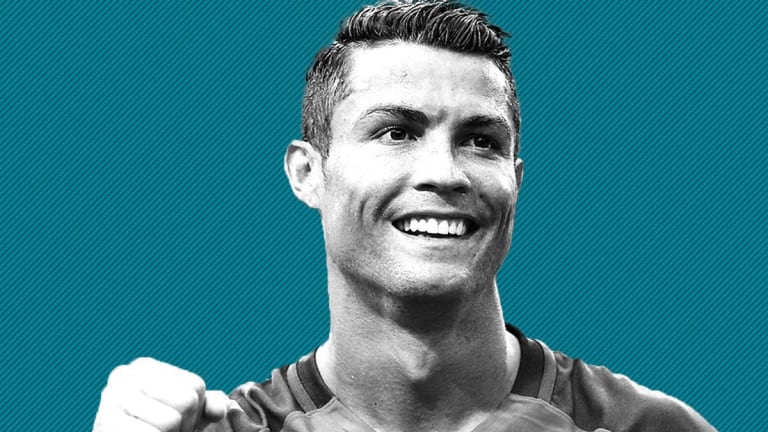 What Is Cristiano Ronaldo's Net Worth?
Cristiano Ronaldo is rumored to be worth as much as $450 million. How did he get there, and how does he spend his money?
Americans may not be the most knowledgeable about international soccer, but there are a few exceptions to that rule - notably, the rare superstar players that transcend the sport. And there's no better example of that in this year's tournament than Portugal's Cristiano Ronaldo.
Ronaldo may not make the most money in the sport (salary-wise he's behind Lionel Messi and Neymar, and with endorsement money added in, he's still slightly behind Messi), but he is undeniably the face of the sport. An athletic phenomenon since he was a teenager, Ronaldo, now 34, is as much a brand as an athlete. He's a soccer star, entrepreneur and social media juggernaut all at once, the epitome of what it means to be a "celebrity" today.
That celebrity, in addition to bringing him adoration and controversy across the globe, has also netted Ronaldo incredible wealth. Cristiano Ronaldo is one of the highest-paid celebrities in the world. Combined, his current salary and endorsement deals combine to pay him $109 million. That ranks Ronaldo second in the list of highest-paid athletes in the world. How much is he worth?
What Is Cristiano Ronaldo's Net Worth?
Celebrity Net Worth estimates Ronaldo's net worth at around $450 million. Unsurprisingly, the majority of that comes from his nearly two decades of playing soccer professionally. But there's far more to his riches than that.
Cristiano Ronaldo Salary & Career
Ronaldo's career in the sport started in his home country of Portugal. He made his first appearance playing for Sporting CP in the Premeira Liga in 2002 - when he was just 17 years old. He wasn't there long, though, his talent too tantalizing for larger leagues to not notice, and by 2003, Manchester United of the Premiere League acquired him.
Cristiano Ronaldo Manchester United
Ronaldo's tenure with Manchester United was filled with turmoil, accusations of selfishness, and demands for a transfer. But that tenure also established him as a force to be reckoned with in the league. An immediate sensation, Ronaldo was paid handsomely for his job, and by 2008 he was making £120,000 per week - nearly $160,000 in current U.S. dollars.
Toward the end of his run, however, it was apparent that Ronaldo, a forward, wanted to leave to play with Real Madrid, in Spain's La Liga. After the 2008-09 season, he made that a reality.
Cristiano Ronaldo Real Madrid
Real Madrid spent £80 million (over $106 million) to acquire Ronaldo and immediately signed him to a hefty contract. His salary the first year was a nice increase up to £183,000 (over $243,000) per week.
His play managed to improve on the already high quality with Madrid, and he went from star to icon. His Real Madrid teams have won the UEFA Champions League four times, and to date he has 1.16 goals per game in his tenure. Ronaldo has signed multiple contract extensions with the team, the latest coming in 2016 with the intent of keeping him around through 2021. This averages $50 million a year for him.
Cristiano Ronaldo Juventus
On July 10th, 2018, it was announced that Ronaldo was transferring from Real Madrid to Juventus in the Italian Serie A league. Juventus's fee for the transfer was reportedly €100 million.
Ronaldo's first season with Juventus was a successful one. Scoring 21 goals on the season and throwing in 8 assists as well, Ronaldo helped Juventus win the Serie A title. It was Juventus' 35th league championship in its lengthy existence, and its 8th consecutive Serie A championship.
Cristiano Ronaldo World Cup & International
Ronaldo's play outside of Real Madrid comes as a key member (and the captain) of the Portugal national team. Each Portugal team Ronaldo has played for has qualified for the World Cup, with their most notable appearance being a surprise run in 2006 that took them all the way to the semi-finals. Portugal recently advanced to the Round of 16 in the 2018 World Cup. After Ronaldo scored a hat trick that helped them tie with Spain 3-3, he became one of just 4 players to score in 4 World Cups. After a 1-0 victory against Morocco - where, again, Ronaldo was the lone scorer for Portugal - and a 1-1 tie against Iran, the team was set to face Uruguay in the next round.
His Portugal team has also qualified each time for another tournament that occurs every four years, the UEFA European Championship. And though they have yet to win a World Cup, in 2016 a wild finish led Portugal to their first ever European Championship victory.
Cristiano Ronaldo Investments
Cristiano Ronaldo also fancies himself a businessman, and as such has become interested in furthering his wealth via investments. A notable one came in 2015, when Ronaldo invested $40 million into multiple hotels being developed by the Pestana Hotel Group, which would have his "CR7" brand attached. Currently, there are two open - Pestana CR7 Lisbon and Pestana CR7 Funchal.
Two years later, as an expansion of his brand, Ronaldo purchased a majority stake in Portuguese digital brand agency Thing Pink. His intent was to use Thing Pink to launch 7LEGEND, a brand for launching his own tech products.
Cristiano Ronaldo Endorsements
Ronaldo has 129 million followers on Instagram. His official Facebook page is followed by more than 120 million and liked by 122 million. His tweets are seen by 73.7 million followers. Regardless of your thoughts on the man, he has a worldwide following unparalleled by any other athlete. That's pretty enticing to brands who want their name out there.
His biggest endorsement is easily Nike. The apparel company first signed Ronaldo in 2003, and clearly had no regrets about the decision; not only is he still with them, but in 2016, he became the third ever athlete signed by Nike to a lifetime deal, worth an astonishing $1 billion. The other two? NBA superstars Michael Jordan and LeBron James.
It's far from his only endorsement, though. He's a long-time endorser of Tag Heuer's watches, Herbalife nutritional products, and even attaches his name to the popular mobile game Cristiano Ronaldo Kick'n'Run.
Cristiano Ronaldo House
Ronaldo isn't just an obscenely wealthy figure - he's a family man with a girlfriend and 4 young children. So it shouldn't come as any surprise that the footballer has a massive house.
Located in La Finca, an area of Spain's Pozuelo de Alarcón municipality in Madrid, Ronaldo's luxurious mansion cost £4.8 million, or over $6.3 million. At 8,600 square feet, the house has 7 bedrooms and 8 bathrooms. Among the impressive amenities for this house are:
Large nursery for his 3 youngest children
Outdoor and indoor swimming pools
Fully-equipped gym
Large garden
Trophy cabinet
And for anyone interested in seeing these, have no fear; Ronaldo has plenty of Instagram pictures highlighting the house.
Cristiano Ronaldo Cars
Like so many of the richest men in the world, Ronaldo also loves his cars, and he can afford some of the most expensive models from some of the most luxurious brands. One of his more recent purchases was a Bugatti Chiron, a sleek car worth $3 million.
That's not his only elite model. Ronaldo has a Rolls-Royce Phantom, Lamborghini Aventador, and three different Ferraris - the Ferrari 599 GTB Fiorano, the Ferrari F430 and the Ferrari 599 GTO. Imagine being able to own one Ferrari, no less 3.
Cristiano Ronaldo Taxes
Of course, having all that money doesn't mean you're always great with it. Just before Portugal's first game in the 2018 World Cup, it was announced that Ronaldo had reached an agreement with tax authorities in Spain after being accused of tax evasion, an allegation he and his representation have denied. In the agreement, Ronaldo will pay authorities $21.8 million in fines and serve a suspended two-year sentence. However, Spanish law dictates that a first offense that carries a punishment of two years or less can be served as probation, and it is unlikely that Ronaldo will serve actual prison time.
M