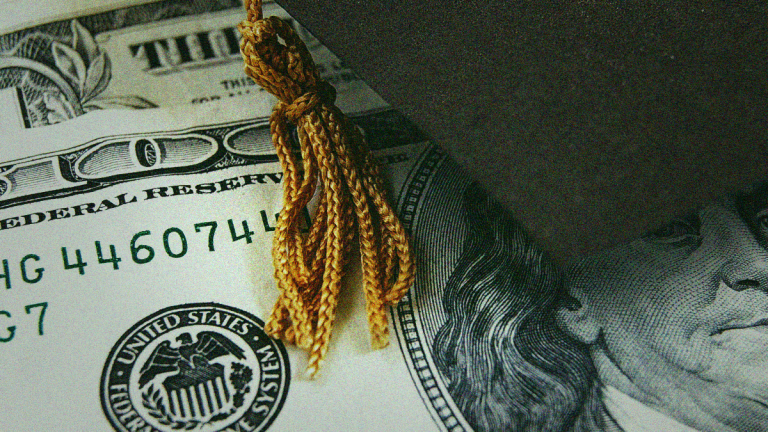 Community College Touted as Best Solution to Trillion-Dollar Student-Debt Crisis
It is a myth that Ivy League schools are superior, says an education expert, who encourages families to consider community colleges for their quality and affordability.
To beat rising tuition costs, savvy parents are encouraging their children to attend community college for the first two years of their academic treks.
Student debt makes up 15% of U.S. GDP. Tuition is rising faster than wages, which is creating a funding gap, Brendan Coughlin, head of consumer deposits and lending at Citizens Bank, told TheStreet's Jacob Sonenshine.
Coughlin sees student-loan debt tripling to $3 trillion within 10 years. 
The first two years of community-college education are almost identical to the first two years at a four-year college, but the cost is significantly cheaper, says the education expert Katrina N. Briggs, professional school counselor and an adjunct instructor at area community colleges in Maryland for 13 years.
This substantially reduces the post-graduation burden on parents and students.
The numbers bear out her cost assessment. According to the American Association of Community Colleges, the average yearly cost of tuition and fees at U.S. community colleges is $3,347, a bit more than a third of the $9,139 at four-year institutions.
"Tuition growth has been two times wage growth for the last two decades," Coughlin said.
The idea that community college is inferior is antiquated and elitist, Briggs says.
The "Ivy Leagues are designed by the 1% to keep them in power," she said. "It is a myth that these schools are superior. The latest Ivy League cheating scandal is proof positive of this.
"We have been bamboozled into believing that in order to be competitive, we must attend a certain school. The reality is our children are graduating college with the tremendous burden of student-loan debt. They are finding it difficult to get jobs and are discouraged and disillusioned." 
Financial literacy and stability are critical when it comes to investing in education, and community colleges are a perfect way to help ensure this.
"I have seen hundreds of savvy parents send their children to community college for two years, and those children earn full scholarships to some of the best schools in the state," Briggs said.
Most community colleges have so-called consortium agreements with state schools, which enable students of all ages and backgrounds to compete for scholarships at state schools. Even athletes use community colleges as a bridge to college athletics.
Community colleges and good grades may be the best solution to the financing problem. "If a student does well in those first two years at a community college, they can then earn a full ride to a state school," Briggs suggests.