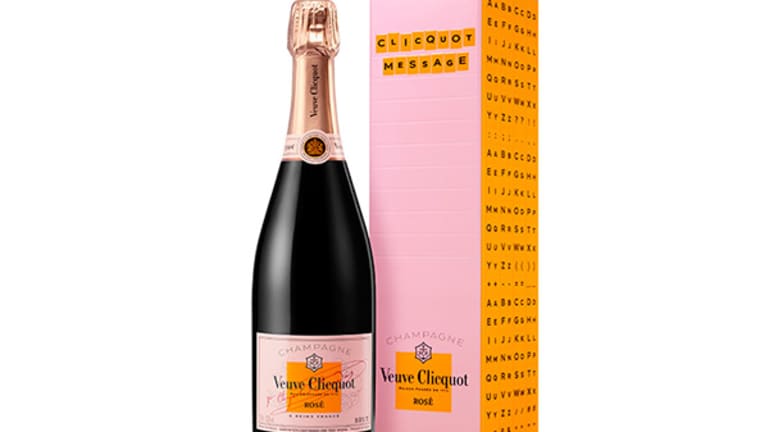 Champagne Is Appreciating in Value: It's Time to Get Bubbly in Your Portfolio
Prices for the effervescent elixir are popping. Here's why you want to add Champagne to your investments. No sham profits here and no pain.
Editors' pick: Originally published Oct. 10.
Friday, Oct. 21, is the seventh annual global #ChampagneDay, so get prepared to break out the bottles.
Of course, every day should be Champagne Day. Not only does it work great with a ton of foods, from seafood and cheeses to popcorn and potato chips, but it also hits the spot after a long day. More importantly, it's appreciating in value again, according to the London International Vintners Exchange, the Liv-ex, which is a global fine wine marketplace.
After a bunch of slow years, Champagne actually is positioned to grow faster than its Bordeaux brethren, which we wrote about here. The Liv-ex Champagne 25, which is a index of 25 of the world's best Champagnes, has hit new highs in last three months. It's up 5.6%, since end of May, vs. the S&P 500, which is up 2.6% over the same period. The Champagne 25 was only up 4.7% from May 2013 to May 2016. So why the sudden movement?
Believe it or not, the market got a "Brexit boost," says the Liv-ex. "The weakened euro enticed buyers back into the market."
And certain vintages are starting to drink beautifully. "The 2002 vintage actually makes your leg shake," says David White, author of But First, Champagne, a modern guide to all things Champagne. Same goes for the 2004. The Asian market has a renewed interest in Champagne as well, especially since it pairs perfectly with seafood and spice. So before the demand blows the roof off prices, its worth a look.
First, A Few Things To Note About Champagne
Champagne is a wine that comes from the Champagne region of France, which is in the Northeast part of the country.  The primary grapes used in Champagne are Pinot Noir, Pinot Meunier and Chardonnay and they must be grown in the Champagne region. In addition, the wine has to be produced, according to the rules of the Comité Interprofessionnel du vin de Champagne.   
As a result, only Champagne is from Champagne. And while there are plenty of other sparkling wines made all over the world, it is actually illegal in some areas outside France even to use the word "Champagne" when referring to a sparkling wine.  That's why a sparkling wine from Northern Italy is called a Prosecco, one from Spain is called a Cava and in California, they are just a plain ol' sparking wines.  
The Bubbles  
Champagne requires a second production step -- or fermentation - which is often why it's often more expensive.  But that's where the bubbles come from.  So the first step is to make wine out of the grapes. The second step sounds a bit like science class, so hang on. Yeast and sugar are added to the wine and it is all put in a bottle with a sealed top. The yeast converts the sugar into alcohol, and because of the pressure, carbon dioxide is created, and so are those fabulous bubbles.  
The Not-So-Obvious Label
Champagne can be a blend of grapes, multiple years or a single vintage. Only single vintages will have a year on the label. That means the Champagne was made 100% from the year indicated.  These are rare bottles though, and are generally only produced three or four times a decade when the weather conditions are perfect. Most champagnes are "cuvees," which means "blends" in French, so you may see that on the label. You may also see "NV," which means "non-vintage," a.k.a. a blend of years.
The label may also say "blanc de blanc" - which means white wine from white grapes a.k.a Chardonnay - or "blanc de noir" -- white wine from black grapes, like Pinot Noir or Pinot Meunier. It can also say "Rosé."  In this instance, they may have added a little of the darker grape skins to the process or they just added a small amount of regular Pinot Noir wine to the base wine before the second fermentation. But that's how you get pink champagne. (Yum.)
So What Should You Invest In?
Single vineyards that produce single vintages only - that means the year is on the label. And the year, of course, is important. As we mentioned above, 2002 was amazing. The 2004 vintage, also stellar, is up about 17.3% over past year, according to Liv-ex. In addition, you can basically back the truck up on anything from 1985, 1988, and 1996, says White. And 2008 is looking like its going to be just as wonderful after a few more years in the bottle. But like the stock market, certain bottles just do better than others. While the S&P 500 was up 5.7% over the last year
• Taittinger Rosé 2004 was up 35.7%
• Ruinart and Cristal were up 19.7% and 8.8% respectively
• Taittinger, Comtes 2002 was 17.7%, again according to Liv-ex.
Moving forward, though, there are a bunch of a smaller production single-vineyard, single-vintage wines that may see some large price spikes in the future, says White, who is also the founder and editor of Terroirist.com. He suggests you consider the following:
• Krug Clos du Mesnil
• Krug Clos D'Ambonnay
• Philipponnat Clos des Goisses
• Selosse Millesime (sourced from two parcels)
• Salon and Anselme Selosse, which are micro-production wines
A Few Other Things to Note
• Many people don't realize that Champagne can age. And when it does, it will blow your head off. So be patient and try to save it.
• Keep it cool, around 55 degrees, and keep it in a fairly dark place. Light can make it vulnerable
• Because of the constant pressure in the bottle, you don't have to store Champagne lying down. Other wines must be laid down to keep the cork moist. No worries about that with Champagne.
And will other sparkling wines ever get to Champagne's status? Probably not. So buy those to drink. And just buy more Champagne. Whether you drink it or save it, it just makes people happy. And the world could use more of that.