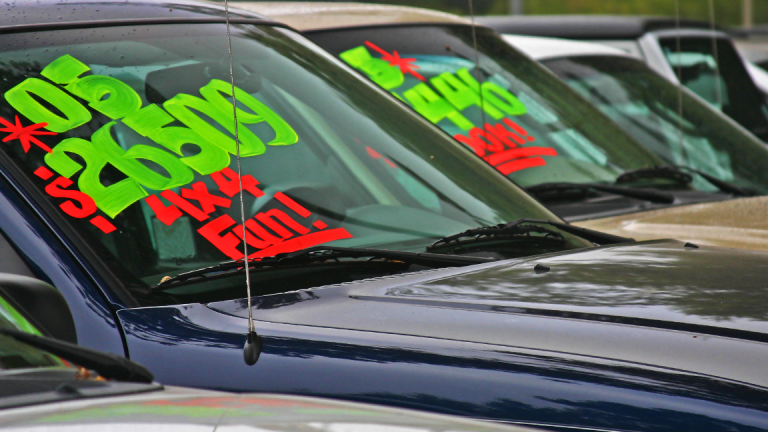 Why You Should Buy a Used Car on Christmas Eve
Used car prices are falling after hurricane-driven demand inflated them in the fall. Those discounts and dealers' holiday schedules make the holiday season a wonderful time for deals.
There's still time to get a deal if a used car is on your Christmas wish list.
According to vehicle pricing and analysis site iSeeCars.com, Christmas Eve is one of the best holidays for buying a used car. The company analyzed more than 48 million used car sales from 2013 to 2016, comparing months of the year and holidays to determine which times of the year offered more deals than consumers would find on the average day -- with a "deal" defined as savings of at least 5%.
"Cars are one of the most expensive purchases families make, and savings of even five percent can mean $950 off the average used car price of $18,992," says Phong Ly, CEO of iSeeCars.com.
Christmas Eve produced seven times the average -- 35.6% more deals than the average day, trailing only Veterans Day (43.2%) and Black Friday (37.5%) for used-car bargains.
And don't overlook New Year's Eve, adds Matt Jones, senior consumer advice editor for vehicle pricing and analysis site Edmunds.com, when iSeeCars says there are 30.2% more deals on used cars than average.
"Shoppers looking for a bargain should consider heading to the dealership the last week of the month, whether they're looking for a new or used cars," he says. "Dealerships looking to hit a unit goal usually start to ramp up deals in the last week of every month, and December is no different."
There's been a lull in prices since Hurricane Harvey in Texas and Hurricane Irma in Florida destroyed countless vehicles and left their owners seeking replacements quickly. According to Cox Automotive estimates, used car sales spiked in September and October, with vehicles selling at a seasonally-adjusted rate of more than 41 million. Used vehicle prices also grew by more than 3% during that period, with the Manheim Used Vehicle Value Index -- a measure of wholesale prices adjusted for mix, mileage and season -- hitting a record high for the sixth-consecutive month in October.
Manheim now predicts that used-car prices will continue to plummet through December to make up for inflated September and October demand.
At Christmas, prices for the year tend to be lower when compared to other seasons, says Lisa Rosenberg, data analyst for used-car pricing and analysis site CarGurus. Used-car prices typically begin to rise in mid-February, she notes, as a build up to the busy spring shopping season, when taxpayers begin receiving their refund checks.
As iSeeCars.com's data confirms, used cars definitely don't get cheaper from that point on.
There are 38.2% more deals on average in December, but just 19.9% more in January and a scant 4.8% in February. From there, buyers start to pay a premium for shopping with more cash in nicer weather. In fact, there are 25% to 28% fewer used-car deals deals in April, May in June than there are at any other point on the calendar. That gives buyers some much needed leverage.
"Dealers are trying to meet their annual goals in November and December, and are more likely to lower their profit margins in order to do so," explains iSeeCars.com's Ly.
"Fortunately, those who miss the main holiday shopping rush get additional opportunities to take advantage of sales surrounding New Year's Day [13% more deals than average] and on Martin Luther King Day [23.4% more]."
What you gain in value, you'll lose in convenience. Dealers are under pressure to make sales goals, but they're also working on the same clock as everyone else. There's a reason they're so eager to make sales during winter holidays, for the same reason that car buyers may not be so inclined to head out to the lots.
"In regards to Christmas and New Year's Eve, the only advice I could offer is if you plan to shop either of those days, get to the dealership early," says Edmunds.com's Jones. "The folks working there are just like us and are eager to get out of there and be with family and friends, and lots of dealers will have shortened hours both days."
More of What's Trending on TheStreet:
This article is commentary by an independent contributor. At the time of publication, the author held no positions in the stocks mentioned.