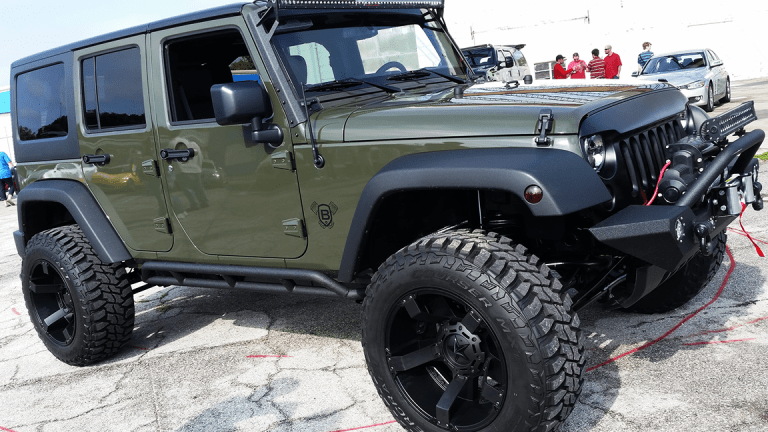 Here's Why It's So Expensive to Buy a Used Jeep
Jeep vehicles -- particularly the Wrangler -- do a remarkable job holding their value. Jeep director of product marketing, Scott Tallon, sheds light on why.
During the press portion of the North American International Auto Show in Detroit, we caught up Scott Tallon, the director of product marketing for Jeep North America.
Jeep, under the Fiat (FCAU) - Get Report umbrella, has been a pillar within the SUV segment over the years. And for anyone who's ever looked at purchasing a Jeep, they might have noticed just how expensive it is to buy a used one.
The way a Jeep tends to hold its value is "pretty amazing," Tallon told us, explaining that the Wrangler was a 2018 residual value award from ALG. The award goes to vehicles that best hold their resale value.
For instance, a 2015 Wrangler Unlimited Sport had a starting price of almost $27,000. A well-kept one now has a trade-in value of more than $23,000, according to Kelley Blue Book. When selling it to a private party, you may even get close to what you originally paid for the car.
"That's a big deal," Tallon added, reasoning that while it's good for business and the brand, it's even better for the customer. Cars are depreciating assets -- at least for a majority of cars anyway -- and there's really no getting around that for typical consumers. "But you still want it to be worth as much as possible," he said.
It helps that the company has made a deliberate effort to reduce its fleet sales. Ultimately, this stunts supply in the resale market. Following the age-old laws of economics, lower supply and constant demand equals higher prices. While that may make for a pricey purchase, it's comforting for Jeep owners to know their vehicle will hold its value over time.
But it's more than resale value that's got consumers interested.
Tallon said he's not sure if or when the trend toward SUVs will slow, but for now, it remains an in-demand segment within the auto market. In 2017, SUVs were one of the few bright spots when it came to sales growth in the U.S. As a plus for automakers, SUV sales usually come with a higher price tag than sedans. Customers love the practicality side of the SUV, Tallon told us. But what's really made it better over the years? Less compromise. SUV drivers are no longer making big sacrifices on fuel economy and handling. 
That's something we heard from Bentley CEO Mark Del Rosso as well. The Bentley Bentayga -- with little surprise -- is a ton of fun to drive. We also saw that with Ford's (F) - Get Reportnew Edge ST, too. 
"Today, there's virtually no compromise," Tallon explained. He further pointed out that car drivers continue to shift into the compact SUV and crossover SUV segment. It's an easy transition and drivers get more utility purposes out of their vehicle. The sub-compact SUV segment basically didn't exist a few years ago, but "now it's exploding," he added.
That's a big benefit for Jeep, which has its Renegade model on the end of the market. The number one buyer of the Renegade? A previous car owner. 80% of these buyers have never owned a Jeep before and the average buyer is much younger than the typical Jeep customer.
In that sense, Jeep is using models like the Renegade -- and the recently overhauled Compass -- to draw in a younger customer base. The hope, and is for other automakers as well, is to draw in younger customers and keep them for life.
That too, might keep a constant demand in the resale market.
More on TheStreet from the Detroit Auto Show:
This article is commentary by an independent contributor. At the time of publication, the author had no positions in the stocks mentioned.