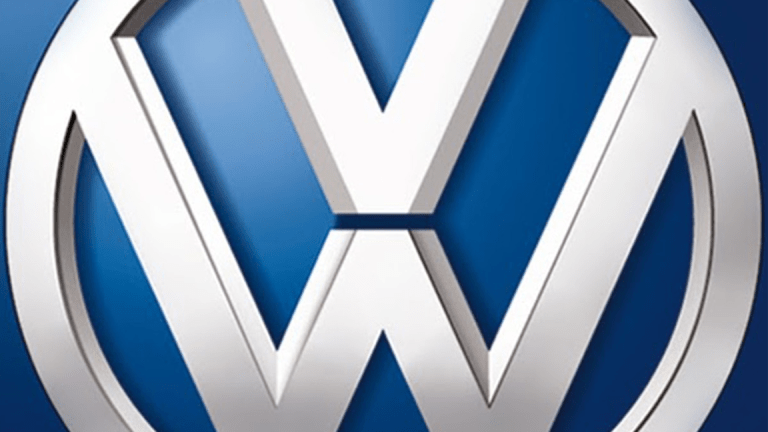 Volkswagen Is Looking to Take on Tesla's Model 3
Volkswagen plans to produce 200,000 electric vehicles with a starting price below $23,000. Can they do it?
Volkswagen plans to produce 200,000 electric vehicles with a starting price below $23,000. Can they do it?
No one thought they could do it, but Tesla (TSLA) - Get Report found a way to make electric vehicles safe, fun and beautiful. 
The Model S, X and 3 are the three safest cars ever tested by the National Highway Traffic Safety Administration. Performance isn't a question either, with impressive battery degradation and speeds that can top most high-end production vehicles whose price tags run significantly higher and at times, in multiples, of a Tesla.
Tesla's vehicles look great too, unlike many of the other all-electric vehicles we've seen hit the road over the last decade. So while many people inside and outside the industry want to take shots at Tesla, it's hard to deny that the automaker has completely turned this electric vehicle space on its head.
It's gone from other automakers ignoring Tesla, to observing Tesla, to now chasing Tesla. The question is, can they catch them?
Volkswagen vs. Tesla
The latest automaker to throw its hat into the ring is Volkswagen (VLKAY) . The company has been in the news lately, as it continues to negotiate a partnership with Ford Motor (F) - Get Report to take advantage of various synergies. We don't quite know for sure what that partnership might look like, but we do know the direction Volkswagen is heading in.
The company is reportedly looking to sell an electric vehicle for "less than" 20,000 euro (roughly $22,800), according to Reuters.
Known as the "MEB Entry," Volkswagen reportedly wants to convert three German production plans to produce the electric vehicles (EVs) and plans to produce 200,000 models. Can it get there?
For anyone who thinks of Volkswagen as a small-time producer, think again. While the name isn't as popular here in the U.S. as Ford or General Motors' (GM) - Get Report Chevrolet, Volkswagen produced just under 11 million units in 2017. To put that in perspective, the annual sales rate in the U.S. continues to hover around 17 million units.
Also worth pointing out is that Volkswagen has a number of brands under its umbrella. Bentley is a leader in the electrification movement among ultra high-end luxury cars, while Audi and Porsche are also making moves in the space.
200,000 EVs at a sub-$23,000 price tag is no easy task. Not that Tesla is necessarily the pillar of efficiency when it comes to auto production, but to secure enough battery supply could prove difficult for Volkswagen. Especially for 200,000 MEB Entry vehicles, plus what Audi needs for its e-tron and Porsche's Taycan (with Porsche planning to produce roughly 20,000 units in the first year).
Granted, it took Tesla so long to near the 200,000 annual production rate because of several other issues. But still, going from zero to 200,000 (or more) units is no easy task. Doing it at that price is also a head-scratcher.
Tesla's Model 3 starts at $46,000 for the intermediate range, with a short-range model in the works for sometime in 2019. The point being, though, without significantly cutting back on performance, how is an automaker going to get the job done for $23,000?
Battery costs are coming down, yes, but even Tesla's goal is to simply get down to the $35,000 level. How can Volkswagen do it and make any money there?
That much isn't clear. It's not even clear if Volkswagen can produce that many electric vehicles or how many people will want to buy them. Perhaps that's why the price tag is so low to begin with, considering that Volkswagen isn't exactly in the good graces of eco-conscious drivers. Its emissions-cheating scandal has not only cost it billions of dollars, but also many customers who will refuse to ever buy its brand again. Believe it or not, many EV drivers buy these cars for their environment impact, not solely because they won't pay at the pump.
Either way, we'll likely find out more later this month, as Volkswagen is set to have a strategy meeting on Nov. 16. 
Want to Buy Stocks for a 10% or Greater Discount? You can with certain so-called "closed-end" mutual funds - an often overlooked investment class. Click here to register for a free online video in which TheStreet's retirement expert Robert Powell and an all-star panel run down all you need to know.
This article is commentary by an independent contributor. At the time of publication, the author had no positions in the stocks mentioned.