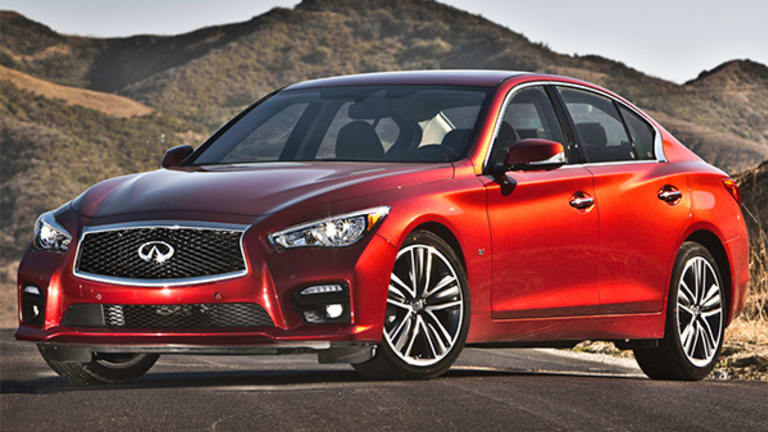 These 11 Cars Embarrassingly Lose Half Their Value in Three Years
That first buyer's pain is the second's gain.
Don't be the sucker who pays full price now for a vehicle that will be half-price later.
According to vehicle pricing site iSeeCars.com, the average vehicle loses 34.5% of its value once it leaves the dealership. However, as the recession made cars seem a lot more costly to buy but ideal for leasing, depreciation on some model's during that three-year span rose to 45% to 51%. "Certified Pre-Owned" or not, their prices lose a whole lot of momentum three years in.
"Whether you call them 'almost new,' 'gently used' or 'lightly used,' the fact that auto leases have risen 91% in the last five years means a boon for shoppers who want a late-model car at a bargain price," said Phong Ly, CEO of iSeeCars.com. "While some of the best bargains we identified are leased more than others, they all have the most depreciation after three years and they're great buying opportunities when you look at the data."
iSeeCars.com analyzed more than 5.8 million car sales to identify models with the greatest loss in value after three years, when most leased vehicles come back for sale. Those "certified pre-owned" luxury brands tend to lose more value than their downmarket competitors. Ly says that leases account for more than 50% of BMW, Infiniti and Mercedes-Benz sales, which creates a constant influx of three-year-old vehicles into the used car market and drives costs down.
Toyota Is on the Verge of Overthrowing Ford and General Motors as America's Market Leader
Watch: 5 Cars Likely To Be Resold Within The First Year
Along with the highest three-year depreciation, most of cars atop this list have average or better reliability ratings from Consumer Reports. The Mercedes-Benz models, BMW 3 Series and Nissan Maxima all received above average ratings. However, because all of the vehicles on the list are only three years old, they're most likely still covered under the manufacturers' new vehicle warranties. Typically, those range between 3 to 4 years/36,000 to 50,000 miles for basic coverage and 4 to 6 years/50,000 to 70,000 miles for power train coverage.
Only one car among the Top 20 sellers in the U.S., the Ford (F) - Get Ford Motor Company Report Fusion, made the depreciation list, though 12 out of 20 see their prices deflate faster than average over five years. In the case of the Hyundai Elantra and Nissan Sentra, that drives average prices to a far more affordable $12,931 and $12,322, respectively.
"Continuing demand for the country's top 20 cars in both new and used models, combined with good reputations for being reliable may help keep depreciation rates lower," said Ly. "One-third of America's 20 most popular vehicles are also SUVs - the hottest segment in the market right now - so that high demand that may be another contributing factor to better resale values."
SUVs depreciate at only a slightly higher rate than average (35.4%), but pickup trucks all do a fine job of retaining their value. The average pickup depreciates just 28.5% each year, making it the only vehicle segment where all models depreciate less than the national average. That's unsurprising, considering that pickup owners hang onto their vehicles far longer than the average owner.
We went through iSeeCars.com's numbers and found 11 vehicles that not only lose their value quickly once they leave the lot, but become a far better value for consumers three years later.
Car Enthusiast? Don't miss these galleries..
These 13 Cool Cars From the 1980s And 1990s Are Absolutely Worthless Collectibles
These Are the 30 Most Expensive Cars Ever Sold at Auction
10 Station Wagons That Are Better Than Your New $50,000 Compact SUV
10 Hot Luxury Cars to Buy Instead of a Tesla