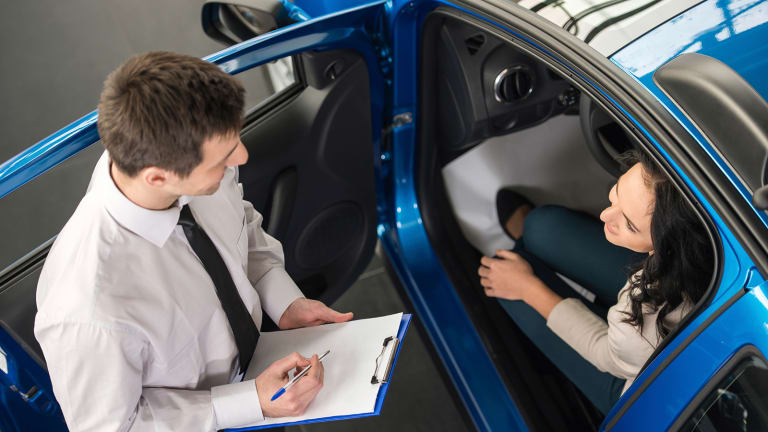 There's No Such Thing as a Discount Auto Lease
No matter how many domestic automakers embrace leasing or how many subcompacts and small SUVs are available for lease, yours simply won't be approved without good credit.
NEW YORK (MainStreet) – Car owners are leasing vehicles at a higher percentage than ever. Unfortunately, lease applicants are also being turned away in huge numbers.
According to auto pricing and analysis site Edmunds.com, 28% of all new car transactions in April were leases. That's up from a low of 12% at the bottom of the recession in August 2009 and even well above the pre-recession high of 19.5% in 2007. But as lease transfer site Swapalease.com notes, credit approvals for leases in the secondary market sat at 78.6% in April. That's a bit misleading – Swapalease notes that approval rates were up from 60% in March, but never climbed above 70% through the first three months of the year.
"Leasing is actually sustaining its soaring popularity levels," Edmunds.com analyst Jeremy Acevedo says. "This largely stems from the diversity of vehicles available to be leased. Leasing today has trickled down from luxury models to mainstream offerings, and because leasing has been democratized it has become much more affordable and thus much more popular."
That diversity is actually causing a bit of confusion in the secondary leasing market, where lessees transfer the remaining portion of an incomplete lease term to another buyer. That buyer gets a lease term more brief than what automakers offer directly and end up paying less overall as a result. Typically, the abbreviated lease terms are viewed as the primary allure of a lease transfer.
"The terms of the lease transfers that we're monitoring haven't changed significantly at all in terms of what people are looking to be approved for," Swapalease executive vice president Scot Hall says. "We usually see leases transferred at a sweet spot of between 16 and 18 months, maybe up to 22 or 24 months."
But approvals in the secondary market hit 69% for all of 2014, down from 77.7% a year earlier, and ended the year at 60.9% in December. Generally, Swapalease considers 75% approvals "healthy" and notes that April's 78.6% rate came only with the help of lease approvals for luxury brands including BMW, Mercedes-Benz and Lexus.
The majority of the lease declines during that month, however, came from buyers trying to transfer leases for domestic brands.
"Quite honestly, we're kind of scratching our heads a little bit about this," Hall says. "It's something that we're going to continue to monitor going forward, but I have a hypothesis why we're seeing more volatility on the domestic side."
Hall points out that domestic leases typically feature a broader range of payment options than German or even Japanese brands, which tend to see much of their lease activity reserved for luxury vehicles. That attracts a buyer that Hall considers more "seasoned" and "established," which leads to familiarity with the process and a less-complicated approval process. The domestic brands, meanwhile, range from lease payments in the low $100 range to far costlier terms for luxury brands such as Cadillac and Lincoln.
As Edmunds notes, between 2008 and 2013, leases for compact cars jumped 131%, while leases for subcompacts nearly tripled. Small SUVs (31%) and compact trucks (45%) also saw increases, which allowed customers to lease vehicles at a far lower price than the luxury market offered, but also, according to Hall, directed "sub-prime shoppers turned away at the dealership" to the lease transfer market with the false hope of more lenient application criteria.
"Even though people are becoming more and more comfortable with leasing, they still don't know about lease transfers, and we're still a new idea," Hall says. "I think we're drawing in some newer clients who look at us as another option instead of going to the dealership. Maybe they don't have credit established yet, and that may be part of the reason why we're seeing fewer approvals."
To be clear, there is no subprime lease market. There isn't a discount lease that will help you avoid a credit check from a leasing company or bank. If you don't have sparkling credit and aren't trying to get it, nobody's going to lease you a car. Automakers and their counterparts in the lease transfer industry are trying to get that point across, but for now a whole lot of applicants are figuring it out the hard way.
"Qualifying for a lease transfer is essentially the same process as qualifying for a new lease, because a lot of it is based on the monthly payment from a monthly budget perspective and what you've done in the past," Hall says. "Whether or not you qualify for a $350 lease payment for 36 to 48 months at the dealership or 18 to 24 months on a lease transfer, most leasing companies won't look at that as greatly different."
— Written by Jason Notte in Portland, Ore., for MainStreet
To follow the writer on Twitter, go to http://twitter.com/notteham.
This article is commentary by an independent contributor. At the time of publication, the author held TK positions in the stocks mentioned.