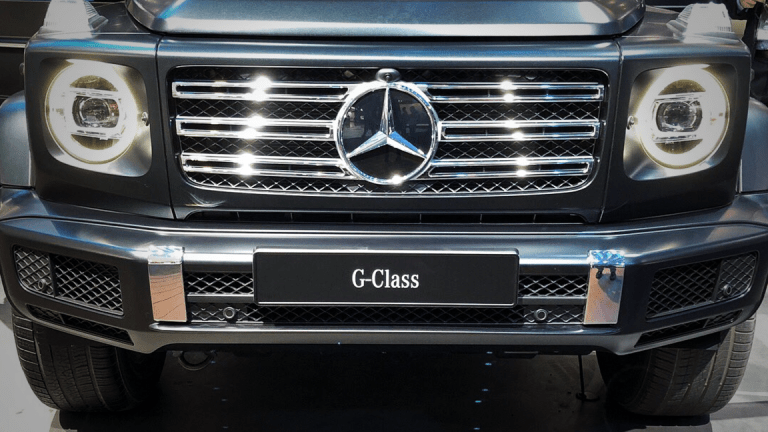 The New 2019 Mercedes-Benz G-Class Is Mind-Blowing
The Mercedes-Benz G-Class is iconic, yet the automaker keeps finding ways to improve the tough -- and pricey -- SUV.
Going to the 2018 North American International Auto Show in Detroit? Once you head into Cobo Hall and stroll through the "Hall C" doors to the main exhibit, it should take about 15 seconds before you stumble upon what we considered one of the most impressive rides at the auto show.
The brand new 2019 Mercedes-Benz G-Class.
This vehicle is so iconic. While materials and technologies have changed, the look of this car has kept to its historic roots. It's still a boxy, big SUV more than capable of going off-road while shining its iconic circular headlamps.
As other automakers and SUVs have embraced crossovers and sexy curves, the G-Class has relished in its ability to maintain its straight lines and hearty look. And guess what? Consumers continue to devour it.
When it comes to the G-Class -- or G-Wagen as many know it -- "we can't make enough," Dietmar Exler, president and CEO of Mercedes-Benz USA told us during the press preview portion of the Detroit Auto Show, just two days after the automaker unveiled the car to the world.
So what makes this vehicle so special? Despite its similar look to previous models, all but three components have changed on the 2019 G-Class. The vehicle is totally re-engineered, Exler told us.
It's now several inches wider, has improved suspension and better handling. It still features a twin-turbo 4.0-liter V8 engine kicking out about 416 horsepower. At some point, though, we expect to see an AMG version of the new model.
Oh, the interior? Jaw-droppingly pristine -- as one would expect from Benz.
I have been a fan of the G-Class for as long as I can remember (although my wife's fandom dwarfs mine). But the 2019, coated in that silky matte grey finish, was a sight to behold. While the price is not yet set, we can expect to see a lofty number attached to it. For comparison, the current G-Class base price starts north of $120,000. 
Either way, we can't wait to see these on the road.
More on TheStreet from the Detroit Auto Show:
This article is commentary by an independent contributor. At the time of publication, the author had no positions in the stocks mentioned.