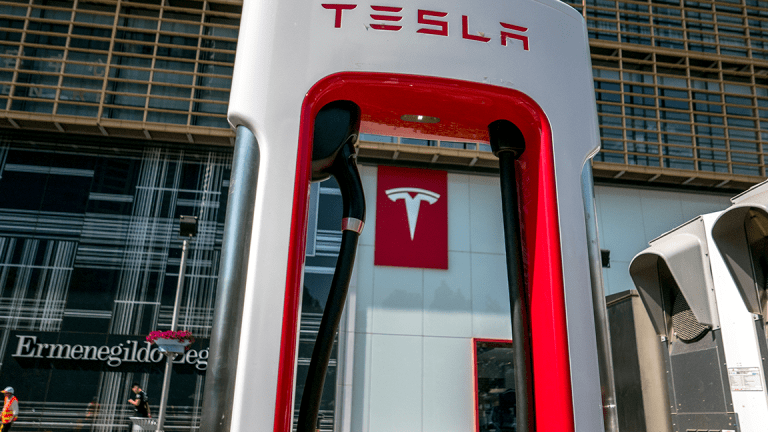 Tesla to Deploy Larger Supercharger Network in Europe
Tesla will expand its Supercharger Network to cover all of Europe in 2019.
Tesla will expand its Supercharger Network to cover all of Europe in 2019.
Electric-car critics would say that buyers are limited in range should they opt for a battery-powered vehicle over a gas-sipping vehicle with a traditional engine. How would one drive more than a few hundred miles from their home without a way to recharge their vehicle the way traditional vehicles refuel on the road?
Tesla (TSLA) - Get Report CEO Elon Musk found a solution to that very question when the company deployed its Supercharger Network. Thousands of strategically placed charging stations made it possible to drive from Los Angeles to Seattle and eventually L.A. to New York.
All of these stations were added across the U.S. in order to relieve what the auto industry refers to as "range anxiety" or the fear of being limited to a suffocating driving range thanks to an inability to recharge. While Tesla's Supercharger solution came with a hefty price tag by having to build it out on its own (rather than having other providers like gas stations), it's given Tesla customers the similar freedom that comes with a regular ICE vehicle.
The automaker's network is getting plenty of action now that it's mass producing the Model 3 as well. Over time, the company will face increasing demand for its charging points as more of its vehicles hit the road. That's becoming prevalent on other continents, too.
Tesla didn't just build the Supercharger Network in the U.S., it also has charging stations through China, Japan, South Korea, New Zealand, Canada and Europe. It has locations in Russia, Australia, Mexico and the Middle East as well.
However, with Tesla's plan to begin shipping 3,000 Model 3s per week to Europe in February, demand is sure to increase at a fairly rapid pace. In a tweet from earlier this week, Musk reminded his followers that the Supercharger Network allows for "easy long-distance travel throughout USA, most of Europe, Canada and China."
His "most of Europe" comment drew responses from several customers or soon-to-be customers in the continent, letting Musk know where there were missing pieces to the Supercharger puzzle.
Not surprisingly, Musk responded by saying, "Yes. Supercharger coverage will extend to 100% of Europe next year. From Ireland to Kiev, from Norway to Turkey."
Of course, we don't know how long that expansion will take or how much it will cost, but the project is clearly on Tesla's radar. That's a good thing for current and to-be customers alike.
This article is commentary by an independent contributor. At the time of publication, the author had no positions in the stocks mentioned.