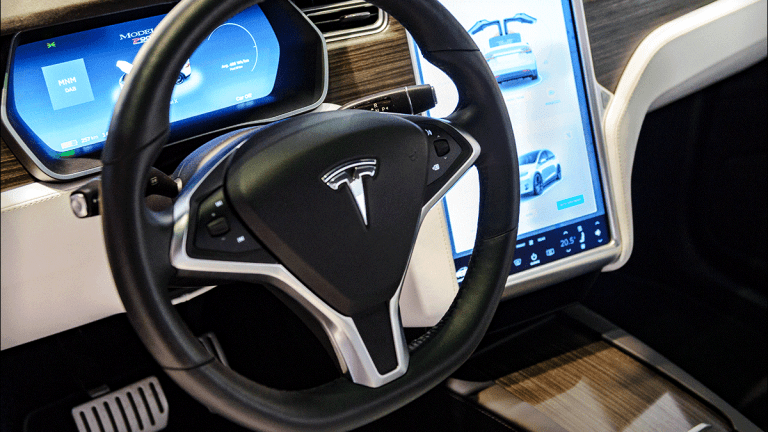 Tesla's Fleet of Self-Driving 'Robotaxis' Seems Unrealistic for Now
Tesla CEO Elon Musk says he imagines a large fleet of autonomous vehicles soon shuttling people from point A to point B -- and delivering profits to the bottom line.
On Monday, Tesla (TSLA) - Get Report hosted its Autonomy Investor Day during which it live-streamed a lengthy presentation detailing its plans for self-driving vehicles, as well as an extensive robotaxi service.
"All Tesla cars being produced right now have everything necessary for full self-driving," CEO Elon Musk said at the event. "All you have to do is improve the software."
Three years ago, the company began working on its own chip dedicated solely to powering autonomous driving functions. The automaker has begun producing the Model S and X with the chip last month and the Model 3 this month, with retrofits available for older models. 
The plan is to have full autonomous driving capabilities rolled out by year's end and to have a fleet of robotaxis operating in 2020. The concept is ambitious and the timeline is aggressive. But the main question is, is it achievable?
Tesla Reports Earnings on Wednesday: 7 Important Things to Watch
Tesla's Robotaxi Plans
Tesla quickly drew the ire of chip fans after its claims to building the best chip in the world. The automaker's commentary seems to fly directly in the face of companies like Nvidia (NVDA) - Get Report , which have been producing top-of-the-line chips for years now and has its own dedicated chips for autonomous driving. 
Tesla compared its full self-driving (FSD) computer -- which is being manufactured by Samsung (SSNLF)  -- to Nvidia's Xavier. It says that its computer is capable of 144 trillion operations per second (TOPS) vs "just" 30 TOPS for Nvidia's Xavier. While not necessarily false, it's not an apples to apples comparison.
Nvidia's Xavier is not meant for full self-driving capabilities. Rather, it's intended for semi-autonomous features and driver-assist capabilities. Instead, Nvidia's Drive AGX Pegasus is intended for fully autonomous driving, with the dual-chip computer boasting capabilities of 320 TOPS.
Beyond that though, let's not take away from what Tesla has built, which is hardware that appears capable of powering a fully autonomous, no-human-needed vehicle with its FSD computer. However, will the automaker be able to do so in the manner that Musk suggests?
Musks says the Tesla robotaxi fleet could eclipse 1 million units by the end of 2020 by using a ride-sharing network that's like a "combination of the Airbnb and Uber model." Tesla would plan to take 25% to 30% of the cut, with his estimates suggesting gross profit would average $30,000 per year for a single unit.
It's likely based on these estimates that inspired him to suggest buying a Tesla vehicle could become an appreciating asset rather than a depreciating asset. All of this sounds good on paper, but it's drawing plenty of heat as being unrealistic, particularly on such a short timeframe.
Nvidia and Alphabet are holdings in Jim Cramer'sAction Alerts PLUS Charitable Trust Portfolio. Want to be alerted before Cramer buys or sells these stocks? Learn more now.
Over the past year, I have defended Musk on his improving timeline estimates, as he has toned down some of his more ambitious outlooks. One area that he has routinely overestimated, though is autonomous driving. Given where the industry is as a whole -- currently just one company, Alphabet's (GOOGL) - Get Report (GOOG) - Get Report Waymo, runs a limited commercial autonomous driving operation in one area of Arizona -- it's hard to believe Tesla will have a fleet of a million autonomous vehicles operating at will in less than two years. 
Of course, regulation will be a key component to any autonomous driving program, regardless of which company is running it.
Many consumers consider Tesla's Autopilot to be the most comprehensive semi-autonomous driving platform available today. Some would argue that General Motors' (GM) - Get Report Super Cruise is better although that offering only operates in geo-fenced areas). Regardless, Tesla has an impressive system, if not a controversial one as well. The larger its customer base grows, the larger its data set grows, which helps accelerate its autonomous driving efforts.
Can we imagine a few accepting cities and areas giving the green light to Tesla and others to run an autonomous driving taxi service? Sure, it's plausible. But to imagine that Tesla will have one million vehicles in a robotaxi fleet in 20 months with each generating $30,000 per year in gross profit seems...unlikely at best.
Ignore for a moment that Tesla has only produced 490,000 vehicles since Q1 2015, that regulators could pose a threat and there is a bevy of competition on the way. I'm very pro autonomous driving, am not a Tesla "hater" by any means, and don't want to say that Tesla's can't do it. But Musk's ambitions seem over the top at the moment, particularly given where it and the rest of the industry stand.
This article is commentary by an independent contributor. At the time of publication, the author had no positions in the stocks mentioned.