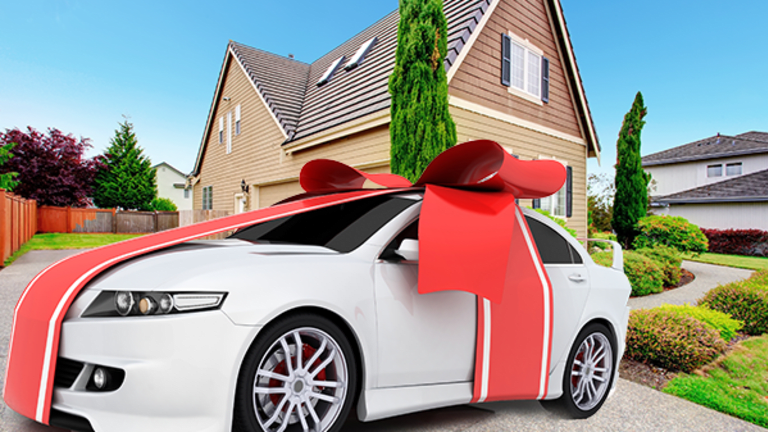 Questions You Must Ask a Car Salesperson to Avoid Getting Ripped Off Big-Time
Buying a new car, SUV or truck? Don't sign on a dealer's bottom line without asking these critical questions.
In 2016, buyers lifted auto sales to record highs with access to easy credit, better deals and a need to replace older vehicles by opening their checkbooks and grabbing a new set of wheels.
All told, Americans purchased 17.6 million new vehicles last year, at an average price of $35,309, according to Autodata and Kelly Blue Book.
Chances are, though, many Americans left money on the table at the dealership, mainly by signing off too quickly on the purchase, and not asking the right questions before closing the deal on a new car, SUV or truck.
Just by asking the right questions, you can save time and money in a new vehicle purchase situation, experts say. What are the best questions to ask? Go "all in" on these car buying queries, and see if they don't provide some savings, and some upside protections, with your new vehicle.
Where's the purchase agreement? - Auto buyers should ask their auto salesperson for a thorough vehicle purchase agreement, says J.R. Duren, a personal finance expert at HighYa.com. "Car dealerships should provide you with a purchase agreement that lists the price of the car as well as all the fees and services that are included in the price of your car," Duren says. "I recently got a purchase agreement from a local dealer in Jacksonville and saw that one of the fees was labeled 'Accessories,' which included a clear coat on the paint to protect it from bugs." This is the type of fee that every car-buyer should inquire about, Duren adds. "You shouldn't be on the hook for the full price of an add-on service you didn't ask for," he says.
What will long-term maintenance costs look like? - Most manufacturers will offer some sort of free maintenance for a certain number of years and/or mileage, says Ryan Kwiatkowski, a money manager with Retirement Solutions, in Naperville, Ill. "But what you'll really want to know is what those maintenance costs will be after two years or 20,000 miles," he says. "If you're purchasing a Porsche or an exotic car, those costs and insurance)will be very different than the value you'd get from buying a Toyota." Kwiatkowski also advises asking what the extended or additional warranties cost, and what's the resale value for your vehicle five years down the road. "You're trying to paint a picture of what the true cost of owning the car will look like for the duration that you own it," he says.
What's the warranty coverage? - Too many people drive freshly purchased cars off the lot and have no idea what the warranty coverage consists of, notes Cody Green, co-CEO of USA Drives, an online auto financing company. "Given the fact that the most expensive part of a car's life begins after its sold, when it comes to maintenance costs, fully understanding the warranty could help you save some serious cash in the future," Green explains. "Every warranty will differ by manufacturer, model and year of the car, so it's important to have the dealer go over the details of your coverage, including any exclusions - this will give you a better sense of what you will and won't have to pay for future car repairs."
Is that the best you can do? - There's no harm in negotiating the price of a vehicle on a dealer's lot, Green says. "This will show the lenders that you're only interested in the best rates available to you," he says. "If you've done your research, it's not uncommon for a dealership to lower the overall price so that it will fit better into your budget."
Where did the vehicle come from? - If you're buying a used vehicle, this is one of the most important questions to ask, says Green. "Used vehicles will typically come from trade-ins, auctions, or other car dealerships," he says. "If you can get your hands on an accurate maintenance history of the car that you're interested in, you could save yourself trouble in the future." Key sub-questions to ask include:
Did the dealership already perform repairs on the car?
Was there any recent work done?
Has the car ever been in an accident?
"These questions will help you better understand what to expect in terms of car up-keep, and not to mention, your safety," Green adds.
If used, was the auto purchased at an auction? - You'll want to know if your new vehicle was bought at an auction, notes Conrad Magalis, marketing manager at First Western Bank & Trust - Advance Acceptance in Eden Prairie, Minn. "You can obtain the records from Carfax or another reporting agency," Magalis says. "If that's not available, make sure to check where the auto was registered. This is incredibly important with the major losses experienced from the recent hurricanes in Huston and Florida." Magalis says there's going to be a flood of flood-damaged autos making their way onto the secondary market over the coming months, due to hurricanes Irma and Harvey. "You want to avoid ever purchasing a vehicle from those parts of the country, because there could be unreported flood or electrical damage, from heavy rain and storms," he says.
What about rates? - When signing your auto loan paperwork, make sure to ask what the rates are and which institutions your credit was submitted to, Magalis advises. "Oftentimes, dealers will get an incentive to sell their in-house financing - with commission structure based off on an inflated rate," he says. "This is particularly true with luxury brands. Credit Unions or your personal bank are almost always going to have the best rates available." Don't be afraid to walk away and think about it, he adds. "It's very tempting to be at the desk and just pull the trigger," Magalis states. "Buying an auto is an emotional experience for most people - typically a happy one. Don't get into the rush of adrenaline and regret that you didn't explore other options, prior to purchasing. Ask to place a deposit to hold the car, while you research other finance options."
More of What's Trending on TheStreet: