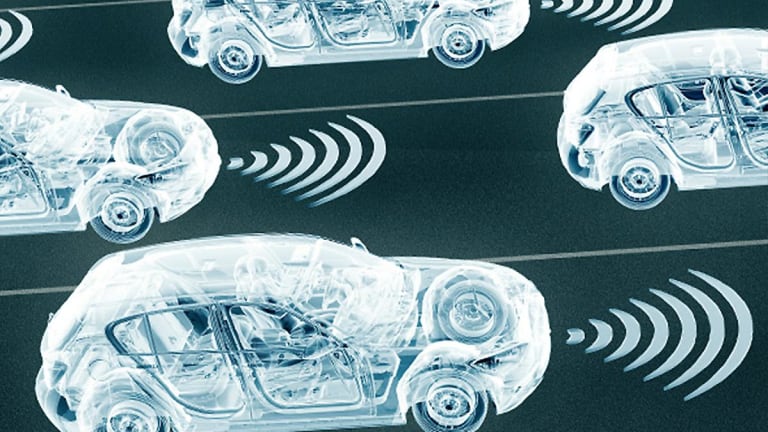 President Trump Doesn't Like Autonomous Driving and He's Not Alone
President Trump and a large percentage of Americans are not ready for autonomous vehicles. Will that ever change?
The autonomous driving segment continues full speed ahead. That's clear with all the initiatives the automotive and tech industries are taking toward automating our roads of the future.
We're seeing it all over the place. Volkswagen's (VLKAY) (VLKAY) investment in Ford's (F) autonomous driving unit Argo, SoftBank (SFTBY) and Honda (HMC) investing in General Motors' (GM) autonomous driving unit Cruise, Nvidia (NVDA) and Daimler (DDAIF) pairing up and Alphabet's (GOOGL) (GOOG) Waymo looking for outside investors.
Those are just a few of the developments over the last six months. And while automakers and tech giants alike have a clear vision of the future, consumers aren't necessarily on board. Neither is the president of the United States, for that matter.
President Trump has reportedly said, "I would never get in a self-driving car... I don't trust some computer to drive me around." Whether President Trump has a particular bias toward self-driving cars isn't really the point, though. That's based on two reasons: First, he's not alone in that view and second, his administration isn't impeding its development.
Alphabet and Nvidia are holdings in Jim Cramer's Action Alerts PLUS member club. Want to be alerted before Jim Cramer buys or sells NVDA or GOOGL? Learn more now.
The Autonomous Driving Future
A study from Kelley Blue Book published in August 2018 showed that almost half of the respondents (49%) said they would never buy a fully autonomous Level 5 vehicle. That's up from just 30% of respondents in 2016.
How come 70% of respondents were open to owning a Level 5 autonomous car in 2016 vs. just 51% two years later? Further, a study from AAA published just a few days ago showed that 71% of respondents are too afraid to drive in self-driving vehicles, up from 63% a year ago. I believe that the latter is being impacted by the March 2018 accident where an autonomously operated Uber vehicle struck and killed a pedestrian in Arizona.
If almost three-quarters of the country is too afraid to ride in a self-driving car, companies are going to have a big issue on their hands. But not everything is set in stone.
First, despite President Trump's preference for not riding in an autonomous vehicle, his administration is trying to keep developers of the technology stateside. They know that, aside from having some of the most optimal environments for autonomous driving testing, that the country also has some of the most talented workers in the industry. The administration's task is to keep those jobs in the U.S. and allow the country to become a leader in autonomous driving, while also keeping the public safe.
Without the public on board, though, acceptance of autonomous driving will be a hard and cumbersome road. But the data doesn't lie.
An old study showed the classic tale of overestimating one's skill. In the study, 93% of American respondents said their driving skills were above average. That overestimation is very telling, particularly with 94% of auto-related accidents coming as a result of human error, as determined by NHTSA.
So 9.3 out of every 10 people believe they have above-average driving skills, while 9.4 out of every 10 accidents are a result of these very talented drivers? OK, got it.
Now throw in the fact that 40,000 people have died in auto-related accidents in each of the last three years, combined 4.5 million who were "seriously injured" in 2018 alone, and one can see exactly why autonomous safety features and eventually autonomous driving is needed.
Why do we feel more safe with our roads filled with inexperienced teens and inattentive drivers rather than computer-driven machines making millions of calculations per second? Autonomous driving isn't ready to be deployed right this very second, but that doesn't change the public's current perception. The answer is easy and it's because they're comfortable with the way things are now, even if that means it's not better.
While a vast majority of the country may not currently embrace self-driving cars and while President Trump doesn't appear eager to hop in a Waymo taxi, the need for them is rather obvious. Simply put, too many lives are taken each year and too many injuries are suffered behind human-controlled vehicles.
As if that weren't reason enough, there's simply too much money on the line as well. Too much missed work due to injury and loss, too high of medical bills and too many efficiencies to be gained. Autonomous driving will happen, it's just a matter of when. About 40,000 lives a year depend on it.
Will You Have Enough Money to Retire?
Want to learn about retirement planning from some of the nation's top experts? Join TheStreet's Robert "Mr. Retirement" Powell live in New York on April 6 for our Retirement Strategies Symposium. For a limited time, tickets are available for $99 for this full-day event. Check out the agenda, learn about the speakers and sign up here.
This article is commentary by an independent contributor. At the time of publication, the author had no positions in the stocks mentioned.