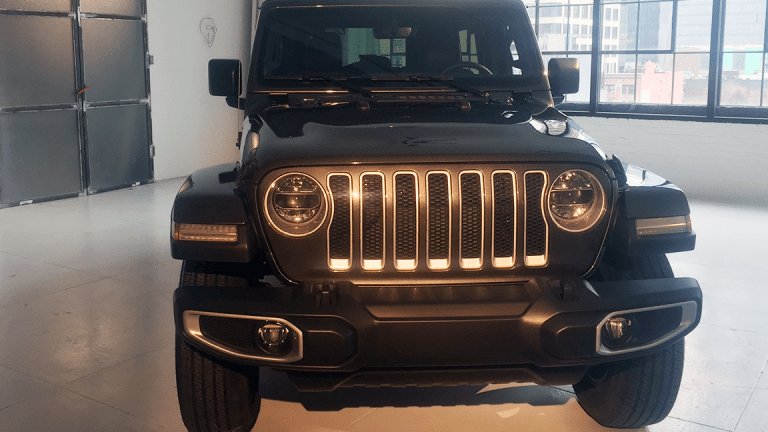 Meet Jeep's New Truck, the Gladiator
Photos of the Jeep Gladiator have leaked early, giving Wrangler enthusiasts plenty to cheer about ahead of the LA Auto Show.
Photos of the Jeep Gladiator have leaked early, giving Wrangler enthusiasts plenty to cheer about ahead of the LA Auto Show.
Trucks and SUVs are all the rage, and automakers don't plan to sit by idly and let their competition reap the rewards.
That's pretty evident with automakers' recent moves, including Ford Motor's (F) - Get Report decision to essentially scrap its car portfolio to focus on SUV and trucks. It's even bringing back its light duty pickup, the Ranger. Others, like super high-end automakers are rolling out SUV and crossover options for its customers.
Jeep, of the Fiat Chrysler (FCAU) - Get Report branch, has done incredibly well riding the momentum in SUVs, be it in rugged models like the Wrangler or updated modern looks like the Cherokee. Now, though, the automaker is ready to join the truck club with its Gladiator option.
Previously, four-door Wrangler owners have been able to convert their off-road warriors into trucks via aftermarket body kits. But seeing them on the road was far and few between.
Just weeks before the LA Auto Show is set to begin, photos for the new Jeep Gladiator truck have apparently leaked. They are popping up all over the internet, ranging from auto blog sites to Jeep forums. Jeep was quick to remove the photos from its site, but based on what others have seen from the gaff, we now know the vehicle will likely come in 2020 and have three trims, the Sport Pickup, Overland Pickup and of course, the Rubicon Pickup.
Wrangler sales have really ramped over the past decade, as the graphic below illustrates. Of course, it helps when the resale value is as strong as it is for Jeep, which continues to win awards year after year for the vehicles' strong resale value.
The hope for Jeep is that this latest trim will help bridge the gap between customers who want the off-road fun and capability of a Wrangler, but need the versatility of a truck. This solution, they hope, solves that problem and fills that niche.
Of course, Jeep will have no shortage of competition. As we mentioned, Ford's bringing back its light duty pickup with the Ranger and its F-Series has been the best-selling vehicle in the U.S. for more than three decades. Over that time, it's stayed atop its competition like General Motors (GM) - Get Report and Dodge Ram, another Fiat Chrysler brand, although these two have grown their presence significantly over the last five to ten years. 
But down the line it will have even more competition. The Jeep Gladiator is just one, but Mercedes-Benz (of Daimler (DDAIF) ) has introduced a luxury pickup and Tesla's (TSLA) - Get Report Elon Musk recently talked about how excited he is for the company's coming pickup.
While these incoming models are unlikely to dethrone the F-Series from America's top pickup spot, it could eat into Ford's business. Particularly as Ford will soon only rely on the Focus and Mustang for its car lineup and places more of its chips on bets like SUVs, crossovers and pickups. Specifically, Mercedes could eat into some of the higher-end trims of Ford's F-Series, as could Tesla. While we don't know the starting price for the Jeep Gladiator, many expect Jeep fans to cheer the vehicle's intro. The question is whether that momentum will last and whether it will impact traditional truck-makers like Ford. 
Make Money on Closed-End Mutual Funds. TheStreet's Robert Powell recently hosted an all-star panel of experts who explained everything you need to know on closed-end mutual funds, and often-overlooked investment class. Click here to register and watch for free.
This article is commentary by an independent contributor. At the time of publication, the author had no positions in the stocks mentioned.