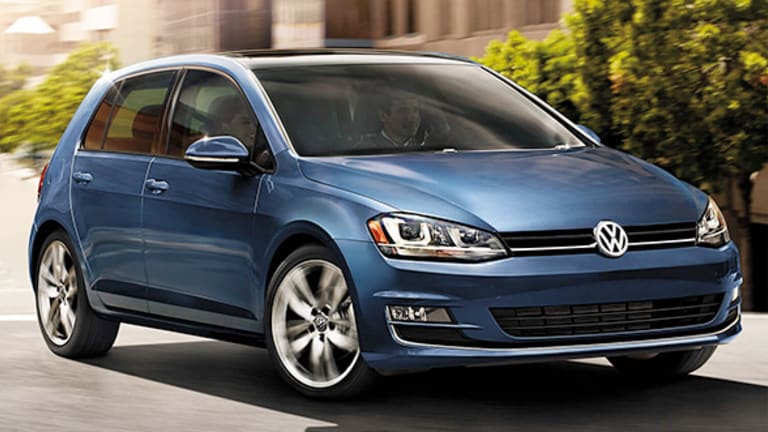 Here Are 8 Cars With The Most Cargo Space You Can Buy
Unless you invest in a pickup or cargo van, you may want to consider these vehicles with the most cargo capacity of their respective categories.
NEW YORK (MainStreet) –- The final summer vacations are on the itinerary, the college freshmen are packing for school, the kids' practices are starting up again and those fall home sales are right around the corner.
Does your car have the cargo space to survive any of it?
Cargo space is getting tough to track and even tougher to purchase as automakers make cars lighter and more fuel efficient while packing in the perks. Beyond that, as the folks at Cars.com explained last year, there isn't a uniform standard for measuring a vehicle's interior volume, leaving most consumers scratching their heads about how much space they're actually getting.
Fortunately, there are independent arbiters keeping track of such things and making sure you can stuff in as much furniture, luggage, soccer gear, school supplies, beach chairs, storage trunks and other items as you can. We spoke with the folks at automotive pricing and review sites Edmunds and Kelley Blue Book about vehicle cargo space and received a deluge of data in return. In searching for the vehicles with the most cargo space, we eliminated pickup trucks -- which can be loaded in various configurations and measure their capacity in payload rather than cargo -- and cargo vans, which are generally limited to commercial use.
Along the way, we also had to trim designations for hybrid and luxury vehicles, as it brought up some awkward questions about the qualifications for each category. Instead, we pared down our selections to eight categories: Two-door hatchbacks, four-door hatchbacks, coupes, sedans, SUVs/crossovers, convertibles, wagons and minivans. In doing so, luxury and alternative-energy vehicles just kind of drifted to the top of some category lists:
The following eight vehicles have the most cavernous maximum cargo space of their class and a surprising amount of space even with all seats up. We leave it to you to determine which is the best fit for you and your stuff:

Two-door hatchback: 2015 Volkswagen Golf
Starting price: $17,995
Maximum cargo space: 52.7 cubic feet
We'll note that the Honda CR-Z has 25.1 cubic feet of storage space with seats up, which is larger than the Golf's 22.8 cubic feet in the same configuration. However, that's as much storage space as the CR-Z gets.
There are a whole lot of options staring you down when you pick up a Golf. Do you stick with the combined 31 miles per gallon of the standard model or upgrade to a turbodiesel for about $5,000 more and bump that mileage up to 37 per gallon? Do you stick with the standard package with touchscreen entertainment and apps or go with the Xenon headlights, Fender audio system, panoramic sunroof and touchscreen navigation? Do you ditch it all, go with an e-Golf and never see a gas station again. Either option gets you all that cargo space in a surprisingly plush hatchback.

Four-door hatchback: 2015 Honda Fit
Starting price: $15,650
Maximum cargo space: 52.7 cubic feet
In fairness, the four-seater Golf had this much space as well, but the Golf already made this list once, so shut it, Volkswagen.
One of the subcompacts that started the class's renaissance, the colorful and convenient Fit got a complete revamp that makes it an incredibly worthy tailgate vehicle despite its size. Its cargo space with the seats down actually decreased from 57.3 cubic feet last year, but the seats get a little more modular, to the point that the front passenger seat folds back to serve as a footrest for a passenger in the back who wants to sleep for this leg of the trip. Blind-spot cameras, a multi-angle rearview camera, touchscreen audio system, Bluetooth connectivity, an app suite, leather-trimmed and heated seats, a moonroof and satellite navigation all make for a pleasant, comfortable ride for both driver and passenger.
We'll note that Kelley Blue Book lobbied for the Kia Soul and its 61.3 cubic feet of maximum cargo space here, but since Edmunds and KBB were divided on whether the Soul was a compact car or a wagon, we went with the consensus compact.

SUV/crossover: 2015 Ford Expedition
Starting price: $44,585
Maximum cargo space: 130.8 cubic feet
The Toyota 4Runner's cargo space with the seats up (47.2 cubic feet) is bigger than the Expedition's, which made it KBB's champ among mid-size SUVs. Meanwhile, the Mercedes-Benz GL's space with the rear seats gone (93 cubic feet) outclasses the Expedition's 85.5 cubic feet without its last row. However, only the Expedition's luxury sibling -- the Lincoln Navigator, with its 128 cubic feet of maximum cargo space -- and General Motors' Chevrolet Suburban/Cadillac Escalade tandem (121 cubic feet) come close to the Expedition's hangar of a frame.
Just how big is 130.8 cubic feet in SUV terms? It's more nearly double the total cargo capacity KBB's roomiest small SUV, the Nissan Rogue (at 70 cubic feet), and about as much maximum cargo space as the Subaru Forester (74.7) and Nissan Xterra (65.7) combined.

Convertible: 2015 Fiat 500c
Starting price: $20.345
Maximum cargo space: 31 cubic feet
We can hear all the Mazda Miata and Ford Mustang owners crying foul, but the basic definition of a convertible is a car with a roof that opens. The fiat 500c certainly fits that bill.
No, the 9.5 cubic feet in the Fiat's trunk don't match the 13.5 in the Mercedes SL or the 13.4 in the Volkswagen EOS, but the Fiat is fortunate enough to have seats that fold down and a trunk that's part of the main cabin. Don't blame it for taking whatever advantage a subcompact can get.

Coupe: 2015 Ferrari FF
Starting price: $295,000
Maximum cargo space: 28.3 cubic feet
To say we're surprised puts it modestly. What business does this 12-cylinder, 651-horsepower, four-wheel-drive, six-figure prancing pony have with even pretending to be a practical car? It should be in Monaco drag racing Lamborghinis, in London awkwardly trying to navigate traffic circles or in L.A. looking pretty.
It certainly shouldn't be parked outside a Costco while the owner is inside stocking up on toilet paper and bulk Snapple. Even without the rear seats down, the FF's 15.9 cubic feet of trunk capacity is much closer to that of your workaday Dodge Challenger than it is to the 4.1 cubic-feet briefcase box of the Porsche 911. This is about as close as Ferrari puts itself to Camry Country, but the next time you and the folks from the office plan a boozy beach picnic in the Hamptons, don't be afraid to let the C-suiter in the FF bring the table, folding chairs and hibachi.

Wagon: 2015 Ford Flex
Starting price: $29,100
Maximum cargo space: 83.2 cubic feet
The station wagon is dead, you say? Wrong. The station wagon laughs at death and then laughs at you for picturing the Vista Cruiser from "That '70s Show" as a station wagon.
Times have changed there, Forman, and the venerable wagon isn't quite as wagony as it used to be. Sure, the Volvo V60 and its 43.8 cubic feet with the seats up looks a whole lot more like a wagon than the Mini-meets-minivan mashup that is the three-row Ford Flex. However, the Flex is basically just a taller, boxier version of a wagon, which itself is just a stretched-out sedan. Maybe it has a huge captain's chair, a second-role console with a mini fridge and optional video screens, but it's just following the wagon model to its logical, bloated conclusion.

Minivan: 2015 Toyota Sienna
Starting price: $28,700
Maximum cargo space: 150 cubic feet
It is an absolute blood feud between the Sienna and Honda's Odyssey, but no addition of myriad in-car vacuums or wi-fi could give Honda the cubic foot and a half it would have needed to win this space race with the Sienna -- the Edmunds and KBB's clear-cut cargo winner.
The good folks at Chrysler try their hardest with the Town and Country and Dodge Grand Caravan, but they fall short at 144 cubic feet, including just 33 cubic feet with the seats in place. That's doesn't just trail the Sienna and Odyssey at 39 and 38 cubic feet, respectively, but it's less trunk space than the Kia Sedona's 34 cubic feet. In what was once a three-way race for the remnants of the minivan market, the Sedona is coming up quick with 142 total cubic feet of its own.

Sedan: 2015 Tesla Model S
Starting price: $71,200
Maximum cargo space: 63 cubic feet
Elon Musk would pump his fist about this if he wasn't busy creating the next great people mover, shooting supplies to the International Space Station and trying to bring more efficient energy sources to every house on earth. Yeah, that makes trunk space in a midsize sedan seem kind of trivial by comparison.
But not to the worker bees who have to drive them. It's bad enough that you have to grind it out every day and battle the commute. But spending all your money on gas for a car that's too small to fit your stuff. That's just depressing. To give you some idea of just how dominant the Model S is in this category, even with the seats up it has 11 cubic feet on the size-large Ford Taurus and has double the trunk space (31.6 cubic feet) of the best-selling Toyota Camry (15.4) and far more room than KBB's mid-size cargo-room titleholders: The Chevrolet Malibu and Hyundai Sonata at 16.3 cubic feet apiece. Yes, it's more costly than any of the above, but it's not that much of a discount on the Audi, A7, RS 7 and S7 and it still has more trunk space than any of them -- which are enormous at 34.5 cubic feet. Oh, and you can plug it in at home and not go out reeking of unleaded or diesel.
This article is commentary by an independent contributor. At the time of publication, the author held TK positions in the stocks mentioned.