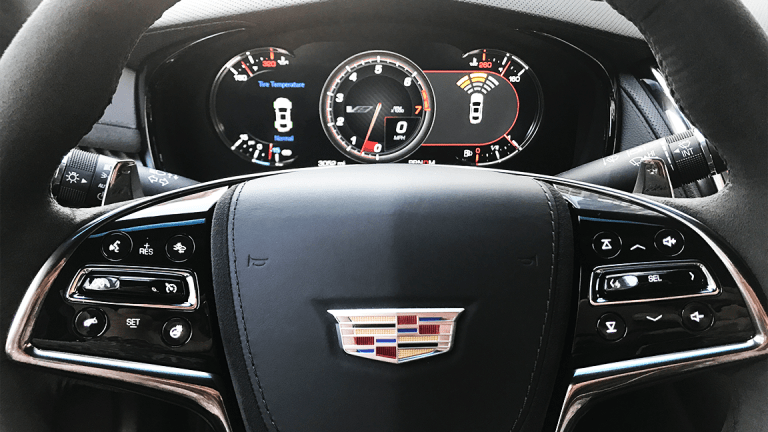 GM's Cadillac Escalade Takes Fight to Tesla With 400 Miles of Range
Can GM's Cadillac brand put out a 400-mile range electric Escalade? According to reports, it will try.
General Motors (GM) stock is charging higher Monday, up 1% and now north of $39 per share in late day trading. Shares aren't all that far from the 52-week high of $41.50, which the stock made in early March. 
Helping drive the gain higher on Monday? Reports of a long-range all-electric Cadillac Escalade.
The automaker is reportedly working on three different powertrains for the upcoming Escalade, Cadillac's fifth generation of the large luxury SUV, and is slated for 2021. One of the three powertrains is expected to be an all-electric version, which puts it in direct competition with the most talked about electric vehicle (EV) player in the auto industry: Tesla (TSLA) .
Currently, Tesla produces the most well-known all-electric SUV, the Model X.
However, the all-electric Escalade will reportedly not be ready on Day 1 on the launch of the fifth generation. So by the time it's here, it will have more than just Tesla to compete with. It will include the Jaguar I-Pace (which is available now), the Audi e-tron (a Volkswagen (VLKAF) (VLKAY)  brand), the BMW iX3, the Mercedes EQ (a Daimler (DDAIF) brand) and others.
How far is long range? According to reports, the electric Escalade will be able to drive 400 miles per charge. For comparison purposes, Tesla's Model X can currently drive 325 miles per charge, although there's good reason to assume the automaker will increase that capacity by 2021.
Will an Electric Escalade Succeed?
The short answer is, yes.
Sedans used to reign over SUVs, trucks and other large vehicles because the fuel efficiency was vastly superior. However, SUVs and other large vehicles are more convenient or practical depending on where the customer lives, how large their family is and/or what their profession is.
Clearly a family of eight, a construction-company owner or someone who lives in a northern wintery climate will find an SUV or truck more practical, even if it means sacrificing fuel efficiency.
However, with advances in technologies, many of today's SUVs and trucks are able to achieve better fuel efficiency. Reasonable gas mileage combined with practicality has made SUVs and trucks more attractive options than sedans and coupes, which is part of the reason both GM and Ford (F) have been paring back their car products.
SUVs and trucks are also much more profitable.
However, last year Ford said that its large SUV, the Explorer, and its high-end luxury Lincoln Navigator had so much demand that it was increasing production for both. Keep in mind consumers can push six-figures for these vehicles' purchasing prices. GM's most recent sales results show just how strong SUV and truck demand remains.
While the economy is doing well and with a looming interest rate cut from the Fed, these vehicles should remain popular going forward. Increasing the vehicles' driving range and fuel efficiency will only help aid that popularity.
At this year's Detroit Auto Show, Ford introduced its Explorer EV, which is actually a 3.3-liter V-6 hybrid. However, the vehicle is capable of driving 500miles before needing to be refueled. That's a huge asset to consumers who need a large vehicle.
The hope for Cadillac is that an electric Escalade can offer a similar solution. Lots of driving range -- only in this case with no gasoline whatsoever -- in a high-end luxury SUV. Should it sport the 400+ miles of driving range these reports are talking about, it should make for a popular ride among the Cadillac community.
This article is commentary by an independent contributor. At the time of publication, the author had no positions in the stocks mentioned.