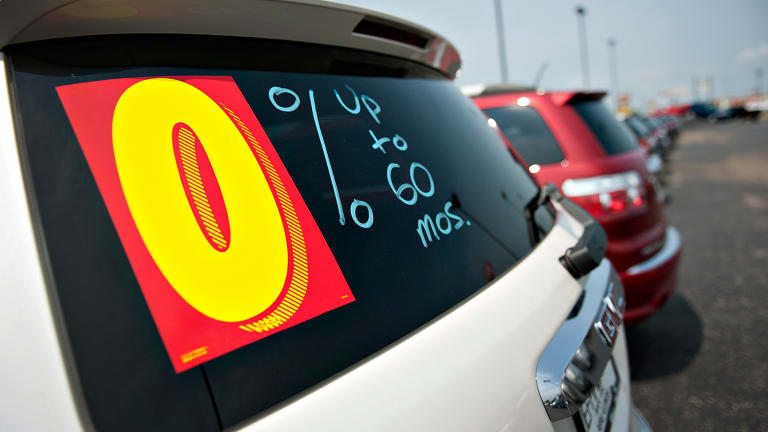 If Trump Scraps NAFTA, Your Volkswagen Will Cost You More
Free trade among the three North American countries has kept competition strong, but if restrictions occur because of an impasse -- or end -- in NAFTA negotiations, consumers could bear the brunt of the failure as costs will rise rapidly.
Free trade among the three North American countries has kept competition strong, but if restrictions occur because of an impasse in North American Free Agreement (NAFTA) negotiations, consumers could bear the brunt of the failure as costs will rise rapidly. Reports Wednesday that U.S. President Donald Trump could end NAFTA raise the risks to consumers. 
The discussions, which began over the summer, are scheduled to begin again in November, and if the U.S. does not succeed in achieving its goals, which many have deemed to be challenging, the benefits of NAFTA from the past two decades could increase costs across the board for Americans, ranging from cars to gasoline and extending to even food.
Trade restrictions are costly to companies, who pass along the costs to consumers. The U.S. has sought to alter the terms of NAFTA and is seeking to boost the current amount of regional content for a product to 50% where it would still qualify for duty free access.
"The potential is incredibly disruptive for both the imports and exports of vehicles," said Mark Hamrick, senior economic analyst and Washington bureau chief of Bankrate, a New York-based financial content and data company. "You're facing the likelihood that costs will be increased if parts are sourced abroad and would be more expensive, although it is hard to say how much."
The proposals from the Trump administration to increase the original parts of a vehicle to 50% are not conducive to keeping costs low and are not aiding in efforts to lower the deficit created from trading with Mexico and Canada.
The NAFTA talks are crucial and the risk is that nearly all the products used by consumers and companies have the potential to rise in price, he said.
"All the items we use in everyday life, including our automobiles to consuming fruits and vegetables are all inevitably tied to trade with Canada and Mexico," Hamrick said.
U.S. Trade With Mexico and Canada
The amount of trade the U.S. conducts with Canada and Mexico is worth billions of dollars and includes a wide variety of industries from furniture and bedding to food. In 2015, U.S. imports to Mexico were $304.6 billion and U.S. exports to Mexico were $240.2 billion. According to the Office of the U.S. Trade Representative, Mexico was the second largest suppler of goods imported in 2016 for the U.S. What's more, U.S. goods imported from Mexico totaled $294.2 billion in 2016 and have risen by 637% from 1993 (pre-NAFTA).
The top categories of imported goods in 2016 were: vehicles ($75 billion), electrical machinery ($62 billion), machinery ($51 billion), optical and medical instruments ($13 billion) and furniture and bedding ($11 billion).
If trade restrictions are placed on Mexican imports, all goods will be more expensive, said Giacomo Santangelo, an economics professor at Fordham University in New York and Seton Hall University in South Orange, N.J.
"Obviously, consumer goods will be more expensive, if they are imported," he said. "If the imports are intermediate goods which are used in the domestic production of consumer goods, U.S. producers are expected to pass the increase in cost onto consumers."
U.S. total imports of agricultural products from Mexico totaled $23 billion in 2016 and is our largest supplier of them including products such as fresh vegetables, fresh fruit, wine and beer, snack foods and processed fruit and vegetables.
If Mexico were to retaliate in response to the NAFTA talks falling apart, the number of U.S. exports could be affected, he said. U.S. exports to Mexico are up 455% from 1993 or before NAFTA was enacted.
The top export categories in 2016 were machinery ($42 billion), electrical machinery ($41 billion), vehicles ($21 billion), mineral fuels ($20 billion) and plastics ($16 billion). The U.S. exported a total of $18 billion in 2016 of agricultural products to Mexico. Mexico is the third largest agricultural export market for the U.S. and the top categories include the following: corn, soybeans, pork and pork products, dairy products and beef and beef products.
"If the U.S. 'renegotiates' NAFTA to include trade restrictions on Mexico, Mexico will likely retaliate with trade restrictions on U.S. goods," Santangelo said. "This threatens U.S. producers and it is reasonable to expect there to be job loss in those sectors."
Gasoline Prices Could Also Rise
Even the cost of gasoline could rise because the U.S. is exporting "record amounts of crude oil, while also receiving a healthy amount from Canada," said Patrick DeHaan, a senior petroleum analyst for GasBuddy.com, a Boston-based provider of retail fuel pricing information and data.
Another factor to watch is that Mexico relies a lot on U.S. produced gasoline, he said.
If the U.S. imposed tariffs on gasoline bound for Mexico, the country would be really impacted financially. Canada would also be affected massively because the U.S. is "basically the only customer for Canadian crude oil," DeHaan said.
"Around 40% of the oil the U.S. imports comes from Canada, but thanks to the shale revolution, shipments from Canada are declining," he said. "We're reliant in the Midwest on Canadian crude oil, so there could be some regional advantages and disadvantages if oil or refined products trade shifts."
Many of the refiners in the Midwest and even in the Gulf Coast favor the heavier crude oil from Canada and have made significant investments for cheaper feedstocks. There is also a growing market for light oil in Canada, which benefits American producers.
While consumers will not see an immediate impact as the NAFTA talks continue, if the negotiations halt, the price hikes could be significant for consumers, said David Lei, an associate professor of strategy at the Cox School of Business at Southern Methodist University in Dallas. Many companies such as auto manufacturers like GM have formed their own set of inter-subsidiary trade where GM exports engines and car parts to Canada and Mexico, where they are assembled and then shipped back to the U.S., and that relationship would be harmed.
"Consumers can face higher pricing pressures, especially with domestic content," he said. "This situation is made worse in those industries that confront a domestic labor shortage, thus driving up wage pressures that feed into cost-pressures for products."
The other key products facing NAFTA potential disruption include lumber, building materials and cement since CEMEX of Mexico is a large producer and housing costs could increase.
The outcome could be that the U.S. would to negotiate two sets of free trade pacts and navigate the entire process through a "very slow and cumbersome Congressional vote procedure," Lei said. "That means everything is reconsidered, renegotiated with uncertain outcomes for investment prospects for all firms in all countries."
NAFTA uncertainty would "cloud" corporations on planning for their supply chain since the days of "easy transportation and maquiladora-based production that raised wage levels in Mexico are now sidetracked, too," he said.
Manufacturers have created highly efficient integrated supply chains in North America for the past 23 years and changes or disruptions in those supply chains would be inefficient. The outcome is that the cost of products for consumers will rise, said Robert Holleyman, the former Deputy U.S. Trade Representative from 2014 to 2017 and current CEO of C&M International, an affiliate of Washington, DC-based law firm Crowell & Moring, where he is a partner.
"These supply chains provide products that consumers want and need in the U.S. market based on the availability of key inputs into the product, plus price and quality," he said. "Consumers will face a time of uncertainty if the U.S withdraws from NAFTA or if changes in NAFTA significantly disrupt the supply chains that have been created over the past 23 years."