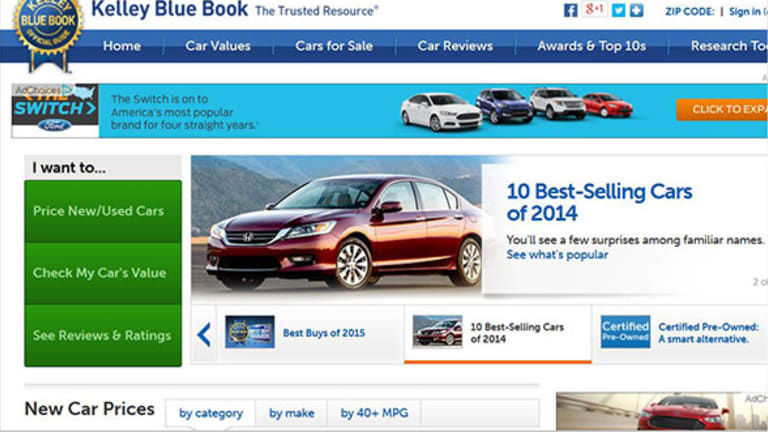 Do Your Research to Have the Power When Buying a New Car
The wide variety and number of car-buying apps and websites available means you never have to walk into a dealer unprepared.
NEW YORK (MainStreet) — The North American International Auto Show being held in Detroit is in full swing, giving window shoppers and those looking to buy a new car some serious eye candy to drool over.
But those people in the market to buy a car face the reality of engaging in an activity some consider barely a step above root canal. To help with the pain there are dozens of websites, apps and their attendant car shopping experts that will not only act as virtual Novocain for this shopping experience to make it bearable, but also help make sure the buyer walks out with a few dollars left in his or her pocket.
"Consumers have no idea how much power they really have," says Karl Brauer, senior analyst at Kelley Blue Book. "It's a bitter pill for a salesperson to see $20,000 or $30,000 walk off the lot."
The fact of the matter is, the customer is the one holding all the cards and has the ability to put pressure on the dealership.
"If they know you are ready to buy, it gives you a lot of power," Brauer said.
Putting this strength to good use can be hard and requires the consumer to do some research before embarking on the car-buying expedition. In addition, car buyers have to be aware of some of the tricks of the trade a car salesman might employ and be willing to walk away from a deal if it does not fit their need.
Car-buying experts suggest you have all your ducks in a row before you walk into a dealership. Use the online tools to decide the make, model, color, features and the price you want to pay before one step is made onto a dealer's lot.
"Browse vehicles online at both automaker websites and editorial reviews. Get an understanding of what type of vehicle you want and then view those cars in person at a dealer or — even better — at an auto show. After looking at the cars in person, make sure to test drive at least two to three cars," says Eric Lyman, analyst and vice president of industry insights at Truecar.
Many buyers go in with a set amount they'd like to pay on a lease every month, and are happy to share that figure with the salesperson.
"When you do that, you're not actually talking about the total price of the car," says Edmunds.com senior consumer advice editor Phil Reed. "You also need to take into consideration the interest rate, as well as the length of the loan." For example, a dealer might suggest a longer loan so the car fits in your budget. But a longer loan also means you pay more in interest. In the end, you could wind up overpaying for the car.
One thing the customer must keep in mind is that the dealer is in business to separate consumers from their money and is willing to put a great deal of psychological pressure on a person to obtain this result.
The car's price is only part of what a smart buyer needs to know. There are several add-ons the dealer will try to sell, such as paint treatment, car alarms and remote starters. If these items are something you want, be sure to know how much they would cost to have installed outside the dealer — and if the dealer's price is too high or you are not interested, just say no.
A common ploy is to scare the customer into believing their car won't last long on the showroom floor.
"Don't believe that the car will soon be gone. Even if that is so you can always find another similar available car," Brauer said.
Sites such as TrueCar, Edmunds, Car & Driver and Kelley Blue Book have dozens of tools, including car reviews, financial calculators and price guides to help the consumer go into a car negotiation armed with the right data to get the best deal.
Possibly the most important trait to possess and that cannot be found online is patience.
"In the U.S., car shoppers are impulsive, usually buying a vehicle straight from the dealer's inventory. In many other parts of the world, customers build a car and wait six to eight weeks for exactly what they want. Exercise a bit of patience and you'll have the perfect vehicle," Lyman says.
— By Doug Olenick for MainStreet