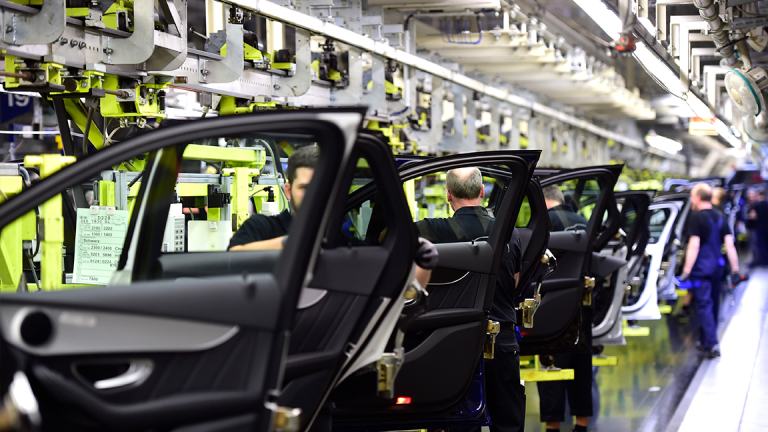 China Shakes Up Regulatory Stance on Auto Market
Amid a decline in auto sales, China is putting focus on new energy vehicles and relaxing its joint venture partnership requirements as it prepares for the future automotive market.
As auto sales continue to slump in China, the country is starting to overhaul its regulatory stance.
China's auto market has been in an unrivaled growth phase, experiencing two decades worth of growth. Sales were doing OK earlier in the year, but have really accelerated lower in the second half of 2018. Like in the U.S., SUVs tend to be a strong spot for Chinese auto sales. However, they fell 10.9% in September, slightly better than the overall 11.6% drop in new vehicle sales.
In October, total vehicle sales in China decelerated even more, falling 13% before plunging 19% in November.
Set to mark their first annual decline in the last 20 years, overall sales are down 1.7% on the year. A strong push in December could technically push the total higher for the year, but it may do little to change the narrative of a slowing auto market. The China Association of Automobile Manufacturers predicts a year of flat sales in 2019.
But that's not stopping Chinese regulators from making adjustments. Earlier this month, the country wrote up a proposal to slash U.S. auto imports tariffs from 40% down to 15% for 90 days starting in 2019. While companies like Ford (F) - Get Report and General Motors (GM) - Get Report already produced most of their for-China vehicles in the country, it's a big win for companies like Daimler (DDAIF) , BMW (BMWYY) and Tesla (TSLA) - Get Report .
Tesla was quick to cut prices in China in response to the country's move. Perhaps an influx of auto imports will help repair some of the drop in sales. However, China isn't stopping there. Even amid this slowdown, the country is not allowing new independent enterprises that only make traditional combustion engines to set up shop. Instead, it's pushing for companies that embrace new energy vehicles. For instance, look at China's Nio (NIO) - Get Report , which began production of its all-electric car earlier this year and went public on the NYSE in September.
The country has also agreed to a more relaxed approach to joint venture partnerships in the automotive space.
Previously, a 50/50 ownership deal was required for an automaker to set up operation in China. Companies like GM and Ford operate under this arrangement, but others are looking for more. BMW plans to increase its JV ownership stake from 50% to 75% in 2022, when foreign ownership caps lift.
For electric vehicle makers, though, China is lifting those requirements next year. This allows a company like Tesla to pursue its factory in Shanghai without having to find and work with a joint venture partner. It could also lure in other automakers focusing on increasing their electric vehicle market share. On Jan. 10, the country will implement its simplified approval process regarding joint venture arrangements.
So in some instances, Chinese regulations are making it more difficult for the auto industry. In other cases -- such as with new electric vehicles -- the country is making it a more business-friendly environment. The hope is that with more flexibility and more attractive returns, companies (both domestic and foreign) will pour money into the country. As companies like Tesla, BMW and others continue to see opportunity, they will want more factories, hire more employees and help to give a boost to the industry.
Save 66% with our '12 Days of Holiday Deals' Sale.
Join Jim Cramer's Action Alerts PLUS club for investors and get our best deal of the year.
for details or to sign up.
This article is commentary by an independent contributor. At the time of publication, the author had no positions in the stocks mentioned.