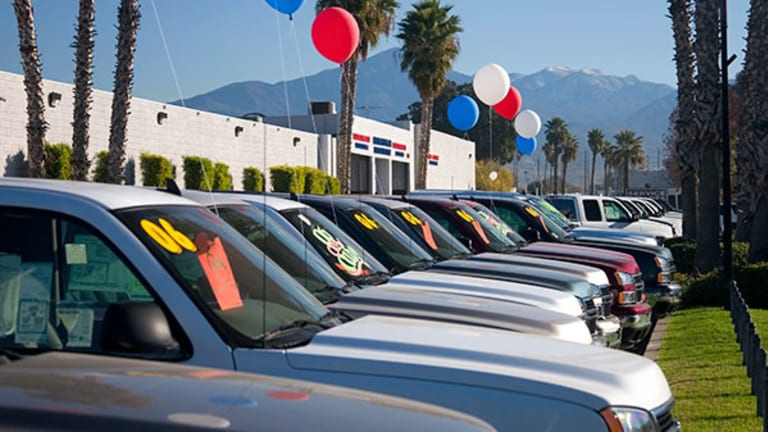 Certified Pre-Owned Vehicles Make Used Car Buying Easier... Sometimes
Certified pre-owned vehicles introduced inspections and warranties to used-car sales, but they don't help buyers who can't afford them or won't read the fine print.
Certified pre-owned vehicles introduced inspections and warranties to used-car sales, but they don't help buyers who can't afford them or won't read the fine print.
Certified pre-owned vehicles have shaken much of the shadiness out of the used car markets.
Sure, you can still get a cheap used car on a lot by the highway or through some random ad, but certified pre-owned (CPO) cars are part of the reason that used car buyers don't have to put themselves in peril anymore. Introduced by Mercedes-Benz and Toyota's Lexus brand more than 20 years ago, CPO cars are typically less than five years old, have fewer than 50,000 to 80,000 miles on the odometer, are sold through manufacturers' dealerships, go through rigorous inspections and come with extended warranties similar to new cars.
Brandy Schaffels, chief editor for women's automotive advice website AskPatty.com, notes that CPO vehicles are typically purchased by a dealer at the end of a lease. Ideally, this ensures low mileage, routine maintenance and pristine care under the terms of the lease. Because of the abundance of those "off-lease" vehicles, CPO sales provide dealers a means of reselling those vehicles by suggesting that they hold greater value than a standard used car.
"Once only a sales tactic created by luxury car dealers to help move used cars off their lots, pretty much every manufacturer now has a CPO program," Schaffels says. "Because they are now available across most manufacturers, the programs have been fairly standardized, so that CPO shoppers have an understanding of what that label means when they see it applied to a used car. It takes away some of the uncertainty that comes with buying a used car."
Car buyers agree. While the National Auto Auction Association notes that 9.3 million used vehicles were sold at auction in 2015 -- and the National Automobile Dealers Association notes that more than 14.5 million used vehicles were sold by franchised dealership groups -- sales of certified pre-owned vehicles hit a record 2.55 million in 2016, according to research firm Autodata. That's up from 2.34 million a year earlier and just 1.5 million during the height of the recession in 2009. Through October, manufacturers have already sold 2.21 million certified pre-owned vehicles, up 3% from 2.14 million at the same time last year -- when dealers had two more sales days to work with. As a result -- and as Car and Driver points out -- the overwhelming majority of automakers now offer certified pre-owned cars.
So what do buyers typically like about their CPO cars? A survey by used-car pricing and sales site CarGurus found that they prized the vehicle's warranty (29%), affordability (9%), inspection guarantee (8%), value and late model year (5%) in that order. However, 44% went with "all of the above," suggesting that a combination of affordability and assurance is reeling them in.
"The benefit to a CPO car is that virtually every manufacturer has a program now, so that means consumers can drive off with a car of their dreams even if buying it new is out of their budget," says Matt Smith, editor at CarGurus. "Of course, all these perks come at a cost: CPO cars tend to cost more than non-CPO used cars, even if they're less expensive than buying that same car new (unless you're getting a great deal on a new car)."
Another downside: you're going to have to bring some fairly thick reading glasses to the signing. Smith notes that certified pre-owned vehicle sales come with some dense fine print designed to protect the dealer and manufacturer. In those small, lengthy blocks of texts are items not covered by the vehicle's CPO warranty.
Jack R. Nerad, executive editorial director and executive market analyst for Kelley Blue Book points out that buying a CPO will eliminate much of the price depreciation that occurs within the first one to three years of ownership, but some of those savings are offset by the cost of addressing normal wear and tear on the vehicle.
Both Smith and Nerad suggest doing some homework and seeing what issues typically crop up with that vehicle model. Not only should you see if the warranty covers those issues, but if the vehicle manufacturer is simply extending the vehicle's original warranty or offering a separate (and maybe lesser) warranty. If it's the latter, make sure it's the manufacturer offering that warranty and not some disinterested third party.
"Just because you are buying a CPO car doesn't mean you shouldn't have your guard up when considering various CPO vehicles," Nerad says. "You should do a thorough test drive and have the vehicle checked by an independent mechanic."
Matt Jones, consumer advice editor for vehicle buying and pricing site Edmunds.com can't stress the test drive and inspection enough. A former used car dealer himself, Jones says that car buyers considering a certified pre-owned vehicle should consider making use of a dealer's borrowed-car agreement and take the car to your own repair shop for an unbiased opinion. Though most dealerships will put a car through a more than 100-point inspection and provide reports from CarFax, AutoCheck or other companies detailing the vehicle's history, it still doesn't guarantee you won't be stuck with a lemon. Also, when you test drive a CPO car, make sure you put it through its paces before making a decision.
"I hate to say it, because it sounds so rudimentary, but drive the stinkin' car," Jones says. "Sometimes people will get into a car and do a perfunctory test drive where they'll make a right turn, a right turn and a right turn and spend two miles in the car: that's not what you do. Go spend 10 or 15 miles in this car, because that's the only way you're going to find out something is inherently wrong... if the car shimmies at 50 miles per hour or if it smells funny if the last owner smoked."
If for no other reason, potential buyers should take all of the steps above when testing a certified pre-owned vehicle simply because automakers are a little too eager to sell them. Anecdotally, Edmunds.com's Jones notes that manufacturers have been a bit more forgiving of "not so hot" credit scores when selling CPO vehicles. Also, increasingly, manufacturers including Toyota's Lexus have begun offering lease options on certified pre-owned vehicles, essentially introducing leases on used cars.
However, it's a much more benign offer that's helping automakers move more CPO vehicles off the lot. With Toyota (433,000 CPO sales through October), General Motors (344,000) and Honda (240,500) leading certified pre-owned vehicle sales, they're appealing to the broadest buyer base possible by lowering overall costs. Not only do buyers get a break on the price of a CPO vehicle compared to a new one, but automakers are also providing some financing incentives as well.
"New car interest rates are going to be lowest, but newer CPO is going to be 1% higher as opposed to 3% or 4% higher as it's been in years past to align with new-car financing," Jones says. "We'll see 0.9% or 0% financing on a new car and we know that's not a real interest rate: it's subsidized by the manufacturer. When you see 1.9% on a used car, it's also a subsidized rate from the manufacturer and a lower rate than would normally be offered."
They aren't just selling cars at that rate: they're selling discounts with contingencies. While it's tempting for a buyer to leap at a CPO vehicle in the belief that they're covered against all of that used-car unpleasantness, just about every expert we spoke to suggests that there's just as much homework required to buy a certified pre-owned vehicle as there is to go onto a used car lot or to approach a car parked on a corner with a "For Sale" sign on the window. You still require a basic understanding of the vehicle's features and value for its price, as well as the features you want and are and what you're willing to pay for. An educated shopper -- regardless of whether they are buying new, CPO, or used -- should know these things about any car they are considering, says AskPatty.com's Schaffels.
"Buying a used car has always been an uncertain experience for car shoppers: they are essentially purchasing a vehicle with no known service or performance background, with no assurances that the car has been properly maintained, no knowledge of how the owner treated it, and no recourse if the car turns out to be a lemon," she says. "And if you do somehow wind up with a lemon, the terms of the warranty sold with the vehicle will offer you some recourse with the dealership from which you purchased the car."