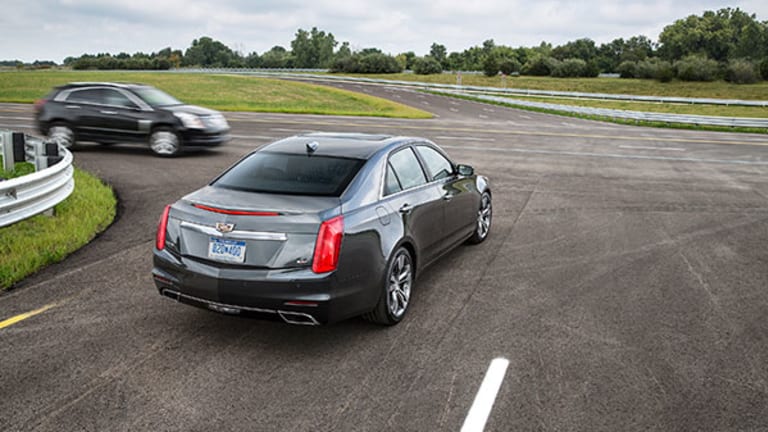 Buy or Lease? Your Decision Is a Few Simple Questions Away
Deciding whether to lease or buy a car may seem intimidating, but answering a few simple questions will help you make the correct decision.
NEW YORK (MainStreet) — To lease or buy can be the biggest question facing someone looking for a new vehicle, especially these days, as lease rates keep creeping up to the highest rates in more than a decade.
There are excellent reasons for either. Those who lease always have a new car; those who buy can drive back and forth across the country with no worry their mileage allotment will be passed.
James Bell, head of consumer affairs at General Motors, says it boils down to what the prospective driver requires of a vehicle. 
"Leasing vs. buying ultimately comes down to to the expected usage by the driver as well as their personal tastes and habits. Love that new car smell? Lease. The kind of person that enjoys maintaining a car for many miles? Buy," Bell says.
Chris Naughton, regional manager for Honda Northeast, says finances can often be a deciding factor.
"If you don't have the money for a large down payment or you want to get more car for your money, then leasing is the best choice," he says, since a driver pays only for the portion of time a car is used.
"Lower monthly payments and less money down can make leasing seem like a great deal. The truth is that leasing offers a lot of convenience, but only if you are willing to put up with restrictions, which can include lower mileage limits — typically only 12,000 miles per year, sometimes 10,000 miles per year — diligent upkeep and care of the vehicle and, in some cases, penalties for early termination," says the folks at Kelly Blue Book.
End-of-lease costs can be a killer for those unaware of rules about the condition a car is expected to be when it's returned. What many people consider to be minor dings and dents may be outside what the dealer considers normal vehicle wear and tear, and the lessor could be penalized.
"The biggest surprise from leasing is potentially when the driver returns the vehicle to discover accessed fees for over-mileage or minor damage," Bell says. Drivers should be honest with themselves about how they drive, of course: A person who tends to park closely to another car or eats pizza while driving is likely to rack up damage penalties.
Potentially offsetting these costs is the fact that a leased vehicle is almost always under a manufacturer's warranty. This means the driver rarely has to pay large-out-of-pocket costs if something breaks.
Kelley Blue Book also advises reading all the fine print on lease paperwork. Lessors have a final decision to make at the end of a term, when the driver can decide to buy the car outright for a price set at signing.
"After a lease deal is offered to you, be sure to pay close attention to the negotiated purchase price of the vehicle and any additional fees outside the lease rate, and never sign a lease contract unless the residual value or optional purchase price at the end of the lease is clearly shown," the company says.
Despite the pros and cons of leasing vs. buying being almost even, about 70% of new-car drivers opt to buy — interestingly a figure that is reversed when it comes to luxury vehicles. (Because a lease allows a person to "buy" more car, Naughton says.)
— Written by Doug Olenick for MainStreet
This article is commentary by an independent contributor. At the time of publication, the author held TK positions in the stocks mentioned.