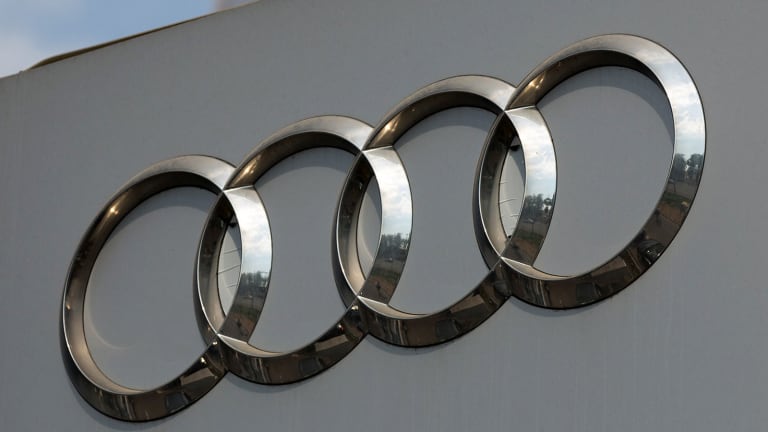 Audi vs. Tesla? German Automaker Pouring Billions Into Electric
Audi is pouring billions into electric vehicles, digital mobility and autonomous programs. Who isn't at this point?
Volkswagen (VLKAY) might have lost a number of customers after its emissions-cheating scandal in 2015. But the automaker isn't letting that keep it out of the electric car movement.
The company is pouring tens of billions into R&D over the next five years for building out electric vehicles and autonomous driving systems. Part of its recent discussions with Ford Motor (F) - Get Report  surely focuses on some sort of collaboration. The question has shifted from whether Ford and Volkswagen will work together to how far those collaborations will go, particularly as German automakers try to stay on the White House's good side.
Audi, a brand under the Volkswagen umbrella, isn't sitting out this movement either. The automaker plans to invest almost $16 billion into electric, autonomous and digital mobility programs over the next five years. This will include R&D, property and equipment.
One could certainly argue that Tesla (TSLA) - Get Report is the leader in both electric cars and consumer autonomous driving systems currently on the road. It went from being a niche player in the auto industry to a disruptive force. By making its cars fast, fun, sexy and long range, Tesla has helped dramatically shift the electric car narrative.
Now others are busy playing catch up. General Motors (GM) - Get Report is revamping its electric approach, while Mercedes-Benz (a Daimler (DDAIF) brand), BMW (BMWYY) and Volkswagen plan to launch a bevy of electric vehicles over the next five years to compete. Worth pointing out is that Audi's e-tron SUV will be available in 2019, as will the Porsche Taycan, with Porsche being another Volkswagen brand.
As for Audi, the e-tron won't be sold like a normal vehicle. Instead, Audi is taking another page from Tesla, having customers place an online reservation before configuring their exact setup and taking delivery at a dealer of their choice. But is the e-tron really a threat to Tesla and specifically its Model X SUV?
With a starting price of $74,800 it's comparable to the starting price of a base Model X at $71,200. Worth pointing out is that by the time consumers can take delivery of the e-tron in mid-2019, Tesla vehicles will have a federal tax credit that's reduced by 50% to 75% (depending on the time of year) vs. the e-tron, which will come with the full $7,500 tax credit.
The base Model X can generate 518 horsepower, accelerate from 0 to 60 mph in 4.9 seconds and achieve a driving range of 237 miles. According to Audi, the e-tron will generate roughly 355 horsepower, go from 0 to 60 in "less than six seconds" and achieve a maximum estimated driving range of 248 miles.
For a first-time all-electric car, the e-tron is certainly pretty good. But it's worth pointing out that many Tesla critics said the young automaker was done for it if and when German luxury automakers got involved with electric offerings of their own. Despite years of studying Teslas on the road, superior manufacturing prowess and much deeper R&D pockets, the best Audi could do is build a comparable car to the Model X, never mind Tesla's two higher-end models of the vehicle?
That's not necessarily a slight against Audi, which is no slouch with its autonomous driving systems either. Surely its future electric car offerings will improve, but it's a big nod to the job that Tesla has done thus far. 
If German automakers are going to be what kills Tesla's sales, the latter will have some time to live on. Even with the e-tron and Porsche Taycan hitting the streets in 2019, neither will be produced in serious volume. At least initially. That reasonably gives Tesla about another 12 months of mostly competition-free operation in the electric car department. 
Still, it's exciting to see other companies putting serious time and money in the space, as more automakers realize customers want an electric or hybrid alternative to their current offerings. Not only do they save on fuel costs, but the performance for many of these vehicles are superior to their ICE counterparts.
This article is commentary by an independent contributor. At the time of publication, the author had no positions in the stocks mentioned.