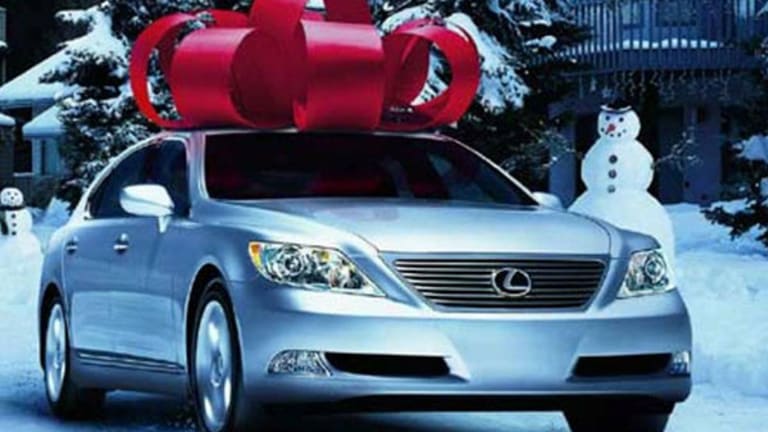 6 Luxury Car Brands Gifting Buyers a Holiday Discount
While luxury automakers are wrapping their new models in bows and talking deals, older versions of their cars are getting far deeper discounts.
Editors' pick: Originally published Dec. 12.
The December to Remember doesn't extend to used luxury cars.
It's a great time of year to buy a new car with a bow on it. If you didn't get the best prices when dealers where bringing in new model year cars in late summer and early fall, those same dealers offer a bunch of incentives to hit their annual sales goals by the end of December. This is great news if you're buying a new car, but not so great if you're unloading an old one.
The folks at Edmunds indicate that, dating back to the first quarter of 2012, cars tend to stay on the lot longer in fall and winter than they do in spring and summer. In 2014, for example, a car that spent 37.5 days on the lot in spring spent 41.5 days on the lot come November and December.
Anil Goyal, vice president of automotive valuation and analytics for vehicle pricing firm Black Book, notes that you can make up lost value on your old vehicle with incentives and rebates on just about any new car you are looking to buy or lease. Also, if you're trying to sell your car directly to another person, there may be a few more buyers out there who are looking for used cars as holiday gifts for their children or family members.
The downside, however, is that you're not going to get very much on a trade-in appraisal at a dealership, since they can't sell your old car for as much as they could at other times of the year.
"Auction activity is slower toward the end of year, which means dealers can't make as much of a profit on used vehicles," Goyal says. "As such, your car will usually hold less value in November and December compared with spring time, when auction activity is higher."
There are exceptions to this rule, however. Used vehicle auction company Manheim's used vehicle value index climbed steadily from December 2008 until January 2011 thanks largely to the bailouts of General Motors and Chrysler, their elimination of leasing during the recession and the subsequent dearth of new vehicle supply. Each year since the recession, December has been one of the lowest points on the used-car calendar before strengthening in January. However, given last year's unusually warm temperatures on the East Coast and elsewhere, Manheim's used car index posted its highest numbers of the year.
With snow having already fallen in many parts of the country and temperatures already dipping below freezing on the East Coast, nobody's expecting that to happen again. In fact, that boost did no favors for luxury used car values, which dipped 1.6% from the year before after remaining flat from 2014 to 2015. With more people able to get to just about any new luxury vehicle they wanted, used luxury car prices slid.
As Manheim discovered in November, used luxury vehicle prices are already on the way up during the holiday season. However, used vehicle site CarGurus notes that while those prices may be up from month to month, they're actually still down considerably from used luxury car sales' spring peak. With help from CarGurus, we found six luxury brands that have seen their used vehicle prices drop just in time for the holiday season.