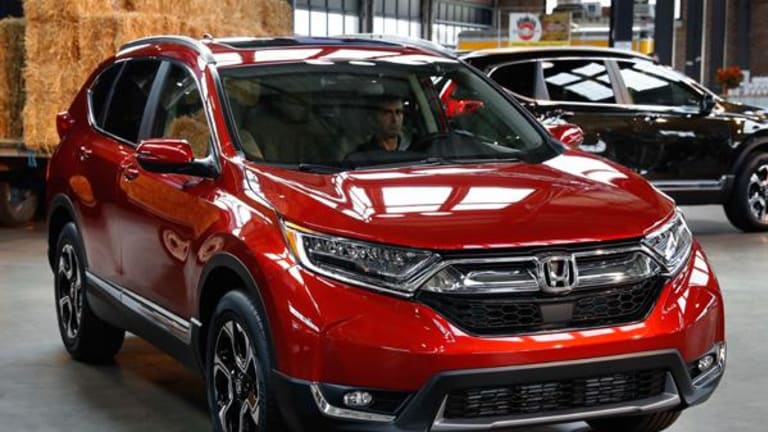 5 Automakers Racing for Super Bowl Commercial Supremacy
Auto manufacturers make up the wealthiest single bloc of Super Bowl advertisers, but the game has changed a bit in 2017.
On Super Bowl Sunday, being the NFL's official auto sponsor means about as much as being its follower on social media.
Hyundai Motor America is the only automaker with the right to use National Football League logos and other signage in its commercials and on its cars. It's in the second year of a four-year deal that pays the league $50 million a year for the privilege of official sponsorship. Before that, General Motors, spent $86.8 million on Super Bowl ads alone during its time as the league's last auto sponsor.
Now GM is just one of an entire fleet of automakers ambushing Hyundai and encroaching on its turf. The NFL has an official hotel sponsor, a delivery sponsor, a soup sponsor and even a motor oil sponsor. What it doesn't have is sponsor exclusivity for Super Bowl ads, which allows 2017 Super Bowl broadcaster Fox to take money from any advertiser it sees fit.
This happens just about every year and pressures on the NFL's official sponsors to shell out even more cash to maintain their association with the league. According to Kantar Media, the Super Bowl has generated $2.59 billion in ad sales since 2007. Total ad spending during climbed from $162.5 million a decade ago to $369.6 million just last year. The cost for a 30-second ad also skyrocketed from $2.5 million to $5 million during that span.
Anheuser-Busch InBev paid the NFL $1.2 billion in 2011 to wrest the league's official beer sponsorship away from Molson Coors and just paid $1.4 billion last year to extend that sponsorship through 2022. It's also spent roughly $300 million during the last decade to not only air ads for Budweiser and other brands during the Super Bowl, but to buy exclusivity deals from Fox, CBS, NBC and ABC that prevent all other beer companies from buying big-game airtime.
If you don't spend for exclusivity, you just end up shelling out a whole lot of money to go head-to-head with your rivals. While the amount of Super Bowl commercial time has increased from 44 minutes and 15 seconds in 2006 to 49 minutes and 35 seconds last year, the number of commercials aired has fallen from a peak of 104 in 2010 to 96 last year. With commercials of a minute or more making up 26% of all ad purchases last year, gaining any kind of Super Bowl advantage gets costly.
Last year, nine auto manufacturers spent $86.4 million on Super Bowl ads. That's actually down from $113.4 million spent by nine automakers in 2014, but it's still the most money allotted to any one category of Super Bowl advertiser. Here are just five of the automakers who've already committed big ad money this year:
Lexus
No. of ads: One of unknown length
No. of cars sold in 2016: 331,228
This was a tough year for luxury automakers all around, but especially for Lexus. Total sales slid 3.2% as every one of its car brands saw steep declines as a result of low gas prices. The two most popular models, the ES and IS, saw sales drop 10% and 19%, respectively.
Even spikes in SUV sales couldn't stop the bleeding, which is a shame since Lexus is going to do absolutely nothing to bolster the success of its crossovers. Instead, Lexus will focus on a new version of the LS -- which sold little more than 5,500 models last year, and the LC sport coupe. It's like they always say: Give the people absolutely nothing they want.
Kia
No. of ads: One 60-second ad
No. of cars sold in 2016: 625,818
Back when Chrysler and General Motors were taking government bailouts, Hyundai thought it would be a great idea to capitalize on their Super Bowl absence and snap up some market share. It poured a whole lot of money into Super Bowl ads and saw Hyundai-Kia's combined market share climb to more than 8% -- or roughly twice that of the entire Volkswagen group and just a point behind Nissan.
Kia, meanwhile, has been especially impressive. It's watched U.S. sales climb 3.5% in 2016 and watched its market share inch up from 3.4%. in 2013 to 3.7% last year. Much of Kia's success comes from the 16% growth of its light truck models, which makes Kia's Super Bowl introduction of its Niro hybrid crossover a stroke of genius. Though buyers have been less willing to pay the hybrid premium with gas prices below $2.50 a gallon, Kia knows that the right SUV can change any U.S. buyer's mind.
General Motors
No. of ads: One 30-second ad
No. of cars sold in 2016: 3.08 million
General Motors spent close to $100 million on Super Bowl ads alone between 2006 and 2016 but took part in just six Super Bowls during that time after its big-game spending left it bankrupt and bailed out by the federal government
Though it's back and has bought out Uncle Sam's stake in the company, it's opted to play it safe on Super Bowl Sunday as it copes with a 1.3% decrease in sales in 2016. It's once again spotlighting Buick, the brand it bought an ad for during last year's Super Bowl, though it's unclear which brand will get the love. What we do know is that Buick continues to struggle with its perception as an old-folks' brand, which is why its ad will focus heavily on the "That's not a Buick" theme designed to convince viewers they aren't looking at their grandfather's favorite car.
Honda
No. of ads: One ad of unknown length
No. of cars sold in 2016: 1.59 million
All Honda had to do this year was play to its strengths, and it's certainly hitting that mark.
In a year of resurgent SUVs, Honda's CR-V topped them all with more than 357,000 sold. That's not only a 3.4% increase from the year before, but it came during a year when Honda was preparing to give the CR-V a complete makeover. Even with an all-new 2018 CR-V -- and Super Bowl commercial for it -- on the way, drivers just couldn't get enough of this generation's family car of choice. Honda saw overall sales increase 3.2% in 2016 and the CR-V only helped the cause. With a more fuel-efficent model hitting showrooms, Honda's just building on its lead with a little bit of Super Bowl gamesmanship.
Audi
No. of ads: One ad of unknown length
No. of cars sold in 2016: 202,202
Audi saw sales increase 4% in 2016 behind a 19% jump in crossover sales. That was far better than the 0.4% uptick that rival Mercedes-Benz, which is why the two will be facing of with dueling Super Bowl ads.
While it's tough to produce an ad as emotional or timely as last year's spot for the R8 using David Bowie's "Starman," Audi has a history of bringing its best game to Super Bowl Sunday. With both Lexus and Mercedes ready to strike if Audi stumbles, it's in the German automaker's best interest to stay on its toes.