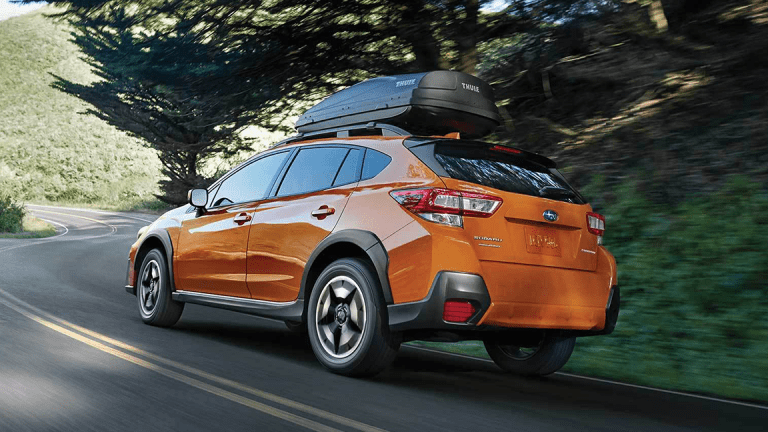 15 Best Family Cars for Thanksgiving Travel
Plenty of crossovers, SUVs and minivans will be taking the road on Thanksgiving weekend, but sedans are slowly losing their place at the table.
Thanksgiving is one of the few days that American families are guaranteed to be driving, which makes that day the family car's time to shine.
Last year, AAA projected that 48.7 million Americans would travel 50 miles or more from home for Thanksgiving, an increase of one million travelers compared with the year before. That was the most Thanksgiving travelers since 2007 and was spurred on by an improving economy and gasoline that was $2.16 per gallon.
Roughly 89%, or 43.5 million Americans, planned to drive. That was an increase of 1.9% from the year before, even though gas prices were just $2.05 per gallon they. In fact, gas prices have actually risen somewhat steadily since Thanksgiving 2008, when they were $1.85 per gallon on average.
So how will families get over the river and through the woods to grandmother's house this Thanksgiving? In vehicles roughly the size of hotel rooms. Cambridge, Mass.-based car research and shopping site CarGurus recently found that parents who have to ferry multiple kids around in sedans are generally less satisfied with their cars than those driving larger minivans and SUVs. Roughly 21% of sedan owners said their car does not meet their family's needs, while only 7% of both minivan and SUV owners felt the same about their vehicles. Of all the respondents reporting that their current primary car does not meet their families' driving needs, 62% said it's because their car is too small.
That would be easy to write off if the numbers didn't bear it out. During the last year, with gas prices hovering around $2.50 per gallon or less, sales of cars of any size have dropped 1.8%, according to MotorIntelligence. Midsize car sales are down 12.3%, and small car sales are down 9.3% after helping lead automakers out of the recession.
"Cheaper gas prices may push some sales of bigger cars, but with capacity being a main driver in the car purchasing decision, low running costs really just make the decision to buy a car that fits the family's needs easier," says Matt Smith, editor at CarGurus. "In the end, this decision is based more on prioritizing space over fuel efficiency."
The combination of both has made crossover SUVs extremely popular. Sales are up 6.3% year-to-date as drivers with more gas money in their pockets spring for more space. Minivans, meanwhile, have seen sales drop 12.7% as Nissan killed off the Quest and new minivans from Chrysler and Kia found their footing. While minivans still a relatively small portion of the market (they're little more than 10% the number of crossovers sold during the same period), they outsell all but midsize non-crossover SUVs.
For their part, families are using all of that space. The majority (56%) of parents with middle-school-aged kids report they are driving their kids to and from school or activities at least five days per week. One-in-three middle school parents spends 4 hours or more per week driving their kids around. That's more than eight days of driving per year, or two round trips from Boston to San Diego.
Remarkably, the majority of those hours aren't being spent in silence as the child in the back stares at a tablet. Almost half of parents surveyed (45%) said they are most likely to have a conversation with their children about their day while driving in the car as opposed to the dinner table or at their child's bedtime. In addition, most parents allow their children to eat in the car (78%), read in the car (73%), use mobile devices to play games or watch media online (70%) pr choose the music for the ride (60%).
"We were surprised to see that while bells and whistles are often what's marketed and advertised, they were not the primary factors in this decision for families," Smith says. "A small percentage of respondents communicated that these types of features were crucial, with only 12% noting that entertainment technology features like Bluetooth or video screens and 9% stating that convenience features like an automatic tailgate lift were very important factors in their car buying decision."
However, that's meant a very slow death for the family sedan. Car sales of any kind are down 10.5% this year, and automakers like General Motors (GM) - Get General Motors Company (GM) Report , Mitsubishi and Volkswagen continue to trim sedans from their lineups in favor of crossovers.
"Looking at sales trends, soccer field parking lots and school drop-off lines, it's clear that families have moved on from the family sedan, and now the modern family car is an SUV," says Jack R. Nerad, executive editorial director and executive market analyst for Kelley Blue Book. "As SUVs have grown more comfortable and fuel efficient over the years, car shoppers  have demonstrated an increasing preference for the elevated driving position, superior cargo versatility and higher profile of SUVs, which make them more functional as family cars than traditional sedans."
Families want safety, cargo capacity and fuel economy -- and they want them all at a reasonable price. With that in mind, we consulted automotive research and shopping sites Edmunds and Kelley Blue Book and came up with the Top 15 family cars available around this Thanksgiving holiday:
More of What's Trending on TheStreet:
China Just Found a Path to Unlocking Almost $300 Billion In Acquisitions In 2018