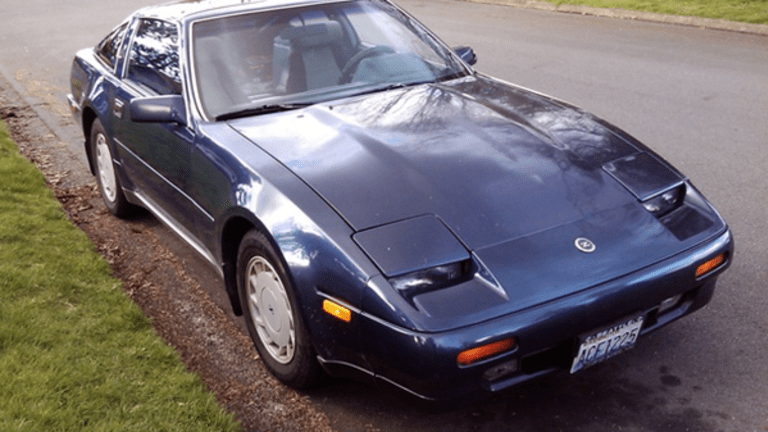 13 Cool Cars From the '80s and '90s Are Absolutely Worthless Collectibles
Like the generation that drove them, these cars grew out of their 'cool' quickly.
When you think of an '80s or '90s car, what comes to mind?
Is it the DeLorean from "Back to the Future"? Is it Tom Selleck's Ferrari (RACE) - Get Free Report from "Magnum P.I."? Is it Steve Sanders's Corvette in Beverly Hills 90210? Your parents' Chrysler (FCAU) - Get Free Report K car or minivan?
Unfortunately for would-be collectors, the '80s and '90s meant a lot of molded plastic wrapped around underpowered engines. "Cool" cars of the era like the Mitsubishi Eclipse, Lotus Milan, mid-engine GM (GM) - Get Free Report Pontiac Fiero (ahead of its time in that regard) underperformed. Unique ideas like the compact SUV didn't pan out or, in the case of the Suzuki Samurai, just flipped over.
Meanwhile, many of the midsize vehicles of the era -- with the exception of perhaps the Honda Accord and its hidden headlights -- looked and performed as if they should be dropped off by the truckload at retirement villages across the county. We don't even want to get into what subcompacts looked like at the time? Forget Bluetooth, modular seating, moonroofs and some of the other modern small-car perks: In cars like the Hyundai Excel, Geo Metro and Yugo 45, you were fortunate if you got a radio, climate control or an engine that could get you up to highway speeds.
As a result, there aren't all that many vehicles that made it out of the era as bona fide "classics": cars that you could easily resell for more than you paid for it, regardless of trim. The average cost of a new car today is $34,721, according to Kelley Blue Book. However, there are iconic cars of the '80s and early '90s that not only struggle to reach that mark today, but would make a lousy trade-in for any new vehicle.
We had the folks at vehicle valuation site Black Book go through its records and find vehicles from the 1980s and '90s that didn't retain all that much of their value. The models on this list are going to come as somewhat of a surprise to '80s kids who wanted to owner a car like Kitt from Knight Rider, but not to those who understand why that vehicle didn't exactly dominate the streets during that simpler time:
Car Enthusiast? Don't miss these galleries..
These Are the 30 Most Expensive Cars Ever Sold at Auction
10 Station Wagons That Are Better Than Your New $50,000 Compact SUV
10 Hot Luxury Cars to Buy Instead of a Tesla