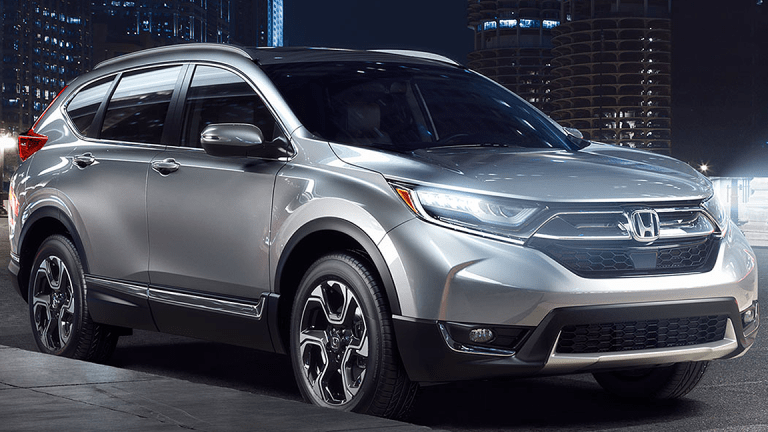 12 Cars You Bought in 2017 and Would Buy Again in 2018
U.S. car buyers really liked pickup trucks and crossover SUVs last year, but cars will still sell if they have what drivers want.
You aren't buying as many cars, trucks and SUVs as you used to, but you're buying the vehicles you want.
General Motors (GM) - Get Report , Ford (F) - Get Report , Fiat Chrysler (FCAU) - Get Report and Toyota (TM) - Get Report were among the automakers who saw their sales in the United States decline in 2017. Overall, according to MotorIntelligence, U.S. vehicle sales dropped from 17.55 million in 2016 to 17.23 million last year.
It isn't as if the public has written off buying vehicles altogether. Karl Brauer, executive editor of automotive pricing and analysis sites Autotrader and Kelley Blue Book, notes that buyers saw gas prices averaging less than $2.50 per gallon and wanted nothing to do with sedans and coupes anymore. Sales of almost every car model declined this year, with MotorIntelligence putting the total drop at nearly 11% since the end of 2016.
"Any time the market passes 17 million units it's a good year for the auto industry, though the real story in 2017 was the near wholesale death of the car," Brauer says.
The 6.3 million cars sold in the U.S. last year trailed the 7.1 million SUVs and crossover vehicles sold during the same span, but it wasn't just cars that fell out of favor. The number of minivans sold in the U.S. plummeted by 12.4% to 484,600. By comparison, Chrysler sold roughly that many (500,700) Ram pickups alone. In fact, while cars and minivans faltered, sales of pickup trucks increased 4.8%. For the first time in recent history, automakers sold more pickup trucks (2.82 million) than they did midsize cars (2.79 million).
Despite the decline of cars overall -- not helped by a particularly active hurricane season in Florida, Texas and Puerto Rico -- familiar car brands still ranked among the top-selling vehicles of 2017 and continued to post huge numbers as they have for years. With help from MotorIntelligence and Kelley Blue Book, we found the 12 vehicles that U.S. buyers were still hunting for in 2017. There are a lot of SUVs and pickups in the mix, but the stalwart sedan isn't dead yet:
This article is commentary by an independent contributor. At the time of publication, the author held no positions in the stocks mentioned.