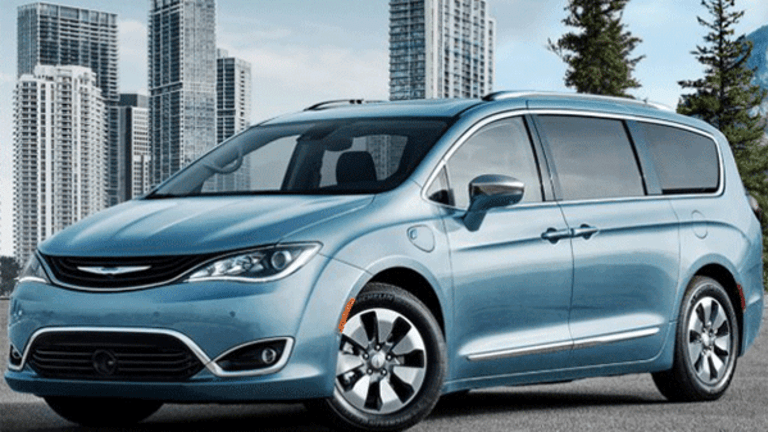 12 Best Family Vehicles of 2017
The temperatures are warming up and families are getting ready to hit the road. They're just not looking to to do in anything other than an SUV, crossover or minivan.
Maybe you broke out the all-wheel drive for ski season, maybe you saved a few bucks braving the elements off-season, but for the rest of us, the unseasonable February warmth means the start of road trips in the family car.
According to a recent AAA survey, more than one-third of Americans (35%) are planning to take a vacation of 50 miles or more away from home involving two or more immediate family members this year. Since the overall volume of travelers remains hasn't changed from last year, that means family road trips continue to be the long hauls of choice.
They're taking far more of them, too: especially with gas prices still below $2.50 a gallon, on average. While most family travelers (70%) are planning to take one or two vacations, there is a significant increase this year in the number of Americans who say they are planning to take three or more vacations. The 28% of family travelers who will take three or more trips this year is 13 percentage points higher than in 2016.
"Families continue to see the value of traveling as a way to bond and reconnect in today's busy world," said Bill Sutherland, AAA senior vice president of travel and publishing. "The best way to wrap up a family vacation is to start planning the next one, as more and more Americans are starting to do."
The old school family road trip (79%) and visits to national parks (51%) and theme parks (40%) remain the most popular types of vacations for families planning to travel this year. Compared to 2016, 10% more families are expected to take road trips this year, despite average gas prices that are 52 cents higher than they were this time last year.
What does the family car of choice look like today? An SUV. Automakers sold more than 6.7 million sport utility vehicles and crossovers last year. While just 1.8 million of those were the gas-swilling truck-based SUVs that rose to prominence in the '90s and early 2000s, more efficient car-based crossovers saw sales grow twice the rate of standard SUVs year-over-year.
"Looking at sales trends, soccer field parking lots and school drop-off lines, it's clear that families have moved on from the family sedan, and now the modern family car is an SUV," says Jack R. Nerad, executive editorial director and executive market analyst for vehicle pricing and analysis site Kelley Blue Book. "As SUVs have grown more comfortable and fuel efficient over the years, car shoppers have demonstrated an increasing preference for the elevated driving position, superior cargo versatility and higher profile of SUVs, which make them more functional as family cars than traditional sedans."
While both standard SUVs and crossovers combined still fell short of the number of cars sold during the same span (7 million), thanks largely to low gas prices, their renewed popularity is raising questions amid a new presidential administration. In June, the Environmental Protection Agency issued a Midterm Evaluation of its goal to raise fuel to a combined 54.5 miles per gallon fleet-wide (roughly 38 miles per gallon on window stickers) by 2025. The University of Michigan Transportation Research Institute found that cars and light trucks purchased in 2015 got an average of 25.3 miles to the gallon.
That's actually down from 25.4 mpg the year before, and it's made the EPA a little anxious about whether or not automakers can hit that 2025 mileage mark.
While 25.4 mpg is far better than the 19 miles per gallon that the Department of Transportation measured for the same pool of vehicles in 1995, it's also closing in on double the average mileage of the light-duty vehicles on U.S. roads in 1980. However, when the EPA set its mileage goal in 2012, gas prices were close to $4 a gallon. According to AAA, they're down to an average of $2.36 per gallon, though they've risen by nearly 50 cents per gallon within the last year.
As a result, U.S. drivers stopped buying cars -- with sales of cars of every size down 8.1% since this time in 2015 -- and started buying SUVs, crossovers and vans. Minivan sales are up 8% within the last year, but even small and large van sales are up as Ford and General Motors switch to more European styles and fleets modernize.
Cambridge, Mass.-based car research and shopping site CarGurus recently found that parents who have to shuttle multiple kids around in sedans are generally less satisfied with their cars than those driving larger minivans and SUVs. Roughly 21% of sedan owners said their car does not meet their family's needs, while only 7% of both minivan and SUV owners felt the same about their vehicles. Of all the respondents reporting that their current primary car does not meet their families' driving needs, 62% said it's because their car is too small.
"Cheaper gas prices may push some sales of bigger cars, but with capacity being a main driver in the car purchasing decision, low running costs really just make the decision to buy a car that fits the family's needs easier," says Matt Smith, editor at CarGurus. "In the end, this decision is based more on prioritizing space over fuel efficiency."
For their part, families are using all of that space. The majority (56%) of parents with middle-school-aged kids report they are driving their kids to and from school or activities at least five days per week. One-in-three middle school parents spends four hours or more per week driving their kids around. That's more than eight days of driving per year, or two round trips from Boston to San Diego. Almost half of parents surveyed (45%) said they are most likely to have a conversation with their children about their day while driving in the car as opposed to the dinner table or at their child's bedtime. In addition, most parents allow their children to eat in the car (78%), read in the car (73%), use mobile devices to play games or watch media online (70%) pr choose the music for the ride (60%).
"We were surprised to see that while bells and whistles are often what's marketed and advertised, they were not the primary factors in this decision for families," Smith says. "A small percentage of respondents communicated that these types of features were crucial, with only 12% noting that entertainment technology features like Bluetooth or video screens and 9% stating that convenience features like an automatic tailgate lift were very important factors in their car buying decision."
With all of this in mind, Kelley Blue Book came up with its list of the 12 best family cars of 2017. Unsuprisingly, there isn't a sedan on it: