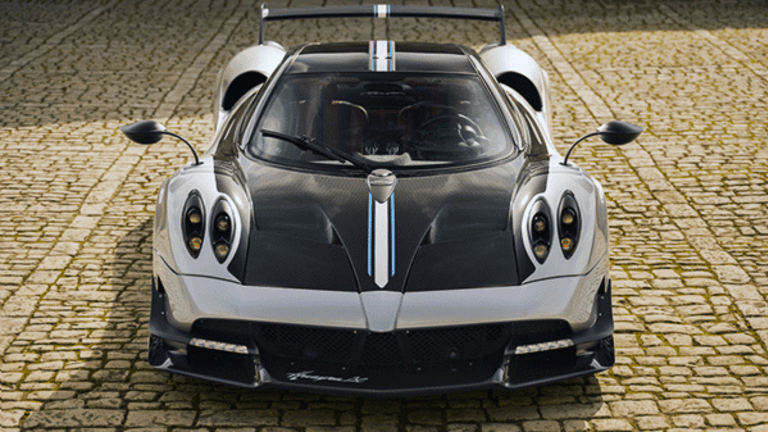 Editors' pick: Originally published Feb. 19.
The market for seven-figure supercars is elite, but oddly accessible if you have the means.
U.S. carbuyers pay an average of $94,000 for a high-end luxury car or $97,000 for a high-end performance car -- based on Kelley Blue Book's January transaction prices -- but that might buy you a fixer-upper in the loftier tiers of the luxury vehicle market. Through the first month of this year, sales for Alfa Romeo (up 58.8% from January 2016), Ferrari (up 41.8%), Maserati (up 69.3%), Bentley (up 82.7%), Rolls-Royce (up 70%) and Porsche (up 5.7%) have all increased from last year, according to MotorIntelligence.
Only Lamborghini sales are down (21.2%) from last January, though that's a swing of just 14 vehicles.
You could credit gas prices for the surge if people buying six- and seven-figure cars actually paid attention to gas prices that move by just cents per gallon. You could also credit an improving economy for that boost if luxury vehicle sales hadn't flattened or fallen for much of 2016. But all of the economic factors that make folks buy high-end luxury and performance cars don't matter much if they don't have access to them.
Much as car buyers may check out sites like Kelley Blue Book's KBB.com, Edmunds.com, Cars.com or TrueCar.com for sales and deals, supercars have their own online presence. The most well-known of those sites is James Edition, which hosts listings for supercars, private jets, yachts, helicopters, private islands (and other exclusive real estate) and other higher-echelon purchases.
When you can go online and browse dealer offerings in Dubai, Geneva, London, Monaco, Tokyo, L.A., Greenwich and Marbella, it makes tracking down your ideal supercar a lot less labor-intensive. We don't just mean some low-$100,000s Lexus, Mercedes-Benz, BMW, Audi or Maserati either? We mean the kind of cars that occasionally make their way out to Pebble Beach before being flatbedded back home and returned to their climate-controlled home via their garage's elevator. We're talking about the types of cars that may cost more than their owner's pied-à-terre in a city that they'd live in full-time if more pre-war buildings were 11-bedroom estates.
We clicked through some of James Edition's most impresive auto offerings and came up with ten of the most opulent options available. While they don't simply represent the most expensive vehicles on the site -- we eliminated some for the sake of preventing any one or two brands from dominating -- they're indicative of the variety that exists at the highest end of the auto market: