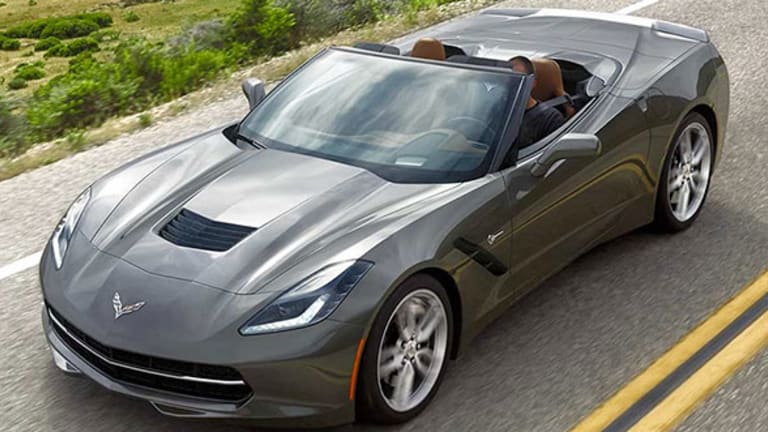 10 Best Road Trip Vehicles Hitting the Highways in the Summer of 2015
Road trip drivers have vastly different needs, which is why everything from a two-seater convertible to a minivan makes this list.
NEW YORK (MainStreet) – Most of you are in far better position to take a road trip now than you were a year ago.
Unemployment rates — even the effective unemployment rate that includes those who have left the workforce — have drifted back to pre-recession levels. Gas prices may not be under $2 per gallon anymore, but they're still $1 to $1.20 less than they were at this time last year. It's enough to make well-traveled car lovers yearn for the open road.
"What is more quintessentially American than a road trip?" asks Jack R. Nerad, executive editorial director for Kelley Blue Book. "The two words conjure up images of exciting possibilities, new friends, memorable experiences, perhaps even a taste of romance."
Then again, it all depends on who's riding with you and how long the trip is. Going solo or with a friend can be a bit more freewheeling, but it's a different story with a family in tow. It can still be fun, but the needs are much different. A decent playlist and frequent stops at off-the-beaten-path attractions just aren't going to cut it.
"When it comes to road-tripping, it's all about the journey, not the destination," says Edmunds.com consumer advice editor Carroll Lachnit. "A great family road-trip vehicle can't merely be the conveyance that gets you from point to point. It has to check several boxes. You'll want comfort for long stretches of driving, safety for trekking on unfamiliar roads and locations and entertainment choices for when the thrill of the 300-mile day has worn off."
And that becomes the issue with the American road trip: Its definition is as diverse as the folks traveling U.S. highways. While KBB's Nerad looks at weekend getaways and cross-continental excursions (including a weeklong foray from the east coast of Australia), Lachnit sees the other end of the spectrum where families are just trying to reach their destination with their nerves intact. Those various trips require very different types of vehicles.
"There has to be sufficient cargo space for luggage and gear, without cramping passengers," Edmunds' Lachnit says. "And if the road-trip vehicle has a little something extra — a rear-seat DVD entertainment system for the 1,000th showing of Guardians of the Galaxy to the kids, or a refrigerated console to chill some soft drinks — so much the better. When you're in the right road-trip vehicle, you might not ever want to go home."
Perhaps the right vehicles and a rosier financial picture can reignite a love of the road that has dwindled of late. The Department of Transportation notes that U.S. driver, who had been racking up a steadily increasing number of miles since the 1970s, started cutting back in 2008 and never hit that peak again. A study done by the Frontier Group and the U.S. Public Interest Research Group Education Fund, meanwhile, found that the average U.S. driver actually started cutting back in pre-recession 2004. While the total miles driven in the U.S. rose 3.8% from 1948 to 2004, they've been flat since. Yes, the economic crisis played a role, but fluctuating fuel prices certainly didn't help during that span.
"Efficiency is certainly something that needs to be considered in a road trip vehicle," says Steve Halloran, content and social media manager for automotive review and pricing site CarGurus. "If you are not flush with cash, then the amount of miles that you are going to get per gallon are going to matter quite a bit over a long trip."
So what vehicles will it take to make American drivers revel in the road trip again? Well, as Halloran notes, sometimes it just takes the car you have. He spoke at length about cross-country trips he'd taken in a Honda CR-V and a Toyota Camry — two of the best-selling cars in the U.S. — but noted that in each case space and comfort didn't make either all that fun to drive. With some help from the folks at Edmunds, Kelley Blue Book and CarGurus, we've come up with 10 vehicles that put some of the leisure back in those long leisure trips while keeping some of the excitement necessary for those endless expanses:
2015 BMW 3 Series wagon
Starting price: $41,950
The BMW 3 Series isn't so much the "cheap BMW" as it is the sought-after Beemer that just happens to come in at that price.
Packed with great features including a heads-up display projected onto the windshield, blind-spot detectors in the rearview mirrors and a freestanding iDrive screen for communication, navigation, entertainment and apps, the 3 series doesn't exactly come up short on perks. In fact, it piles them on with features including a pushbutton starter that shuts the engine off when idling, a 240-horsepower engine that gets 33 miles per gallon on the highway, adaptive all-wheel drive and hands-free trunk access.
Know what else squeaks into the 328 series? A turbodiesel model that gets a mild-mannered 180 horsepower, but boosts fuel efficiency to 43 miles per gallon on the highway. Those are a lot of options at a price that's supposed to offer luxury car buyers very little.
2015 Volkswagen Golf Sportwagen
Starting price: $21,395
Ah, the German-built station wagon for the non-luxury market.
"I am not, myself, married with kids, but if I were, I know I'd want to take a road trip in some sort of German station wagon," Halloran says. "It would be hard to find on dealer lots, but it would offer lots of power and a great driving experience."
The Vista Cruisers and Volvos are gone, but the the Great American station wagon is getting a boost from the folks at Volkswagen, who replaced the Jetta Sportwagen with a far more fuel-efficient option. With roomy seating for five, 66.5 cubic feet of cargo capacity with the rear seats flat, this is the family wagon for those who can't bear the thought of a minivan, never bought into SUVs and don't want to spend on luxury wagons. The quiet cabin and smattering of Volkswagen tech throw-ins are a nice touch as well, but it's the 1.8-liter diesel engine that gets more than 42 miles per gallon on the highway that helps a budget-conscious family spend a little more on the vacation itself." Throw in a nearly 13-square-foot panoramic sunroof, touchscreen navigation and a rearview camera and you have the most modern version of the road relic station wagon available.
2015 Toyota Prius V
Starting price: $26,675
"Whose turn is it to pay for gas?" That question is a lot less annoying when you only have to ask it every 500 miles or so.
The wagon-like Prius V's combined 42 miles per gallon lags behind the 50 of the original Prius, but it's still impressive for a hybrid. Also, the V's 67.3 cubic feet of cargo space with the seats down is considerably larger than the original-recipe Prius' 39.6 cubic feet and is closer to that of compact SUVs such as Toyota's RAV4.
So what if miles per gallon lag? The V's 67.3 cubic feet of cargo space is what matters during a long haul with the family, and that's way better than the original Prius' 39.6 cubic feet. In fact, it's a whole lot closer to the cargo space of compact SUVs such as Toyota's RAV4.
2015 Honda Odyssey
Starting price: $28,9755
Before vain U.S. parents became preoccupied with how cool they looked trucking kids to school, the minivan was the ride of choice. It's never stopped being less practical or comfortable and, in fact, has only tacked on more amenities. In the Odyssey's case, its versatile cabin seats up to eight, with second-row seats that can be configured to fit three child seats. The Odyssey's removable center console offers a useful flip-up trash-bag holder, and there's also a "cool box" beverage cooler to accommodate chilled refreshments. Available features include a blind-spot warning system and a rear-seat DVD entertainment system with a 16-inch screen capable of displaying two program sources simultaneously.
Best of all, an in-cabin vacuum is an available option for parents who just know that a healthy percentage of that trip's road snacks are going to end up on the floor. It also comes in handy for a vehicle that can carry up to eight people with enough room behind them for a small grill. More importantly, it can carry five family members, collapse the third row and have 93.1 cubic feet for more storage.
If you're going Kerouac-style on your road trip, a minivan is probably the polar opposite of what you're looking for. If you're taking a multi-day trip to see the relatives or head to a theme park, this should be the first option you consider.
4. 2015 Mazda MX5 Miata
Starting price: $28,665
There's just about no trunk space so, as KBB's Nerad says, "Pack light."
But if you're going to go with a small car and not much company, there's no better option than the Miata. Porsche will insist its Boxster is a superior choice, but the Miata costs almost $30,000 less and is a more reliable automobile.
The engine is is a little less zippy at 167-horsepower from a 2-liter, 4-cylinder. That said, the Miata and Boxster cars have similar acceleration (zero to 60 in 6.5 seconds for the Porsche, seven seconds for the Miata), similar ratings from Consumer Reports (90 for Porsche, 89 for Mazda) and similar customer satisfaction. The Miata's available hardtop that kicks the starting price up above $27,000 only closes the gap further.
"The 2015 Mazda MX-5 Miata is not only the 25th anniversary edition of the car, it is also the last year of the current handsome body style," Nerad says. "While available with a retractable hardtop, the Miata is best sampled with the top down, wind in your hair, a curvy two-lane under its tires and preferably a blue ocean or green sea to the right or left. In that instance the driver's seat is like a throne in heaven."
2015 Corvette Stingray
Starting price: $55,000
The auto world went absolutely nuts when it was revealed that the 2014 Corvette was going to revive the stingray body style that Chevrolet hadn't used since 1982. When it turned out that you could buy one that came ready for a day at the track, about 75% of potential owners signed up.
"Since the time Tod and Buz set forth in the first episode of the venerable TV series Route 66, the Chevrolet Corvette has been many Americans' road trip fantasy vehicle of choice," Nerad says. "These days it is better than ever – faster than it ever was, a better handler than it ever was, yet more comfortable and fuel efficient as well. Further, it is a one-car parade; it attracts that kind of attention."
The Corvette delivers on its looks with a 6.2-liter small block V8 engine that cranks out 455 horsepower. Unless you're the one clown who strips this beauty down to its absolute base, chances are you're also enjoying a package that includes a Bose 10-speaker surround-sound audio system; Sirius XM satellite radio with one-year subscription and HD radio receiver; color head-up display; memory package; navigation system; heated and ventilated seats with power lumbar and bolster adjustment; and a leather-wrapped dash. It's the lavish all-American sports car with the parts and labor to back it up.
Ford F-150 with EcoBoost V6
Starting price: $25,410
We'll note that CarGurus' Halloran pleaded the case of the Ram 1500 and its efficiency and storage capacity, but the F-150's turbocharged EcoBoost V6 and new aluminum body manage 22 miles per gallons compared with the Ram 1500's 21. That also comes with an increase in performance, as the Ford reached 60 mph almost two seconds quicker than its Ram rival. While the Ram gets high marks for its "interior refinement and ride quality," the best-selling vehicle in the U.S. just ends up being part of some great summer fun by default.
"Sometimes an epic road trip involves both a number of people and a lot of their stuff. For a trip like that, the new-for-2015 Ford F-150 is the perfect vehicle," Nerad says. "In SuperCab form it can accommodate up to six in sumptuous comfort, while its giant and easily accessible pickup bed can swallow up huge amounts of tents, sleeping bags, fishing poles and other road trip paraphernalia."
Mini Cooper Roadster
Starting price: $26,100
Small cars were once underpowered, cramped and inherently bad vehicle fit only for game show giveaways. As films such as 2002's Austin Powers: Goldmember and 2003's The Italian Job showed U.S. audiences, however, a modernized take on the classic British Mini could not only be fuel-efficient, but fun and fast at the same time.
You could swap out colors, arrange the interior, trick it out with gauges and accessories and use its wide wheel base to hug turns while putting its impressive speed to the test. In the decade after its return to the U.S. market, the Mini sold 2.5 million vehicles and became a cult favorite while the big gas guzzlers faded. Now Ford, General Motors, Toyota, Honda and several other automakers each have sporty, options-packed subcompacts. Meanwhile, the U.S. market became so open to subcompacts that the Fiat 500 that was banished a generation ago has made a comeback. For a marque called Mini, it's had a major impact.
The Mini convertible comes loaded with its Mini Connected entertainment center featuring a 6.5-inch high-definition display, Apple-designed Bluetooth interface and app for smartphone and iTunes connectivity and optional GPS. While's it's also hooked up with Sirius satellite radio, Pandora and HD radio, the most indulgent item built into the dash is an Openometer whose sole purpose is to count the number of minutes or hours your convertible top is down during your trip.
Ford Flex
Starting price: $29,100
All of the little cube-shaped party boxes that were released a few years ago to entice young people into the road trips of yesteryear all failed spectacularly for one big reason: They didn't have enough room to appeal to families, older buyers and other folks who actually spend money on new cars.
The Flex has no such issue. Basically a minivan in a crossover's body, the Flex has room for seven, 44 inches of legroom in the second row and a power folding mechanism for getting into the third row. A surprising amount of headroom make easy to transport a large crew or throw some gear in the back and take a long trip all while giving them enough room to maneuver regardless of height.
Options such as sliding second-row captain's seats, Microsoft Sync phone, entertainment and navigation systems in its MyFord Touch screen, DVD entertainment center for the back, a multipanel sunroof and second-row fridge console for road sodas compensate somewhat for its roughly 20 combined miles per gallon. It used to look like a giant Mini Cooper, but a standout frame and spacious 80 cubic feet of cargo room make it basically a minivan in disguise.
2015 Volkswagen Passat TDI
MSRP: $27,095
Built in Chattanooga, Tenn., and aimed squarely at American families, the midsize Passat is as roomy as its target audience wants it to be.
With standard features including keyless entry, full power accessories, air-conditioning, a six-way manual driver seat with lumbar adjustment, a 60/40-split-folding rear seat, cloth upholstery, a tilt-and-telescoping steering wheel, audio controls on the steering wheel, cruise control, a trip computer, Bluetooth with streaming audio and a six-speaker sound system with a CD player and auxiliary audio input, Volkswagen loaded the Passat with features other automakers consider luxuries. The interior has the passenger space of a full-sized sedan, yet still leaves 16 cubic feet of space in the trunk.
The excellent handling is nice, but the Passat TDI's combined 37 miles per gallon ensures that you'll spend far more time enjoying the road than you will looking for a rest stop with a gas station.
— Written by Jason Notte in Portland, Ore., for MainStreet
To follow the writer on Twitter, go to http://twitter.com/notteham
This article is commentary by an independent contributor. At the time of publication, the author held TK positions in the stocks mentioned.