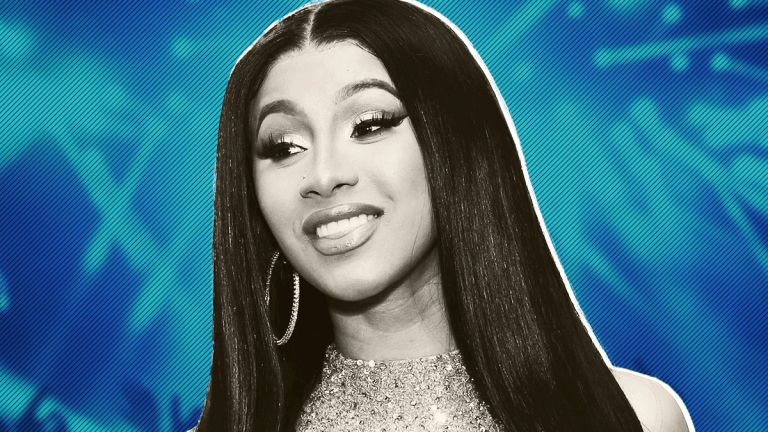 What Is Cardi B's Net Worth?
Rapper Cardi B rose quickly to fame, and so did her income. So how much is she really worth?
Cardi B skyrocketed to fame in a few short years. But, along with her fame - and accompanying controversies - her income has also exploded from her beginnings as an "exotic dancer" and alleged gang member. 
What Is Card B's Net Worth?
Cardi B's current net worth, estimated at $8 million in February by Forbes, is now calculated at $12 million by Celebrity Net Worth. 
Cardi B's Career
Cardi B, whose actual name is Belcalis Marlenis Almanzar, was born in the Washington Heights section of Manhattan on Oct. 11, 1992 and raised in The Bronx borough of New York by her Caribbean émigrés parents - a Dominican father and Trinidadian/Spanish mother. 
Her sister's name is Hennessy Carolina, so people started to refer to her as Bacardi - a name she switched around for her "stage" name. 
She was working as an exotic dancer from the age of 19 and discussed it openly and posted videos on the internet, making her an internet celebrity on Vine and Instagram when she was cast and appeared in 2015 on Season 6 of VH1's reality television show "Love & Hip Hop: New York." 
While appearing on the reality show, Cardi B released two mixed tapes, "Gangsta Bitch Music, Vol. 1" in 2016 and "Gangsta Bitch Music, Vol. 2," in 2017. Her real hip-hop career was born with the release of Gangsta Bitch Music. In fact, according to Vice's "Noisey" music site, Cardi B's "Gangsta Bitch Music, Vol. 1," is the "first good record to come out of 'Love and Hip-Hop.'"
She appeared on VH1's "Love & Hip Hop: New York" from 2015 to 2017, and in 2015 appeared as herself in an episode of "Uncommon Sense with Charlamagne," in 2016 and in an episode of Khloe Kardashian's "Koktails with Khloe," and, in 2017, as Mercedes in an episode of "Being Mary Jane." 
But, in the week of Oct. 7, 2017, her single "Bodak Yellow" made her only the second female rapper to hit the top of the Billboard Hot 100 with a solo output, after Lauren Hill in the week of Nov. 14, 1998. 
Cardi B was nominated for Best New Artist in 2017 by the Black Entertainment Television network, and also for Best Female Hip-Hop Artist. Her song "Bodak Yellow" won for Best Single of the Year.
The following year, she was nominated for several American Music Awards, and  "Bodak Yellow" won the award for Favorite Song Rap/Hip Hop. 
Also in 2018, she was nominated for two Grammy awards: Best Rap Performance and Best Rap Song for "Bodak Yellow." 
When her debut studio album from Atlantic Records, "Invasion of Privacy," came out, it quickly gave her 13 entries on the Billboard Hot 100 list, passing Beyoncé for the most simultaneous titles on the list by a solo female.
She won her first Grammy at the 61st Annual Grammy Awards in 2019, for "Invasion of Privacy," as the Best Rap Album, making her the first female rapper to win the category as a solo artist.
Cardi B's Endorsements
In November 2018 Cardi B announced her collaboration with Reebok, making it the third collaboration with a fashion producer, the first being work with footwear designer Steve Madden (SHOO) - Get Free Report , and her own Fashion Nova line. 
In January 2019 she signed a deal with Pepsi Co. (PEP) - Get Free Report to be the soft drink's spokesperson for a year, according to TMZ. 
Cardi B's Controversies
It would be unlikely, as well as unusual, for someone like Cardi B to burst onto the celebrity stage without a few controversies either following or swirling around her. 
First and foremost: she attracted an internet following before she even was a reality TV star by unapologetically discussing her past as an exotic dancer, or, as she says, "stripper."
She also told GQ she was a member of the Bloods gang as a teenager. 
Cardi B's ex-boyfriend, sometimes called her ex-fiancé, Tommy Geez, a Harlem rapper, was sent to jail for four years for gun possession, and released in late 2017. 
Then, she was publicly dating Migos rapper Offset. At one point, there was concern among her fans that Tommy might go after Offset. 
But that rumor died of its own weight when it was learned that Cardi B and Offset had, in fact, married in September 2017, and she gave birth to their daughter, Kulture Kiari Cephus, on July 10, 2018. Offset's real name is Kiari Cephus. Offset has three other children.
Cardi B didn't reveal she had married Offset until two weeks before she gave birth. 
In addition to her past and current controversies, Cardi B has also in the past two years managed to find herself in a few ongoing disputes. 
Among the more persistent: an on-again, off-again feud with earlier-famous rapper Nicki Minaj. 
According to capitalxtra.com, the dispute first erupted when someone using 'nickiminaj' as their Instagram identity "liked" a comment on a post of Cardi B rapping in March 2017. Many users at the time indicated they thought the "like" was probably not from Minaj herself, but faked. 
A few weeks later, Minaj was seen nodding her head in appreciation to Cardi's smash of the summer, "Bodak Yellow," at a club in Miami. 
Then, Minaj wrote a criticism of an unnamed female rapper in a few lyrics of her song "No Flag," which featured Offset. But Minaj then posted on Twitter that she wrote the lyrics a couple of months before and it was not about Cardi B. 
In August of 2017, Cadi B called out an unnamed woman during a performance, accusing whoever it was of wanting to be her friend "all of a sudden." 
The pair of famous rappers then collaborated on a Migos song, "Motorsport," released in October 2017. 
During an interview just prior to the release of "Invasion of Privacy," Cardi B told the interviewer she thought the entire dispute was "really internet made-up."
But then, the pair reportedly got into a physical altercation at Harper Baazar's Fashion Week party in 2018. 
Then, in March 2019, an old admission of Cardi B's that she had, at times, drugged and robbed men who went with her to have sex when she was a stripper, for money, resurfaced and gained a bit of notoriety.
Meanwhile, Cardi B is also being sued for $10 million by her ex-manager, who claims he "discovered" her but has since been "frozen out" of her success. 
As recently as Aug. 12, 2019, Cardi B was seeking to have testimony in her upcoming depositions regarding the lawsuit to be sealed. 
And this after, in June 2019, being indicted on charges, including two counts of felony attempted assault, connected to a fight at the Angels Strip Club in Flushing, Queens in August 2018.
How Does Cardi B Spend Her Money?
First of all, Cardi B recently said she and other artists like her have 45% of their earnings taken by the Internal Revenue Service. But the top marginal tax rate in 2019 was 37%, not 45%.
In the same video, put on line by Complex in February 2019, Cardi B notes she spends $250,000 to $300,000 a month so she can be "looking good for ya." 
She is known to spend money on multiple human hair wigs, and "not cheap" finger nail designs, gold chains, designer clothing, and, especially, designer shoes - to the tune of $2,000 to $5,000 every couple of weeks, and going to nightclubs to spoil fans and dancers alike. 
She reportedly spent $300,000 on her stage set for her two performances over two days at Coachella.
And she is known to own and like to wear expensive fur coats, and one day in 2018 went and bought herself a Patek Philippe diamond-encrusted watch, worth $100,000. 
For his 26th birthday, she bought Offset not just a watch, but also a Rolls-Royce Wraith. And for herself, she bought a $240,000 Bentley Bentayaga SUV to celebrate her success with "Bodak Yellow" - before she had a driver's license. 
And that was before she bought Offset and herself matching Lamborghini Aventadors, when she still didn't have a driver's license. 
But as with the cars and watches, Cardi B doesn't only spend money on herself. She bought her mother a brand new SUV, and for her mother's 50th birthday, she delivered 50 roses, each wrapped in a $100 bill.
After giving birth to her daughter, she also reportedly spent $7,000 on a Fendi stroller, Givenchy Teddy bear, and a Versace changing bag. 
Cardi B's Home
For someone who grew up in the Bronx, making money as a stripper, Cardi B has in the past few years made enough money to no longer have to worry about where or how she lives.
She has a three-bedroom, two-bathroom condo in Edgewater, New Jersey. At one time, in the beginning, she was renting it, for $3,000 a month.
In January 2019, it was learned Cardi B and Offset bought two "modest" three-bedroom, one-bathroom homes in Jonesboro, Georgia, an Atlanta suburb, for a little over $100,000. Offset is originally from Atlanta.
And back in November 2018, Cardi revealed she'd bought her mother a house, though she hasn't revealed the cost - other than to note she'd looked at some for about $600,000, but in New York City, where her mother still lives, nothing at that price range appealed to her because real estate in New York City is expensive.