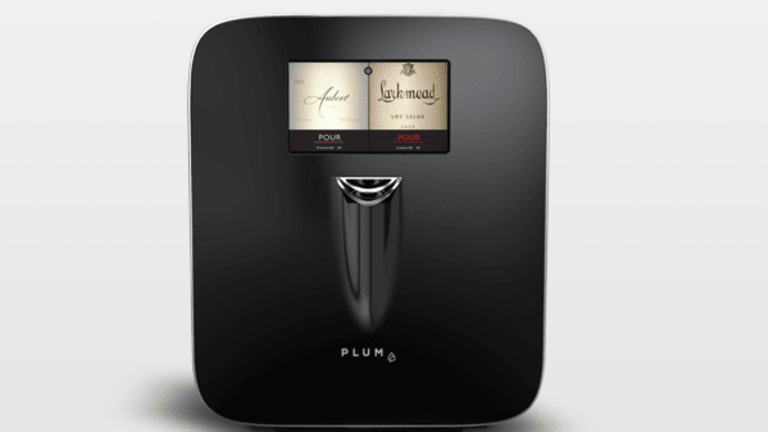 Publish date:
Need a Great Gift For Your Favorite Wine Lover? Check Out The Plum
How often do you let a good bottle of red go to waste by opening it and not finishing the wine within? It's time to stop that.
How often do you let a good bottle of red go to waste by opening it and not finishing the wine within? It's time to stop that.
Editors' pick: Originally published March 6.
Imagine coming home after a long day and walking over to a machine on your counter that pours a glass wine.
Or how about entering your hotel room after hours of traveling and having a glass in your fuzzy robe, instead of schlepping down to the lobby bar?
That's exactly what David Koretz was thinking when he founded the Plum wine preservation system.
"You had a machine at home that makes you coffee, one cup at a time, but there wasn't anything similar that poured a single glass of wine without opening a whole bottle," said Koretz.
Plus, he was tired of dumping wine down the sink because the unfinished bottle sat on the counter too long, and he would get frustrated when he wanted a glass of red but his guest was feeling like a white.
Even worse, Koretz was sick of sitting at hotel bars alone when all he really wanted to be was up in bed relaxing.
But these are the plights of wine drinkers everywhere.
So Koretz created the Plum preservation system for your home, and most recently, announced for your hotel room.
The Plum holds two bottles of wine. An integrated camera within the machine identifies the bottles' labels and chills them accordingly. So it automatically will chill every varietal to its perfect temperature, around 60 degrees for a red about 48 degrees for a white.
Once the camera identifies the label, it shows up on the front of the machine so you know what you're drinking. In addition, the bottle sits in the system at a 55-degree angle, with the bottom higher than the front, so the cork stays moist and in contact with wine.
This refrigeration was really important to Koretz, who has raised $10 million for his creation. "I live in Miami and often if you open a bottle of wine its warm by the end of dinner," he said.
He also wanted the system to work with any type of opening, including synthetic corks and metal screw tops. So it has a motor that pushes a needle through the foil, cork or screw top. It simultaneously shoots argon gas into the bottle. Argon is an inert gas that's already in our air so it won't hurt you or the wine. Once the bottle is pressurized with the gas, the wine comes through the needle and pours into a glass. Watch the video for the full details.
This system allows the Plum to preserve your wine for up to 90 days (although we can't imagine it taking you 90 days to finish a bottle of wine.)
Granted, the Coravin is hand-held gadget that also uses Argon and allows you to pour one glass at a time. And there are there are systems that hold two bottles open your counter, although they only preserve the wine for about ten days.
The Plum is a little bit bigger than your Keurig machine, so putting it on your kitchen counter or on a dresser in a hotel room almost seems logical.
While we were told to look out for this system a while back, the company is currently taking preorders. The system will run you $1,500 and should start shipping early spring.
It should show up in hotel rooms about that time as well. The company will be announcing its partnerships in a few weeks.
And we have been seeing this trend of bringing technology to your hotel room to better simulate home. "Rumbling through the mini-bar for a not-so-great half bottle of over-priced wine is nothing like home," notes CEO Koretz.
The wine world continues to create jobs and inspire entrepreneurs as they continue to solve everyday problems both at home and as we travel.
"Life is too short to drink a bad glass of wine," says Koretz, no matter where you lay your head down at night.