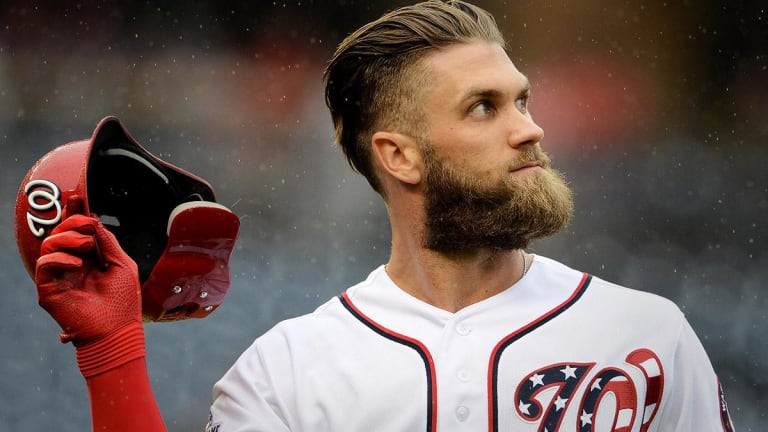 What Is Bryce Harper's Net Worth?
It has been estimated that Bryce Harper could be worth as much as $70 million. How much more money will he be making from his new contract?
Bryce Harper wasn't your average free agent when he hit the market after the 2018 season. He was 26, with a lot of years left to offer a team. He's also a former MVP, and a unanimous one, at that.
Harper is also a rarity: a teen phenom who actually made good, going from one of the biggest prospects in baseball's history to reaching that potential and becoming a baseball superstar. He may even have more ways to improve. And eventually in that offseason Harper got the record-breaking deal everyone thought he would get, courtesy of the Philadelphia Phillies. And though that record was later broken by Mike Trout, Harper still got the record he wanted for a brief period, and it's unlikely he's complaining after getting $330 million.
Harper is set to be one of the richest athletes in the world for a long time, and as a star player he was already getting plenty through arbitration. How much is he worth?
Bryce Harper's Net Worth
Harper, despite only playing in his 8th season in Major League Baseball, already has an estimated net worth of $70 million, according to Celebrity Net Worth.
Assuming that number is anywhere close to true, it's honestly a pretty astonishing feat. Harper spent much of his tenure with the Nationals on his rookie contract. Now that he plans to settle into Philadelphia over the next 13 years, Harper's net worth should skyrocket.
Bryce Harper's Career
Harper was a known entity in baseball for years before he even got drafted. It was such a sure thing that he would get drafted first overall by whoever was there whenever he was eligible that he got his GED after his sophomore year and entered junior college, playing baseball for the College of Southern Nevada. The Vegas native proved himself a force to be reckoned with in his lone year playing college ball, hitting 31 home runs in just 66 games.
Bryce Harper and the Nationals
In June of 2010, Harper was drafted first overall by the Washington Nationals. It was their second consecutive first overall pick; in 2009 they drafted starting pitcher Stephen Strasburg. Soon after, he signed a rookie contract worth $9.9 million over five years. His 2011 season, split between A-ball and AA-ball, showed a great deal of potential as he hit 17 home runs combined.
Though he started 2012 again in the minors (this time at AAA), it didn't last long. He made his MLB debut before April had even ended, and ended up playing in 139 games for the Nationals. His first home run came on May 14 against the San Diego Padres. He would end up hitting 22 that year, hitting .270 and making the All-Star Game at just 19 years old.
Harper's 2012 campaign won him the Rookie of the Year award, but even more importantly it helped the Nationals reach the playoffs. In what would become a common ending, they lost in the first round of the playoffs. This year they fell to the Cardinals, and Harper hit just .130 in the series.
2013 saw him progress and put up more solid numbers, hitting 20 more home runs and making the All-Star Game again. However, an injury relegated him to just 118 games and the Nationals regressed, failing to make the playoffs. Still, after these two seasons Harper had hit 42 home runs and made two All-Star teams all before even turning 21.
Harper had knee surgery in the offseason to help his nagging injury, but it wasn't the only injury he would face. Harper played in just 100 of the 162 games in the regular season thanks to a thumb injury in April. It caused him to miss the All-Star Game, to date, the only time in his career he hasn't made it. Harper hit just 13 home runs, but the Nationals won the NL East and made the playoffs for the second time in three years. This time, Harper fared much better, hitting .294 with three home runs in four games. But the Nationals still fell in the NLDS to the San Francisco Giants.
Harper had been good, but was plagued with injuries in his first few years; an above-average starting player, but not yet a superstar. In the 2014 offseason, the Nationals signed him to a two-year extension, avoiding arbitration. Harper rewarded them not just with a good season, but one of the best offensive seasons baseball had seen in years.
2015 Bryce Harper was on another level, starting the season hot and never letting off the gas pedal. He hit .330, led the league with 42 home runs and 118 runs scored, and walked 124 times. He was unanimously voted league MVP, just a month after turning 23. However, Harper chose to have his historic season in a year of extreme turmoil for the Nationals. The team around him struggled mightily down the stretch, and they lost the division to the Mets.
In 2016, Harper started off similarly spectacularly, but failed to reach the heights of his 2015 campaign after struggling down the stretch. He hit 24 home runs and once again walked over 100 times, but his average fell to .243. Still, the value he provided helped Washington return to the playoffs - where they lost in the first round, this time to the Dodgers.
Prior to the 2017 season, Harper and the Nationals avoided arbitration by signing him to a one-year, $13.6 million deal. Midway through the season, they signed him to a $21.6 million contract for 2018. Harper had a great 2017 with 29 home runs and an improved .313 batting average, but he did miss time down the stretch with an injury. He came in 12th in the NL MVP vote as the Nationals made the playoffs for the second consecutive season - and lost again in the first round, this time to the Cubs. Harper hit .211 with a home run in those five playoff games.
2018 saw an injured and inconsistent Nationals team miss the playoffs. Harper's batting average was just .249, but he hit 34 home runs and led the league with 130 walks.
According to Spotrac, Harper in those seven years with Washington made $52.35 million in cash earnings.
Bryce Harper and the Phillies
Harper took his time and waited out teams throughout the offseason to make sure he got the deal he wanted. And he got one from an old division rival in the Phillies.
So far, Harper's 2019 season on his giant contract has looked similar to the one he had in his last year in Washington. As of this writing, he is hitting .249 as he did in 2018, and in 112 games has hit 19 home runs and walked 78 times (second in the NL, only trailing Phillies teammate Rhys Hoskins).
Bryce Harper's Contract: How Much Does He Make?
After the 2018 season concluded, the Nationals offered Harper a one-year, $17.9 million qualifying offer. Harper declined it, electing to test the market.
Harper and infielder Manny Machado were the biggest names available that free agency period, two superstars in their mid-20s and the prime of their respective careers. That offseason was slow for free agents, as neither one signed until close to spring training. Machado signed first, with the San Diego Padres for $300 million over 10 years. A mammoth contract, but not more than the existing record, which was Giancarlo Stanton's 13-year deal worth $325 million. Harper wanted more than Stanton's record deal.
And eventually, he got that record. In March of 2019, it was announced that Harper agreed to a contract with the Philadelphia Phillies for $330 million over 13 years. He had the record for biggest contract in MLB history for mere weeks before Mike Trout signed a 12-year, $430 million contract extension, but he had it all the same.
Per Spotrac, Harper is making $30 million in 2019, $20 million of which is a signing bonus. Spotrac also claims that Harper will be making $26 million in salary each year from 2020-2028, while he will be making $22 million in salary for the final 3 years of his contract. Come 2031 when the contract expires, should he play out the entirety of it, his career cash earnings from baseball would be $382.35 million.
Bryce Harper's Endorsements
As an MVP player in one of the biggest sports, playing in a major city, Harper is no stranger to being a public face. He has his fair share of lucrative endorsements. In May 2016, just several months after winning that MVP award, he signed a 10-year contract extension with one of his sponsors, Under Armour (UAA) - Get Under Armour Inc. Class A Report . It was the largest endorsement deal ever for a baseball player.
In 2018, Harper also signed an endorsement deal with a particularly fitting company. Known for his impeccably-styled hair and beard, Harper signed a product deal with Blind Barber, a chain of six barbershops across the country, to help make and sell hair and beard products.