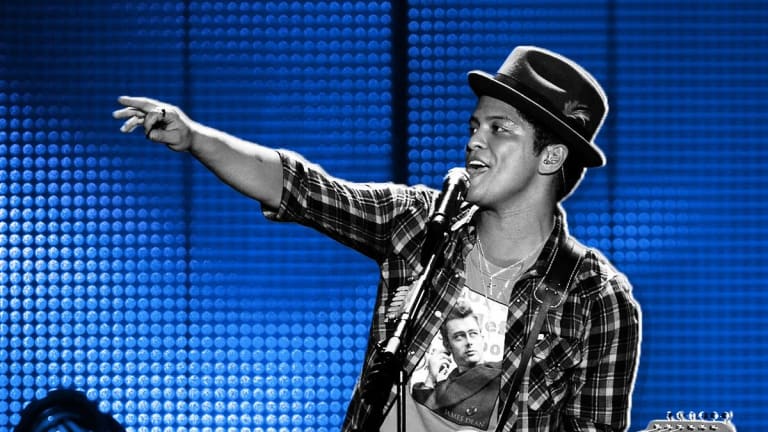 What Is Bruno Mars' Net Worth?
He comes from a large family with little income, and now he's a superstar. How much is Bruno Mars worth?
He's consistently a "Top 10" artist, and in fact the first four singles he released all became top 10 hits -- an achievement not seen from a male vocalist in 20 years. But he's struggled with a lot of adversity, in a large family with little income, from an early age until superstardom. You probably won't even recognize his real name: Peter Gene Hernandez. But you will recognize his stage name: Bruno Mars.
What Is Bruno Mars' Net Worth?
As of July 2019, Forbes' ranked him at No. 54 out of its Celebrity 100 list, as he'd earned $51.5 million already for the year. His most recent net worth estimate for the same year was $175 million, according to Celebrity Net Worth. 
Early Life
Born Oct. 8, 1985 as Peter Gene Hernandez in the Waikiki neighborhood of Honolulu, the man known to fans as Bruno Mars grew up in a musical family with five siblings - his father particularly loved 1950s "doo-wop" music. His father, a Latin percussionist, and his mother, a talented singer, put on a Las Vegas-style revue. He was given the nickname "Bruno" as a 2-year-old because his father thought he resembled the professional wrestler Bruno Sammartino.
He attended Roosevelt High School, where he formed a band with friends. He was also involved in writing songs and singing backup.
He moved to Los Angeles at 17, determined to pursue a musical career.
Bruno Mars' Career
As a child in a musical family, he had many opportunities to perform. He liked to imitate Elvis Presley's and Michael Jackson's moves. He started collaborating with Travis McCoy and K'Naan in the early 2000s. 
He adopted the stage name Bruno Mars, picking "Mars" because, he said, he was "out of this world," and signed on to Motown Records in 2004, where he met producer and songwriter Philip Lawrence, who had signed to the same label. Mars was dropped by Motown after less than a year. Mars was introduced to Atlantic Records by Lawrence in 2006, where, in addition to his personal career, he became a part of the songwriting and record producing team of Ari Levine and Lawrence, the Smeezingtons. 
In 2009, his career catapulted, with his co-writing Flo Rida's hit song, "Right Round." A year after that, he worked in collaboration with the rapper B.o.B. on the hit "Nothin' on You," and co-wrote Travis McCoy's "Billionaire." Both titles were Top 10 hits. 
His debut album, "Doo Wops & Hooligans," was released by Atlantic and Elektra Records Oct. 4, 2010, just shy of his 25th birthday. His debut single "Just The Way You Are," from that album, peaked at No. 1 on the Billboard Hot 100. His other hit single from the same album, "Grenade," also peaked at No. 1. 
Mars got seven Grammy nominations, and won best male pop vocal performance for "Just the Way You Are" at the 53rd Grammy Awards in 2011. 
Mars recorded the single "It Will Rain" for the film "The Twilight Saga: Breaking Dawn - Part 1" in 2011. 
His second studio album, "Unorthodox Jukebox," was released in December 2012. It peaked at No. 1 in the U.S., Australia, Canada, Switzerland and the U.K. One of the album's singles, "Locked Out of Heaven," topped the Billboard Hot 100 for more than six weeks in more than 20 countries. The album won best pop vocal album at the Grammy Awards in 2014. 
In February 2014, Bruno Mars was the halftime performer at Super Bowl XLVIII. 
His third studio album, "24K Magic," was released in 2016, and eventually went on to win six Grammys, including album of the year in 2018. 
Bruno Mars' Endorsements
In 2013, Mars posted a picture of himself on Twitter (TWTR) - Get Twitter, Inc. Report using an e-cigarette to promote NJOY Electronic Cigarette Company, and the same year, he earned an estimated $4 million from Pepsi Co. (PEP) - Get PepsiCo, Inc. Report , which used his discography for an ad.
He teamed up with three others in 2014 to launch Rum, which is a blend of Selvarey White, Panamanian Rums and Selvarey Cacao.
In addition, he has social media accounts like Instagram and his self-titled YouTube channel, and can earn $24,700 to $394,900 per month, or $296,200 to $4.7 million annually from his YouTube channel, according to SocialBlade. 
Controversy
With his Grammy wins in 2018, some critics started accusing Mars of "cultural appropriation" of "black" music. Because, while he had a Puerto Rican and Askenazi Jewish father, and a Filipino mother, and was born and raised in Hawaii, he appears to be developing a retro pop as well as Latino black persona, and sings in a variety of styles of rhythm & blues that encompasses hip-hop, among other origins.
More recently, he was only ancillary to a controversy involving Cardi B, a rapper who collaborated with him on songs "Please Me" and "Finesse." She was accused of being "vulgar" in a video she posted on Instagram about the song.
How Does Bruno Mars Spend His Money?
Mars currently lives in a house in Los Angeles that has a garage for 12 cars, and has spent an estimated $1.8 million collecting cars.
His car collection includes a Rolls-Royce (RLLCF) , that cost an estimated $289,000; a Cadillac STS that costs between $72,000 and $92,000; and an Cadillac Allante for about $54,000.
He also likes to spend his money on designer brand clothing, particularly Versace, so his clothes can run into the thousands of dollars. And he frequently is seen wearing his Versace Medusa gold chain medallion, which sells for $2,000 or so.
He doesn't just spend his millions on himself, however. Mars gifted each of his seven band members a $55,000 watch as a "thank you" for their help in his career.
Lastly, he contributes to a number of charities, particularly for "at-risk" youth; disaster relief groups, women's causes, human rights, the environment, philanthropy, poverty, unemployment and career support. In 2014, he donated $100,000 to Typhoon Yolanda victims, and held a benefit concert to raise more money.
Near and dear to his heart, he started in 2014 the Bruno Mars Scholarship Fund with the Hawaii Community Foundation, to help kids from Hawaii with tuition fees.
At the end of his "24K Magic" tour, in November 2018, Mars provided meals to 24,000 Hawaii residents in need during the Thanksgiving holiday, as a way of giving back to his home town, where he ended the tour.
Bruno Mars' Home
Earlier in his career, Mars owned a $3.1 million property in the Portlock community of Honolulu. He bought the four-bedroom, 4,124-square-foot home from John Browning, heir to the Utah-based firearms company Browning. He sold the home after he decided, for the second time since he was a teenager, to relocate permanently to Los Angeles. He put the Hawaii house on the market for $3.5 million, but dropped it to $2.7 million.
He then purchased a 9,000-square-foot home in the Studio City neighborhood of Los Angeles, for $6.5 million. The home sits on two acres of land, in the same neighborhood where George Clooney owns a home. It has a wine cellar, a bar, and a wing just for children to hang out in. It also has a sauna, a steam room, an infinity pool, and a garage for 12 cars.