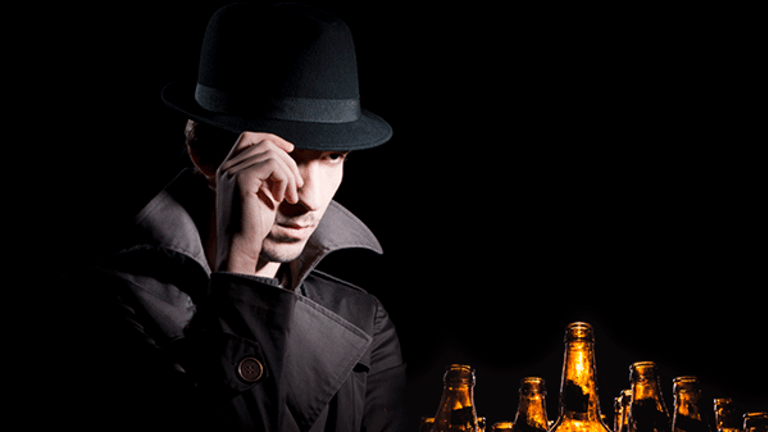 Brewers Try to Beat the Shady Craft Beer Black Market
Craft beer brewers' limited releases illegally resell for big bucks online, but keeping rare vintages around the taproom and making more bottles diminishes those ill-gotten returns.
When Toppling Goliath Brewing Company in Decorah, Iowa, last released its Kentucky Brand Brunch Stout (KBBS) in January, only 1,000 people were able to get a bottle.
KBBS hadn't been released since 2014, and 12-ounce bottle of it was sold as part of a $200 package, along with two bottles of the brewery's Assassin barrel-aged imperial stout and two glasses. Today, that 12-ounce bottle alone fetches more than $1,000 on a black-market beer resale site. While Toppling Goliath founder Clark Lewey not only doesn't find this flattering, but he realizes that this can create more problems than praise for his brewery.
"Having the beer sold outside of the three-tier system leaves room for fraud, which has happened to us with our KBBS," he says, noting that online bottle-trading forums and other social media tipped off the brewery. "One trader was opening bottles, filling with other beer, and trading them. This is not cool."
As this site has noted before, illegal beer resale is a thriving enterprise. Beer drinkers chasing rare "white whale" releases by well-regarded brewers have driven a black market of beers from California, the Pacific Northwest and other spots around the globe.
Brewers' concerns about bottle resale haven't stopped business on sites including BeerBlackBook, MyBeerCellar and MyBeerCollectibles from thriving. Sellers slap three- and four-figure prices on hundreds of what MyBeerCellar and MyBeerCollectibles dub "collectible beer bottles," exploiting a loophole once frequently used on eBay. (The issue was resolved on that particular site when Russian River Brewing brought it to eBay's attention four years ago.) The loophole illegally bypasses the distribution tier of the three-tier system and flouts delivery companies' rules for shipping alcohol (and the Postal Service's ban on it). It also ignores state laws for both beer shipment and licensing of alcohol shippers. The existence of that beer black market isn't new, but brewers' reactions to it have had some unintended consequences.
"People have been trading and selling Cascade beers online for quite a few years and as long as there is a willing buyer and a willing seller, prices will always fluctuate," says Tim Larrance, vice president of sales and marketing at Portland, Ore.-based Cascade Brewing. "We do place limits on new releases only when we have limited quantity. This is so we can ensure a greater number of people have the opportunity to purchase."
While Larrance points out that the online market hasn't affected Cascade's pricing—which starts at $20 per 750-milliliter bottle for current vintages of standards like Kriek and Apricot, but hits up to $56 for a 2011 Tangerine Dream—the influx of brewers seeking a bit of that premium pricing certainly has. According to Bump Williams Consulting, the average price of a case of specialty or limited release beer jumped from $42.94 at the end of 2012 to $45.89 by the end of 2015. During that same time, the number of breweries in the U.S. rose from 2,475 to 4,548. With more than 5,300 breweries in the U.S. today, the price of special releases still averages $43.75. Even with many of the most sought-after special releases coming directly from breweries themselves, the amount of beer purchased on premises soared from 518,000 barrels to 1.2 million barrels during that span.
It has been a slightly different story within the last year or so. Bump Williams has found that the average price of a case of special releases has slipped by $4.10, or roughly 9%, since the end of 2015. Though market research firm IRI Worldwide notes that sales of special releases through April rose 14 percent by volume from the same time last year, the price has actually dropped by $2 a case.
Smaller brewers can claim at least a measure of responsibility for that. De Garde Brewing in Tillamook, Ore., produced little less than 1,100 barrels of its barrel-aged and spontaneously fermented beers last year, but still manages to sell 750-milliliter bottles of its Bu Weisse for as little as $5. The brewery works in small batches and sells only a handful of bottles to take home, but keeps an extensive list of bottles for purchase and consumption in its tasting room. That hasn't completely prevented De Garde beers from showing up online—or kept bottles of its Broken Truck lambic from selling for an average of $177. De Garde co-founder and co-owner Trevor Rogers says he's dedicated to keeping both prices and scarcity to a minimum.
"When someone purchases our beer to profit off of it by selling it, it deprives another person of the ability to enjoy it at a fair price," he says. "We make as much beer as we can, charge the lowest price we can, and do our best to minimize perceived scarcity or 'hype' in the interest of providing the highest quality beer at the most affordable price with a genuine focus on consumer happiness. We aren't perfect, but we try to do the best for beer lovers that we can."
Brewers far larger than De Garde are also playing a role in driving down prices. Since 2015, Constellation Brands purchased San Diego's Ballast Point, Heineken purchased Petaluma, California-based Lagunitas, and Anheuser-Busch InBev has scooped up a number of brewers including Asheville, N.C.-based Wicked Weed. Meanwhile, craft brewers like Grand Rapids, Michigan-based Founders—whose Kentucky Breakfast Stout (KBS) became one of craft beer's original high-value items after its first release in 2004—keep increasing capacity and putting more of their limited releases on the market.
Founders sets its suggested retail price for four packs of KBS in 12-ounce bottles at $24.99, though owner and co-founder Mike Stevens says he regularly sees retailers sell them for up to $10 higher. He says the brewery can't control what retailers or buyers do with the beer once it's in their hands. He notes that the brewery's expansion from 41,000 barrels of production in 2011 to 465,000 this year (with enough brewery capacity to produce 1 million) has made Founders better able to meet demand and tamp down resale. While Stevens says "it's kind of a pat on the back and makes you smile" to see a bottle of KBS resell for $100, he's still not a big fan of illegal sales. With Founders not so reliant on scarcity anymore, he doesn't have to be.
"If we were to go back to the old days where only the best of the best party stores all got one case, we'd probably have a lot more to talk about on this subject because we would have a lot of black market concerns," Stevens says. "But we have them, we're aware of them, we don't condone it, but we can't police it."
This article is commentary by an independent contributor. At the time of publication, the author held no positions in the stocks mentioned.