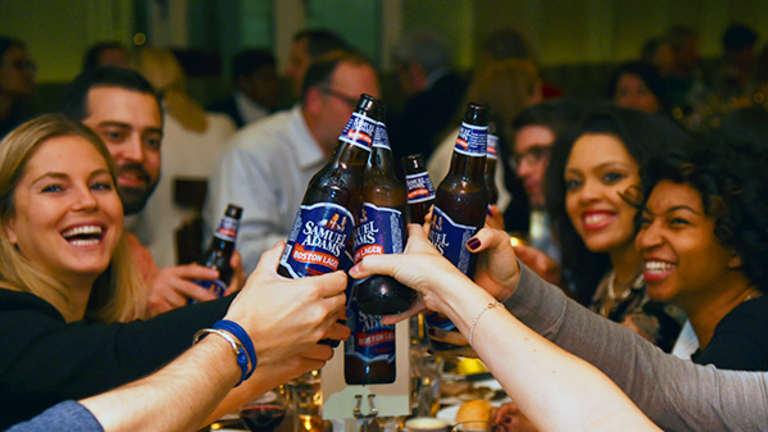 Why Boston Beer Company Should Sell to Molson Coors for Billions of Dollars
The Samuel Adams craft beer brewer has seen beer sales and share prices slip as competitors sell stakes or get bought out.
Boston Beer Company (SAM) - Get Boston Beer Company Inc. (The) Report and its Samuel Adams beer brand fought the man and established craft beer as an alternative to mainstream beer brands.
Now it's time for co-founder and chairman Jim Koch to sell out.
Boston Beer Company, Samuel Adams and Koch himself have fermented about as much uncertainty as beer in recent years. In 2015, Koch told members of a Senate subcommittee that he may be the last American owner of Boston Beer Company in the current tax climate. In an op-ed for the New York Times earlier this year, Koch said acquisitions by Molson Coors (TAP) - Get Molson Coors Beverage Company Class B Report , Anheuser-Busch InBev (BUD) - Get Anheuser-Busch Inbev SA Sponsored ADR (Belgium) Report , Heineken, Constellation Brands (STZ) - Get Constellation Brands Inc. Report and other companies could spell the end of craft beer -- despite craft beer's growth to nearly 6,000 breweries, according to the Brewers Association craft beer industry group.
Far more troubling than Koch's statements about Boston Beer, though, are those being made about the Samuel Adams brewer by people other than Koch. Just this week, Credit Suisse (CS) - Get Credit Suisse Group American Depositary Shares Reportchanged its rating of Boston Beer shares from "underperform" to "neutral" but still dug into the poor performance of the brand's core Samuel Adams beer brands. As Credit Suisse analyst Laurent Grandet wrote in a note to clients, "although founder Jim Koch seems determined to turn the business around, we think the likelihood of a takeout goes higher if Samuel Adams rejuvenation efforts ultimately fail next year." Boston Beer's share prices are down 10%, with its overall sales projected to drop 15% this year and 5% in 2018.
Boston Beer Company's market cap sits at roughly $2 billion. It has a headquarters and pilot brewing facility in Boston; large breweries in Breinigsville, Pa. and Cincinnati; its A&S Brewing research and merger-and-acquisition branch in Burlington, Vt.; and a host of beer brands either formulated or purchased under the A&S flag. Some of Boston Beer Company's properties include the Angel City brand and its Los Angeles brewery, the Concrete Beach brand and brewery in Miami and the Coney Island brewery in Brooklyn. Overall, Boston Beer has more than 1,100 employees and a distribution network that includes all 50 states and a modest export business.
However, in recent years, Koch has been selling from his stash of controlling Boston Beer Company shares to provide liquidity to the company.
While there have been bright spots for Boston Beer Company this year, they're coming from all the wrong places. The company has seen growth from its Twisted Tea and Truly Spiked & Sparkling flavored malt beverage lines but continues to see sales of its Samuel Adams beer and Angry Orchard cider fall. As noted by Bryan Roth, director of the North American Guild of Beer Writers, Boston Beer Company's actual beer production has fallen from 88.9% of overall output in 2010 to just 57.2% last year. That could cost it some credibility among beer geeks, as the Brewers Association's definition of a craft brewer demands brewers produce a majority of their alcohol volume in beer, but that damage may already be done.
Portland, Ore.-based beer blogger and author Jeff Alworth recently knocked Koch, a Harvard Business School graduate, for using "sharp-elbowed tactics" including brewing under contract in Pittsburgh, Portland, Eden, N.C. (at a Miller facility) and elsewhere during Boston Beer's earliest days. He also poked at Koch's use of gimmicks -- from giveaways to a 2002 "Sex for Sam" promotion on the Opie and Anthony radio show in New York that resulted in the DJs getting fired after encouraging sex in public places, including Saint Patrick's Cathedral -- and questioning whether it was good for craft beer.
The most damning statements came two years ago, when brewers and bar owners in Boston Beer Company's own backyard in Boston slammed Koch and Boston Beer as "middle of the road" in Boston Magazine. After a highly publicized blowup between Koch and staff at a Boston beer bar, a few luminaries within Boston's craft brewing industry made it clear just how they felt about Koch and his brewery.
"For me, serving something that is mediocre is just really not what I do." Daniel Lanigan, owner of the beer bar (and, now, brewery) Lord Hobo, in Cambridge, told Boston Magazine's Andy Crouch. "I just never considered their beers to be world class, and I decided not to sell them."
It should be noted, however, that Lanigan just sold a minority stake in his brewery to Valterra Capital, a private equity firm that typically invests between $2 million and $50 million into asset-backed businesses, according to beer industry site Brewbound. He says that funding will help him expand his facilities and get more products out to market, and he'll be far from alone in taking that route.
Last year, 21-year-old Stone Brewing Company in Escondido, Calif, took $90 million from private equity firm VMG Investment amid a refresh of its brands and branding and expansion into facilities in Richmond, Va. and Berlin. At the same time, founder and leader Greg Koch (no relation to Jim), stepped back into an emeritus position as a new CEO took the reins. Through the first half of the year, Stone's sales are up 19.1% by volume, according to Chicago-based market research firm IRI Worldwide.
Milton, Del.-based Dogfish Head (founded in 1995) and Atlanta's SweetWater (founded in 1997) also sold minor stakes to private equity firms. Sales of those brands are up 9.2% and 15.2%, respectively, through June. However, private equity isn't the only option available. Craft Brew Alliance, which saw former chairman Kurt Widmer retire at the end of 2015, renewed a distribution and marketing deal with Anheuser-Busch InBev (which owns a roughly 32% stake in the company) last year. Focused primarily on Craft Brew Alliance's Kona brand, the deal is already paying dividends: Kona sales are up more than 10% through June.
However, a reasonable takeover of a publicly traded company worth $2 billion is going to take some deep pockets. Constellation Brands paid Anheuser-Busch InBev $4.75 billion for the U.S. rights to Grupo Modelo brands (Corona, Modelo, Pacifico) to help settle a Justice Department antitrust suit against ABI in 2013. It also paid $1 billion for San Diego craft brewer Ballast Point in 2015. However, after Constellation Brands purchased Florida-based Funky Buddha this year for considerably less than $1 billion, executive vice president Paul Hetterich made it sound as if it wouldn't make that big of a splash in craft beer again.
"At the time we acquired Ballast Point, we thought there would be more national brands that broke out," he told Brewbound. "Things went more local, and it doesn't appear that you're going to be able to build new national brands in the space really quickly."
Anheuser-Busch Inbev has purchased ten breweries for its craft division, the High End, since 2011. However, it paid just $38.8 million for arguably its biggest purchase -- Chicago's Goose Island -- and has faced Justice Department scrutiny for each of its purchases since spending more than $100 billion on SABMiller last year. However, after laying off 400 members of his division earlier this year to eliminate redundancies in its sales division, High End president Felipe Szpigel says The High End may be done shopping.
"Our plate's full," he told Forbes's Tara Nurin. "We have ten amazing craft partners. Our focus is going to be organic."
Heineken spent nearly $1 billion on Petaluma, Calif.-based Lagunitas, but has only made smaller brewery purchases under that Lagunitas umbrella. While it seems unlikely to take on a brewer as big as Boston Beer, Credit Suisse's Grandet has another suggestion: Molson Coors. Since 2015, its North American company MillerCoors and its Tenth and Blake craft beer group have acquired San Diego's Saint Archer; Athens, Ga.-based Terrapin; Eugene, Ore.-based Hop Valley; and Granbury, Texas-based Revolver. More importantly, however, it just paid $12 billion to acquire global rights to the Miller brands from Anheuser-Busch InBev and has the capacity to take on a brewery like Boston Beer Company.
Besides, it isn't as if Koch and Boston Beer are unfamiliar with Molson Coors. As we mentioned before, facilities from Miller -- SABMiller sold its stake in MillerCoors to Molson Coors in 2016 -- helped get the Samuel Adams brand off the ground. However, Koch has sniped at Tenth & Blake executives over the definition of craft beer in the past (an exchange with former CEO Tom Cardella in 2013 comes to mind). Just this year, however, MillerCoors unloaded on Koch in response to his New York Times op-ed. After Koch called Molson Coors "foreign owned" (it has headquarters in both Denver and Montreal, as well as offices in Chicago), the company's blog noted that "he's built Boston Beer Co. from an industry upstart to an establishment player that is losing share and drinkers to a new generation of craft brewers."
MillerCoors also noted that times are getting tougher not just for Koch and Boston Beer, but all craft brewers. After more than a decade of double-digit percentage-point growth, the Brewers Association said craft beer volume growth slowed to 6.2% last year and sat at 8% for the first half of the year. Given that Samuel Adams sales have decreased during the same span -- despite appointing a chief marketing officer for the first time in company history last year -- Credit Suisse's Grandet thinks that Molson Coors could help Boston Beer (and Samuel Adams in particular) shore up areas of weakness.
"We have previously suggested that SAM could make a good target for the likes of Molson Coors or even be a good candidate for a leveraged buyout (currently zero debt) that would take the company private and afford the new management the opportunity to turn the brands around away from the scrutiny of public markets investors," he wrote. "We think Molson Coors would be the most agreeable candidate for Koch to consider buying his company."
With the craft beer market maturing, growth flattening and the Samuel Adams brand losing both steam and relevance, Koch may want to ponder that possibility sooner rather than later.
More of What's Trending on TheStreet: