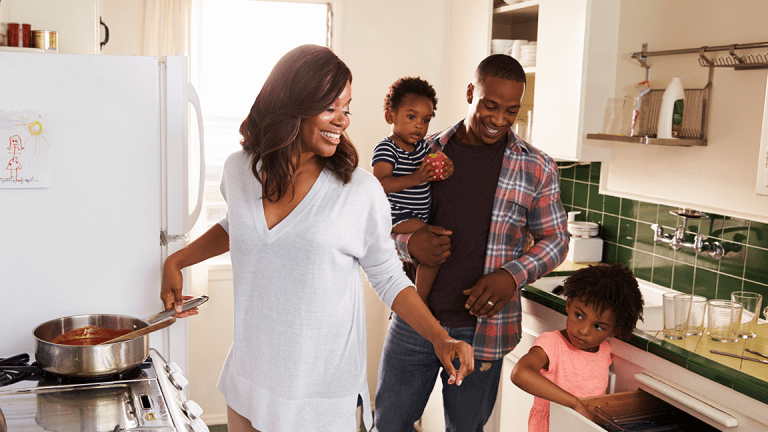 Father's Day Brunch, Breakfast and Dinner Ideas
You don't need to go to a restaurant to have a great meal this Father's Day.
You don't need to go to a restaurant to have a great meal this Father's Day.
Going to a restaurant for Father's Day is convenient in many ways -- less prep time, less cleanup. It's cool to not have to worry about making the meal and seeing who has a deal this holiday. For others, though, restaurants may feel a bit impersonal, so they opt for a home-cooked meal the whole family can help prepare in an effort to show dad how much he's appreciated.
By now, you may have waited too long to make a reservation and now everywhere in town is booked up. That happens a lot. There are a lot of events on Father's Day that get reserved quickly.
It's a holiday, so why not spoil dad and the rest of the family with a great meal? It can be just as good as a restaurant meal - and with the right creativity, even better and more fun.
Father's Day Brunch & Breakfast Ideas
Even if it isn't the classic breakfast in bed, your family can still create a hearty meal. If you're looking to make a good brunch or dinner (because you couldn't get a reservation, no judgment) there are plenty of tasty ideas. Here are just a few:
Breakfast Pizza: This is different than just having cold pizza in the morning (though some dads won't have a problem with that either). If you have dough to make regular pizza crust, you can create a breakfast-themed one, using eggs and bacon. The rest, from cheese to meat to veggies, is up to you for customizing.
Breakfast Burger: While we're on the topic of turning dinner into breakfast, the breakfast burger is a classic. A fried egg on top of a burger tastes as good as it sounds and looks. Throw on some bacon, tomato, and avocado as well for extra breakfast points. And if you want to make it even more breakfast-y, lest you're worried you're just eating a burger at 10 a.m., use an English muffin instead.
Chocolate Chip Pancakes: These are decadent yet simple to make. The fun of it is how many different directions you can take them in. After all, it's a holiday - why settle for just chocolate chips? Bananas, marshmallows, peanut butter, coconut, berries, even bacon can go well with it. Chocolate chip pancakes sound good. Marshmallow chocolate chip pancakes sound so good that the kids might even want to help make it if it means they'll be ready faster.
Stuffed French Toast: French toast, literally bread dipped in a combination that includes egg, vanilla and nutmeg, is already pretty sweet - but we can make it sweeter. Just try stuffing it with cream cheese, fruits, maple bacon and more while cooking the French toast.
Cinnamon Rolls: If you're really set on making a sweet treat, why not really commit to it? More sugary than most desserts, a classic cinnamon roll is the perfect capper to a filling, satisfying breakfast. It's perfect if you want to make your dad something not only delicious, but will make him want a quick nap after.
Father's Day Dinner Idea
Maybe dad is just a steak and potatoes kind of guy. But if he's not, you can experiment with more flavors and have a little fun with dinner and dessert. What are some of these other options?
Chicken Parm: Some meals are hard to make. Chicken parmesan, on the other hand, is hard to screw up. Breaded chicken, marinara sauce, and mozzarella cheese with some pasta on the side, and you've got a dish that's neither too fancy nor too casual - just tasty.
Pulled Pork Sandwich: Delicate and flavorful, pulled pork can be cooked in an oven, slow cooker, or on a grill - and what dad can resist something fresh off the grill? If you tell him you're going to grill pulled pork for sandwiches he may try and cook it himself! Pulled pork requires a lot of preparation, and really takes its time cooking. When it's ready and on a bun with coleslaw and barbecue sauce, though, it's worth the wait.
Grilled Salmon: If you want something leaner and healthier than a cut of meat for Father's Day, salmon is always a surprisingly versatile food to center dinner around. With the right seasoning and vegetables, grilling salmon offers the family a healthy option that doesn't sacrifice taste.
Spaghetti and Meatballs: Not every dish has to be centered around meat. Pasta can fill you up just as well, and provides an option for any family member who doesn't eat meat. It's a simple enough dish to make, but creating a homemade sauce with it gives you a chance to make it unique and flavorful in your own way. 
Warm Chocolate Chip Cookies: At the end of the day, Father's Day is about family, and cookies are something the whole family can enjoy. Your children may not want to help grill salmon, but they're likely to help bake cookies. A great dessert to cap off the night, and a great holiday.