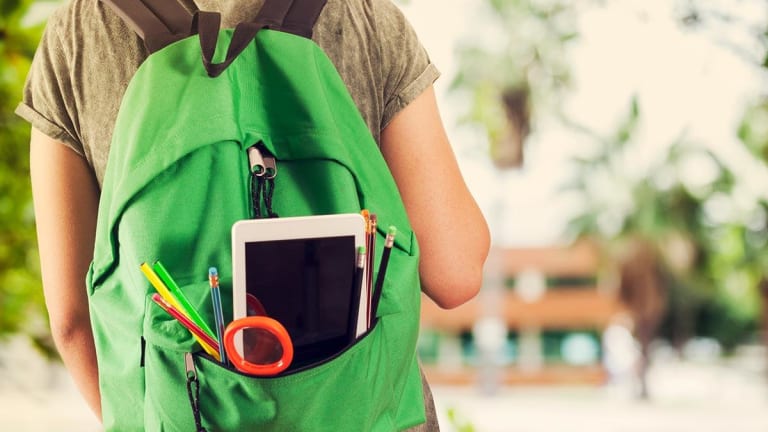 Best Back-to-School Sales 2018: Clothing, Supplies and More
The school year is almost here! From clothes to school supplies to electronics, here is where you can get some of the best deals out there for back to school items.
Back-to-school season may start earlier and earlier, but we've hit the middle of August and the school year is fast approaching.
Though the first day of school will be here before you know it, there are still plenty of options for students and parents in search of back to school deals, whether it's clothes for the child who has hit a growth spurt or a new laptop for the teenager ready to start college.
So where should you start if you're looking for discounts on quality products? Here are some of the best sales for clothes, supplies and laptops.
Back-to-School Clothes Sales
You want to make sure your kid looks nice when school starts, right? Whether a good school uniform or just nice clothes, parents love finding a great deal on apparel for a growing child, and retailers are happy to provide just that.
These are some of the sales available on back to school clothing.
JCPenney
JCPenney has apparel, activewear and even dorm room necessities like bedding available for prospective students. For their back to school sale, they have a school uniform deal on select kids' apparel and accessory items. Purchases both in-store and online that add up to $50 or more get $10 off with the code UNIFORM 6. This deal ends September 5th.
Macy's
The back to school sale at Macy's showcases an impressive selection of classic, stylish apparel for all ages. The options are quite varied; there are boy's Nike shirt/shorts sets for sale at 30% off, women's tees and button-up shirts ranging from 26.5-30% off, and Disney backpacks at a 25% discount, just to name a few. Brands on sale include Nike, Levi's and Guess.
Kohl's
Kohl's has an extensive sale going on that can help parents purchase a lot of back to school clothing for their children, but act quickly. The latest deal expires on August 19th. Similar to the JCPenney deal, a $50+ purchase on select kids' items gets $10 off with the code BTS10. The deal also extends to select apparel in the junior and young men's sizes, as well as backpacks. And in addition to the $10 off, the items themselves are all at a discount as well -- 50% off for backpacks with name-brand characters and 40% off uniform clothing.
Old Navy
The 2018 back to school sale at Old Navy offers major sales and incredibly affordable clothing. Prices on boys, girls and toddler clothing range from 11% off all the way to nearly 70% off. Parents can get Old Navy apparel for their children, including animal prints and clothes adorned with Disney characters, for as low as $6.
Zappos
Zappos is offering free shipping on a number of back-to-school shoes, clothing and accessories that someone ordering a $50 hoodie, $45 backpack or $40 pair of sneakers could use.
J. Crew
J. Crew has an especially helpful deal available for those who are going away to college -- whether a student or a teacher! Verify your eligibility by putting your school information in to prove that you attend or teach at the university, and you will be able to get a 15% discount on your purchase on the J. Crew website using a unique promo code upon verification.
Back-to-School Supplies Sales
Of course, clothing is hardly the be-all and end-all of back-to-school shopping. School supplies, especially for elementary school students, often make up the bulk of actual items that are necessary for the school year.
However, if you know where to look, you can find yourself spending a shockingly small amount of money on dozens of school supplies. Here are some of your best options.
Office Depot
For the summer, Office Depot is having a back to school sale advertising up to 80% in savings on hundreds of items. That means parents of young children can potentially find a notebook and a crayon box for $0.50 each! While a pack of binders is approximately $12, you can find prices as low as 15 cents and 25 cents on other items.
Staples
There are back to school sales at Staples that can be redeemed both online and in stores. Online, you can receive a 20% discount on school supplies if you also purchase a backpack using the coupon code 29908. This deal expires 8/18. You can also print a coupon online that allows you $10 off a $50 purchase of school supplies in-store, which also expires on the 18th.
Bed Bath & Beyond
Going to or heading back to college? Bed Bath & Beyond offers a college savings pass. Submit your information (including college email address as verification), and your pass will allow you to receive a 20% discount on an order both online and in-person when you shop and free shipping on online orders. Students have quite a bit more time on this than other deals, since the pass doesn't expire until December 31, 2019.
Back-to-School Laptop Sales
You need to get your homework done on something. If your child needs a new laptop to turn in her best work this school year, there are still deals available on electronics to help ensure you get one in time.
Best Buy
If you have a My Best Buy account, you can become eligible for student deals. The current student deals, valid until September 1, mean you could save $150 on certain MacBook models, and $50 on certain iMac and iPad Pro models. If you're more of a PC student, savings on Microsoft laptops could be between $100 and $150. Current student deals also include savings on gaming PCs, microwaves and mini-fridges.
Apple
If you're that much of a Mac fan, however, you could always go straight to the source. Students can get a discount from Apple if they order their laptop, tablet or computer through their academic institution. Savings can be up to $200, as well as 20% off AppleCare.
Back-to-School Everything Sales
Sometimes you just want a one-stop shop for your back-to-school shopping. Luckily for you, that's achievable. And some of the biggest department store chains have back-to-school sales on a bevy of items.
Target
Target has deals on just about any back-to-school item you can imagine. Clothes for school uniforms can cost as little as $7. You can find t-shirts priced as low as $5 and activewear prices as low as $8. There are dozens of school supplies available that all cost under a dollar -- a ruler for 25 cents, markers and glue each for 50 cents, etc. Target's sale also offers affordable supplies for teachers.
Walmart
Walmart has similar deals available for its 2018 back to school sale. Apparel for kids can be found for as low as $4, and supplies are available for teachers, too. Laptops and Chromebooks are on sale as well. A particularly helpful part of their online sale is that the products can be divided by grade level; if your child is in preschool, kindergarten through fifth, sixth through eighth, or ninth through 12th grade, you can search the right section to find what you need.