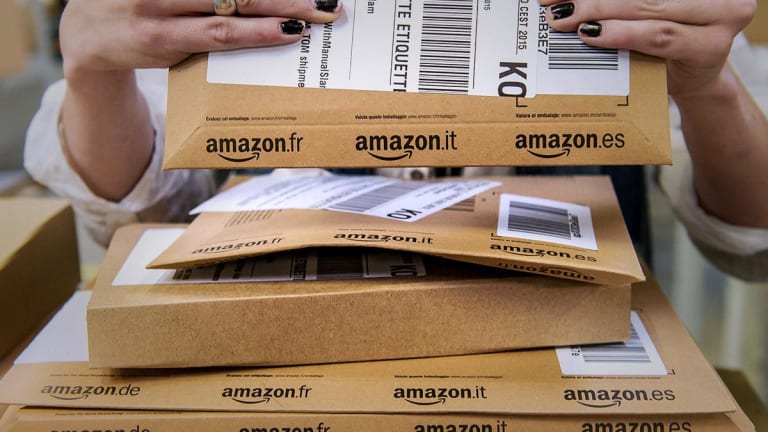 Amazon, eBay Fuel Big Online Sales, as Others Get Into the Action
Online sales have topped $110 billion to date, according to Adobe Analytics, with companies like Amazon leading the charge. But others are holding their own with click-and-collect sales.
A whopping $110.6 billion was spent online from Nov. 1 to Dec. 19, according to fresh data from Adobe Analytics released Thursday. That's nearly an 18% year-over-year jump in online sales.
And, as the Saturday before Christmas approaches, much more digital shopping -- over $15 billion more -- is forecast.
What's more, a fifth of shoppers still plan to buy most of their gifts at major online retailers such as Amazon.com (AMZN) - Get Report and eBay.com (EBAY) - Get Report , found Adobe's survey of more than 1,000 consumers in the U.S.  
The much talked about jump in online holiday sales this year makes sense, said Joanne Joliet, a retail analyst with Gartner. Big picture economic trends, such as the booming economy, low jobless rate and time span between the Thanksgiving holiday and Christmas, are all factors. But, so too are the public's comfort with using technology -- some 90% of shoppers go into stores armed with their smart phones -- and retailer's eagerness to sell products in any forum possible.
While Amazon has been considered a leader in online sales for years, spurring hikes in digital commerce with their one-click sales and two-day free shipping, other major retailers have also come up with strategies in recent years to effectively combine online and in-store shopping, drawing from their vast stocks at shops around the nation.
While Amazon attracts buyers with two-day delivery by those speeding white vans, other big brick-and-mortar merchants are holding their own with click and collect offers. Amazon declined to release overall sales numbers for the holiday season.
"Companies like Target and Walmart ... are in a position to say, 'I can get it to you much faster than two days," she said, by using inventory in-store at Target Corp. (TGT) - Get Report or Walmart Inc.  (WMT) - Get Report   for pickup after an online sale. 
Merchants such as Home Depot Inc. (HD) - Get Report , said Joliet, may fulfill as much as half of their online orders with in-store pickups.
This strategy may be a big advantage for major retailers as Christmas fast approaches and shoppers don't want to risk a missed package. 
This year is, in fact, turning out to be a record-breaker for buying online and picking up in stores, found Adobe, which shows the trend is up by 47%.
Some retailers are also joining forces with Amazon as a way to increase their presence, such as Chico's FAS Inc. (CHS) - Get Report , the women's clothing retailer, which offers limited products on Amazon, or Kohl's Corp. (KSS) - Get Report , which holds return lockers for Amazon, said Joliet.
Other retailers have used different online innovation, said Joliet, to merge online and offline shopping.
"Nike is one that stands out," said Joliet. "For years they've been doing extraordinary things to converge their online and offline experience," she said, noting the shoemaker's "endless aisle" of online and in-store inventory offered at Nike Inc. (NKE) - Get Report shops.
Adobe found continued evidence that more and more people are buying with their phones. 
Sales by smart phone are up, hitting $33.3 billion, a near 60% jump over last year.
Correction: An earlier version of this story should have quoted Joanne Joliet of Gartner as saying that Home Depot may handle up to half its online sales with in-store pickups, and not that up to half its online inventory is stored inside the shops. 
Save 66% with our '12 Days of Holiday Deals' Sale. Join Jim Cramer's Action Alerts PLUS club for investors and get our best deal of the year. Click here for details or to sign up.